7 Great Canadian Road Trips
When the travel bug bites, Canada has a wealth of experiences to offer.
You don't have to go halfway around the world to experience history, culture and natural beauty at its finest. Here, some top road trip ideas to inspire your planning.
The Trans-Canada Highway
Go big, or go home. Spanning over 7800 kilometres from Victoria, British Columbia to St. John's, Newfoundland, the world's longest national highway is undoubtedly the ultimate Canadian road trip. Some say you haven't experienced Canada until you've driven through the prairies and seen the contrasts of both coasts. You'll find many of Canada's must-see experiences along the way, including the Bay of Fundy, the historic villages along Quebec's Route 132, and our nation's capital, Ottawa  — just to name a few!
The Trans-Canada Highway isn't a single route — it's more like a network of routes with opportunities for trips of all lengths. TransCanadaHighway.com suggests some one week road trips, such as "Ride the Rockies", "Prairie Ramble", "Historic Ontario" and "East Coasting" — and you can create your itinerary using the planning guide and mobile app.
Sea to Sky Country, British Columbia
If it's diversity you're after, Highway 99 — aptly named the Sea to Sky Highway — will make you glad you loaded up on memory cards for your digital camera. Starting just outside Vancouver in Horseshoe Bay, the route offers a little of everything from the coastal rain forest along Howe Sounds to the fierce mountain peaks on route to Whistler.
While the highway is a convenient way to travel from city to city, this 125 km route has plenty of reasons to explore along the way. Small communities dot the route, including the former mining community of Britannia Beach and the just-right-sized town of Squamish, where you can learn more about Aboriginal culture and art. Designated lookouts offer some fantastic photo ops, but you can get up close and personal with the terrain at one of the many provincial parks along the way — including waterfalls spilling over towering cliffs.
For more information, visit HelloBC.com and Tourism Vancouver's Sea to Sky Highway Weekend.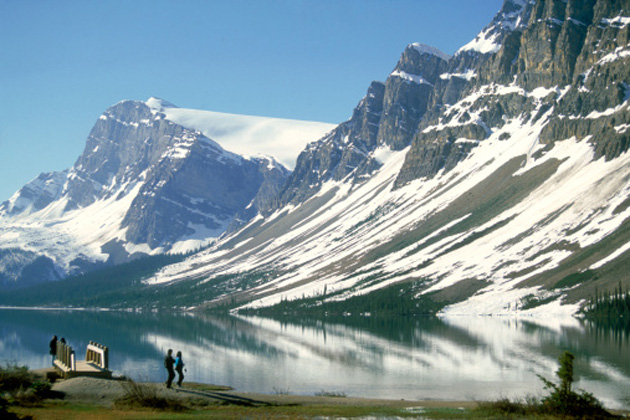 Icefields Parkway, Alberta
How often do you get a good look at a glacier — or experience ice in the summer? Though the Icefields Parkway runs a modest 232 km between Jasper and Banff, you'll want to allow plenty of time for stops. Winding along the edge of the Great Divide, the route promises pretty views of lush meadows, waterfalls and the snow-capped peaks of the Rocky Mountains. While a short route, there are places you'll want to stop for the night — like alongside the pristine turquoise waters of glacier-fed Lake Louise.
Of course, the massive swath of ice that is the Columbia Icefields isn't for admiring from afar. In the summer, visitors can board an ice explorer and venture out onto the surface the Athabasca Glacier. This "finger" of the Columbia Icefield is about 6 km long, 1 km wide and up to 300 m deep. If you prefer to go on foot, book a guided hike from the Columbia Icefield Centre instead.
For more information, visit ExploreRockies.com, Travel Alberta and the Icefields Parkway website.
Naturally, there's much more to explore in Alberta, including the Drumheller, the "dinosaur capital of the world" and home to the Canadian Badlands.
Country Routes, Quebec
The province has some stunning historic cities, but its country drives are where you'll experience the authentic character of Quebec. Taken individually or combined for a longer trip, Bonjour Quebec's Country Routes offer something to suit every taste. (Especially the province's Gourmet Route where foodies can indulge in all the local specialties from artisan cheeses to local wines to the best bakeries.)
Each route has a theme or highlight, like the Whale Route which stretches 900 km along the Gulf of St. Lawrence to Labrador (and yes, you can spot the marine giants from shore). The King's Road connects Repentigny and Old Québec City travelling through small history towns along its 260 km route. The Mountain Route takes you through Charlevoix World Biosphere Reserve and shows off some of the highest peaks in the Laurentian Shield.
The routes vary in length and can be combined with a city escape. For a full list, visit Bonjour Quebec's Driving Routes webpage.
The Cabot Trail, Nova Scotia
If you've ever taken this journey, it should come as no surprise that it has received international attention, including a "best road trip" nod from Lonely Planet. This 300 km route is the road trip to try when you want to get to know an area in a little more detail. There's no arguing the grandeur of Canada's east coast, but the events, the culture and hospitality of the area are no less of a draw.
Hike the trails of Cape Breton Highlands National Park and stop for a swim or test your skill at the Highlands Links golf course. Take in a Celtic music festival and immerse yourself in the province's Scottish and Acadian heritages. Try your hand at fishing, and find out why the Cabot Trail is really "a 300 km seafood trail" with its renowned lobster and crab dishes.
Can't make it this summer? Not to worry — there's something to love about every season, from whale watching to leaf-peeping tours. For more information, see Discover Nova Scotia and the Cabot Trail Working Association.
Coastal Drives, Prince Edward Island
Looking for another island escape? This one starts with a really big bridge — the longest one to cross ice covered water, in fact. Don't try to hold your breath — the Confederation Bridge's 12.9 km span takes about 10 minutes to cross and reaches a height of 60 m at its highest point. The bridge even has its own weather monitoring station and warning system to let drivers updated on conditions.
There is a lot to see on the "Gentle Island", including the Green Gables of Canadian literary fame. Over 1000 km in total, three scenic drives — North Cape Coastal Drive, Central Coastal Drive and the Points East Coastal Drive — loop around different sections of the island. Beaches, lighthouses, beautiful cities and fishing ports await, not to mention a healthy dose of Mi'kmaq culture and Acadian culture.
If you prefer two wheels to four, the Confederation Trail Cycling Guide can help you plan an itinerary. For more information, visit Tourism Prince Edward Island.
The Dempster Highway, Yukon and Northwest Territories
Looking for an adventurous, road-less-travelled sort of trip? Go north! This 671 km route takes you from Dawson City, Yukon across the Arctic Circle to Inuvik, Northwest Territories. Originally built to facilitate oil and gas exploration, this once controversial route is uniquely constructed to help protect the permafrost beneath. (Picture a thick gravel base of up to 2.4 m is some parts).
The drive is more challenging than your average highway, but the rugged, northern Canadian wilderness makes it worth the trip. You'll want to time your trip just right to see the tundra and mountain ranges at their best. Consider late August when autumn colours really start to show off and some hours of darkness afford an opportunity to see the Northern Lights.
A word of caution: wildlife like migrating caribou use the highway to travel too. If you'd prefer a little guidance, many tour operators offer flying and driving journeys in the area.  For more information, visit Travel Yukon, YukonInfo.com and Spectacular Northwest Territories.
What's your favourite road trip? Let us know in the comments.
READ MORE
8 extraordinary experiences
Worlds most bizarre beaches
World's best train journeys
Great hiking trails: Eastern Canada
Great hiking trails: Western Canada