Swedish Chef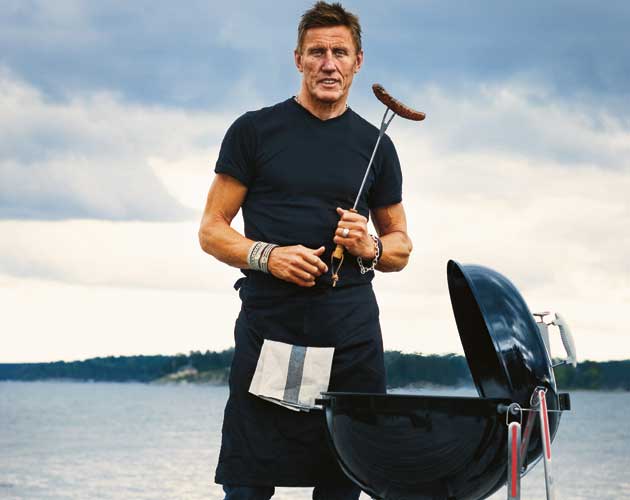 NHL great Börje Salming tells Peter Muggeridge about his new cookbook, Grilling With Salming. Get a taste of its evocative photography  – and why the barbecue remains his true north.
When Börje Salming arrived from Sweden in 1973 for his first season with the Toronto Maple Leafs, the fresh-faced rookie had a lot learn about the North American game, not to mention the North American lifestyle.
As one of the first European imports to play in the NHL, he had to adjust to a more physical brand of hockey than the one he was used to on the wide-open rinks of home. In the brawling '70s, there was no shortage of willing tutors. Two in particular stepped forward: Dave (The Hammer) Schultz and André (Moose) Dupont, notorious goons from the Philadelphia Flyers-Broad Street Bullies era, relentlessly pushed, prodded and pummelled the young Swede, using every opportunity to test his mettle and his manhood. Salming took his lumps stoically, never backed down and proved he belonged.
Having survived these painful lessons, Salming was now ready to turn his attention to a more pleasant assignment – accustoming himself to the hockey player diet, which at the time seemed to consist of grilled meat and cold beer.
"I was introduced to grilling when I first signed with Toronto," says Salming, now 60, driving home from a workout in Waxholm (about 35 kilometres from Stockholm). "My teammates would barbecue on nights off. Now and again, I would be asked to man the grill, and so I learned to tackle a whole other sort of game."
This off-night diversion soon became a mania. When he wasn't fishing for salmon in Lake Ontario, he was meeting with his favourite butcher in Toronto's St. Lawrence Market, who introduced him to the "extraordinary meat on offer in my newly adopted country."
So it wasn't exactly a surprise that when Salming retired from hockey in 1990, he returned home with a couple of charcoal barbecues, a rare commodity in Sweden at the time. After 17 seasons patrolling the blue line, one of the Leafs' greatest defencemen was ready to trade in his hockey stick for a pair of barbecue tongs and teach his countrymen how to cook with fire.
Inspired by the task, he wrote a primer on the subject, which sold 20,000 copies in Sweden. Now, Grilling With Salming (HarperCollins Canada) has been translated for a Canadian audience. It's a glossy cookbook, filled with his own mouth-watering recipes, vivid pictures and useful grilling tips all woven together with memories of his childhood and playing days. You're left with the sense of a family man who's endured a lot of sadness (losing his dad when he was five) and pain (he lives with aching shoulders, throbbing knees, one pulverized lung, and countless smaller injuries – courtesy of hockey). "But," he writes, "the embers that keep me going aren't going out anytime soon."
"It's best when I'm in the woods: I put the fish I catch right on the stick, put a little salt on it then cook it on an open fire," says Salming, clearly a purist. His favoured fuel is charcoal, but "it takes so much time," a luxury he doesn't have in abundance with a young family (two kids, 15 and 12) and multiple business ventures (his company sells sports equipment, underwear, fragrances and sunglasses). So when work and family tie him to the city, he likes the efficiency a gas barbecue offers.
Like most Swedes, his first love is fish but while in Canada, he developed a taste for steak, burgers, chicken and pork ribs and devotes an extensive chapter to all things meat along with ideas for marinades, sauces, salads and desserts. His passion for fishing and hunting (he loves to grill reindeer and moose) has also led to a second cookbook, Wild Foods, due out soon in Sweden.
Away from the grill, Salming remains a fan of hockey. Besides taking his kids to practise, he manages to get on the ice for a few charity events each year. He has great memories of his time in Canada: his 1996 induction into the Hockey Hall of Fame and the night in 2006 when his No. 21 sweater was honoured.
And despite the passage of time, his love for the old team endures. "Every year I think, 'Wouldn't it be great to come over to Toronto for the playoffs?' And every year I get sad when they don't get in. With the Leafs, it's always next year."
Leaf fans should look on the bright side. With their team an annual playoff no-show, they'll always have plenty of free time to try out Salming's recipes.