FIRST TAKE AT TIFF 2013 DAY 4: A Gala with Glass, Godfrey, and Soderbergh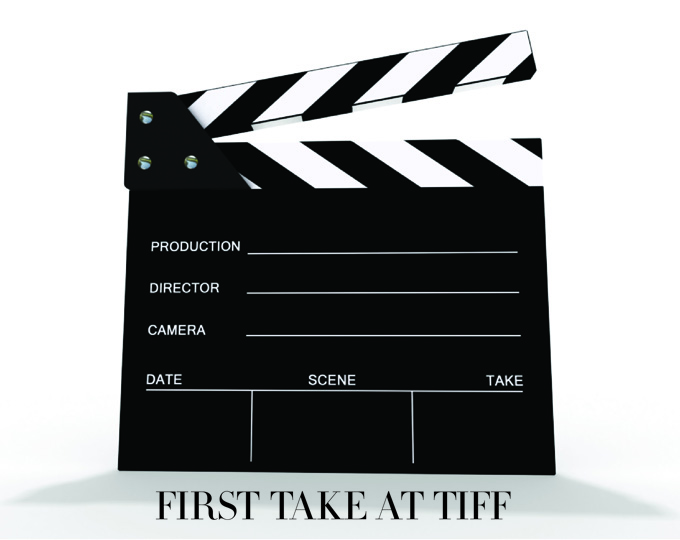 Tonight I spent part of my evening with one of America's greatest living composers and one of it's leading experimental documentary filmmakers — both of whom came together at the Elgin Theatre for the world premiere gala of their film Visitors – 31 years after their first ever movie collaboration.
Composer Philip Glass – whose work in the past two installments of Luminato have brought him to Toronto a number of times in the last few years – and director Godfrey Reggio took the stage, along with associate director/editor John Kane and American director Steven Soderbergh, a past Reggio collaborator who served as the evening's MC.
"This film is to inflict you, to watermark you, to give you an impression," as Reggio put it, discussing the very visual black and white picture made up of images of buildings, inanimate objects, and people who stare right back at you from the screen. Oh, and I'd be remiss if I didn't mention Triksa the gorilla – arguably the star of the show.
The movie has no dialogue, and it's accompanied by a score composed by Glass, whose first film was Reggio's 1982 picture Koyaanisqatsi. At this evening's gala world premiere – a VERY hot ticket as evidenced by the lines of rush ticket hopefuls snaking up Yonge Street – the score was played live by the Toronto Symphony Orchestra. The cinematography in the film was absolutely brilliant (as well, keep in mind there's only 74 shots in this 88 minute film), and the visuals, projected in 4K resolution, were so crystal clear you wanted to reach out and touch them. It all made for an intense, almost haunting experience.
The movie, of course, isn't for everyone, but the audience responded enthusiastically. Plus, seeing Glass, Reggio and Kane join Soderbergh at the end of the film for a Q&A period was a thrill.
Glass had perhaps the quote of the night when asked what collaborating with Reggio is like: "It's like cutting your own hair." He noted he wasn't sure if they'd even finish the film, and if anyone would see it (a theme that seemed to run through most of the duo's collaborations).
Also, Glass referred to cinemas as "picture houses" – a term that sounds so much classier and dignified than "movie theatre." Think about it: "Hey, want to go to the picture house with me to watch Dude, Where's My Car?"
See? The term makes the entire experience sound a class above what it actually is.
Overall, the crowd enjoyed the film, the orchestra sounded magnificent, and the post-movie chat was a lot of fun. The entire evening was a good reminder of how enjoyable some TIFF galas can be.
* Two very recent film reviews are up on the site, including the brilliant documentary Finding Vivian Maier and the…well…how do I put it…the "interesting" The Strange Colour of Your Body's Tears.
Check back here every day for daily TIFF logs and reviews, as well as on Twitter at @Zoomer and @MikeCrisolago.