TIFF 2013 Film Review: Bad Words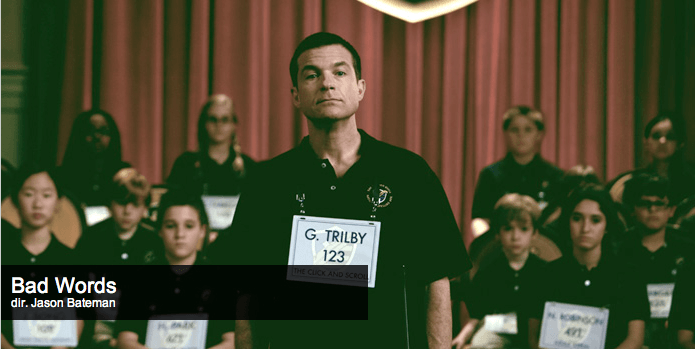 Image courtesy www.tiff.net
Starring: Jason Bateman, Kathryn Hahn, Rohan Chand, Allison Janney, Philip Baker Hall
Directed by: Jason Bateman
Genre: Comedy (U.S.A.)
Choice Quote: "Hey moms, let's break out the rubber pillow cases tonight. Little pricks are going to be counting tears, not sheep. Thanks."
The Hype: The potty-mouthed tale of a 40-year-old product warning proofreader named Guy Trilby (Bateman) who finds a loophole in a national spelling bee contest rulebook that allows him to compete against children. Despite the furious objections of parents, Trilby vies for the bee's top prize as reporter Jenny Widgeon (Hahn) ventures to discover the real reason behind him joining the competition.
The Reality: Bad Words offers up some solid laughs, a lot of vulgarity, and a very different side of Bateman than you're used to.
As Trilby, Bateman proves pretty much as classless, petty, rude, and thoughtless as you can get – and he's great at it. It's a departure from the kinder, gentler roles he's usually pegged for, but just as he makes the nice guy routine work thanks to his well-honed comedic timing he pulls Trilby off beautifully.
Truth be told, I didn't find the film as uproariously funny as some did. But, it does have its laugh-out-loud moments while making you care enough about Trilby and his quest for spelling bee gold to want to get to the bottom of why he joined int he first place. Hahn, as the journalist chronicling Trilby's quest, feels the same way, and she does well with the part despite the fact her character is pretty bland. Ten-year-old Chand, however, is about as loveable as you can get as Trilby's would-be friend and spelling bee rival Chaitanya Chopra, and Janney does her job as the cranky spelling bee director and one-time champion who wants Trilby out of the competition worse than the parents do.
However, the strength of this film – and this is a credit to both Bateman's directing and Andrew Dodge's script – lies in its ability to avoid sentimentality and romance that often cap similar  stories. It's refreshing in that it allows Trilby to be a real person (albeit a terrible one) as opposed to some Hollywood cliché who experiences an Ebenezer Scrooge-like revelation that implores him to be a better person.
Perhaps you won't like Trilby's vulgarity, or crudeness, but the truth is Trilby wouldn't care. And neither does Bad Words. And that's what makes it fun.
The Verdict: I was expecting a little more, but this was still a fine debut for Bateman behind the camera.
See it in theatres or rent it?: Theatres
Can the grandkids watch?: What do you think?
Rating (out of 5): 3.5 kernels