First Take at TIFF: Final Thoughts on the 2013 Toronto International Film Festival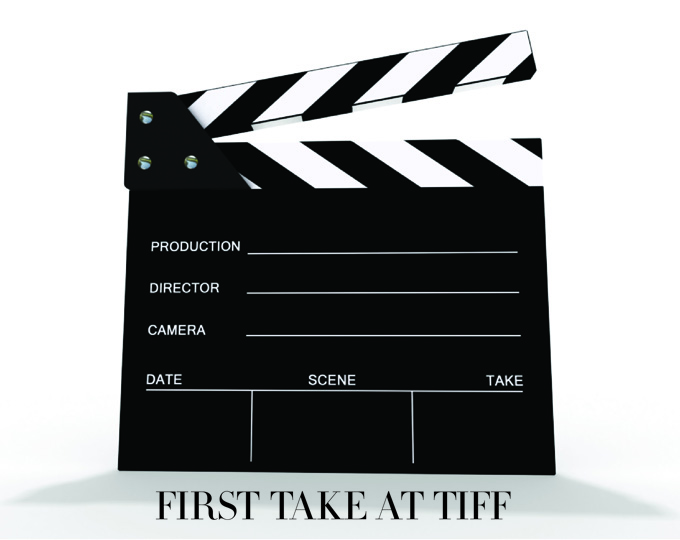 The celebs have left for la-la land, star-struck fans are packing away their autograph books for another year and the next famous person you'll see drawing crowds to Toronto streets will be wearing a red suit, long white beard and have eight reindeer in tow. With the conclusion of the 38th Toronto International Film Festival (TIFF), this city is sobering up like it's the morning after a rocking party.
Save for the gala premiere of the Pierce Brosnan/Emily Thompson film Love Punch (which was a blast, by the way), I enjoyed the festival from my perch at the Press and Industry screenings at Scotiabank Theatre, where the only major celeb in sight was producer Harvey Weinstein – spotted by an eagle-eyed journalist near the popcorn machine. The theatre became like a second home for 10 days, and my first fully accredited TIFF experience was a great time.
To top off TIFF 2013, read on for my favourite festival picks, funniest moments and the TIFF party correspondence I could do without …
Top Pick At TIFF
I listed 12 Years A Slave as my top TIFF flick and obviously I wasn't the only one who felt that way. The Steve McQueen film, chronicling the true story of a free man kidnapped and sold into slavery in pre-Civil War America, took home TIFF's top honour – the People's Choice Award – at a ceremony held yesterday at a ceremony in downtown Toronto.
My only quibble – many media outlets refer to the movie as "the Brad Pitt film," when Pitt only appears in it for a few minutes in addition to serving as one of the producers. I understand name recognition in branding is everything, and more people know Pitt's name than know Chiwetel Ejiofor (though I predict that will even out come awards season), but let's be serious. This is McQueen's and Ejiofor's and Lupita Nyong'o's and Michael Fassbender's film long before it's Pitt's.
Other Fest Favourites  
A few of my other festival favourites (in no particular order):
August: Osage County: Meryl Streep offers up an acting clinic in this dysfunctional family reunion.
Cannibal: Carlos is a mild-mannered Spanish tailor by day and a cannibal by night … until one prospective victim tugs at his heartstrings. This Spanish/Romanian film is a thrilling feature that adds an extra layer of depth to the blood-curdling drama. Just don't take Carlos up on his invitation to have you over for dinner.
Finding Vivian Maier: A fascinating documentary portrait of an eccentric Chicago nanny who, after her death, was discovered to secretly be one of America's greatest street photographers.
Blue is the Warmest Color: The French film about the lesbian relationship between two young girls got lots of attention for its graphic sex scenes. More importantly, however, is that it's a finely crafted reflection of a modern-day politically and socially divided France capped by brilliant acting and a truly 21st-century love story.
The Great Beauty: Italian director Paolo Sorrentino's ode to Rome tells the tale of the Eternal City's 65-year-old "king of the high life" who embarks on a quest to find true meaning in his shallow party-fuelled existence.
The Grand Seduction: The hilariously Canadian tale of a small fishing community attempting to woo a full-time doctor to their harbour, starring Brendon Gleason and Gordon Pinsent.
Burt's Buzz: The true story of the man behind Burt's Bees, the iconic all-natural honey brand and related products, who grew up in Manhattan, escaped to the backwoods of Maine, started with a single hive of bees and ended up a globally recognized face.
It's My Party and I'll Invite Who I Want To
Most journalists covering TIFF get our fair share of party invites, but far fewer get the call to join in one of the uber-exclusive bashes that the likes of Brad Pitt and Julia Roberts show up to. The PR folk attached to those elite gatherings, however, have no problem letting you know what you missed.
You'll get emails in the morning telling you that some huge Hollywood star did this incredible thing at so-and-so's party last night, presumably so you can report on it. But really, it's like the cool kids in high school telling the rest of us how much fun we missed at a party we weren't invited to in the first place.
Which, in a nutshell, is why those morning-after PR emails end up right in the trash bin.
Miscellaneous Notes
Funniest Thing Overheard at TIFF: Anti-piracy officer briefing his staff on protocol: "If you see somebody have a heart attack or any other medical emergency, stop looking for cameras and help them."
Most Frustrating Moment: The highly touted world premiere of Nelson Mandela: Long Walk to Freedom took place at TIFF, but at the press screening the film literally went silent about 40 minutes in. Conveniently, a TIFF staffer was somehow at the ready with a microphone in hand, citing technical difficulties and saying the screening was cancelled. People were not happy, and to top it off TIFF informed press via email that the screening was rescheduled for that same evening, so if you didn't get the email until it was too late (*ahem*), you missed out.
Most Surreal Moment: This came right after the above stoppage of the Nelson Mandela biopic. As we were filing out of the theatre, one woman was screaming like a banshee, repeatedly asking, "Are there any journalists tweeting this?" Some people laughed while others cringed. Still, it was truly a statement about the wired times we live in. So, of course, I tweeted it.
Other lessons I learned at TIFF:
* The first few days of TIFF press and industry screenings lull you into a false sense of security, with the smaller crowds and few, if any, lines to get into films. When the weekend hits, however, beware the flood of journalists brandishing accreditation badges.
* Waiting in long lines is like a sport. You need a strategy – entrance and exit. You need to be able to predict the popularity of the film with local and international press, cross-reference that with the number of seats in the theatre, the time of day, what else is screening at that time, how many pre-festival press screenings the film had, etc.
* People like to sample films for 15 minutes or half an hour and then leave. They also like to use some screenings as an opportunity to blow some time in between screenings of films they want to see. As a result … (see below)
* …don't get too comfy in your seat. People will be walking over you throughout most films, either for the above reasons or because once the movie has started, latecomers and/or rush ticket holders are allowed in and are all too often left to wander in the dark to find seats, talking loudly and stepping on toes. One woman literally almost cupped my face reaching around in the dark. I can't help but feel a few strategically employed flashlights could have solved this issue (in fairness, the ushers at some screenings were very helpful, but it was far from a well-oiled machine).
* Know which restaurants in the area serve the best food in the fastest time. You may have an hour and a half between screenings to grab some dinner, but once you factor in a slow waiter and how early you have to be back at the theatre to get in line for the screening, a restaurant that understands quick, efficient service becomes your second home during festival time.
* Finally, a big shout out to all the TIFF volunteers, who overall did a fantastic job and were a huge help – especially when the big crowds started rolling in. The next time you attend TIFF, thank a volunteer. The festival literally couldn't function without them.