Neil Young Warns the Blood of Alberta First Nations "will be on modern Canada's hands"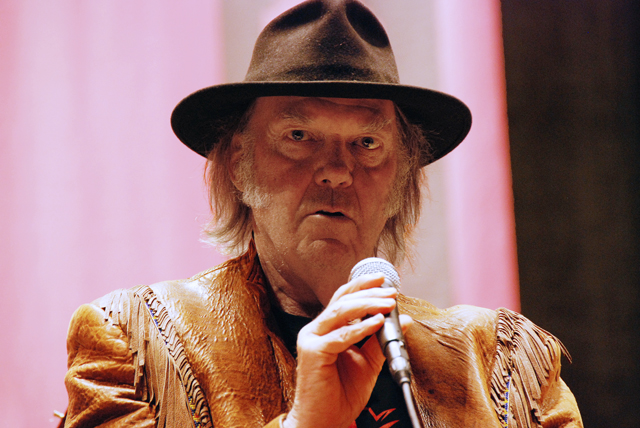 Canuck rocker Neil Young came out swinging at a press conference Sunday afternoon in Toronto, attacking Prime Minister Stephen Harper's Conservative government, its development of the Alberta oil sands, and the effects on the environment and communities of the Athabasca Chipewyan First Nation (ACFN): "Canada is trading integrity for money. That's what's happening under the current leadership, which is a very poor imitation of the George Bush administration in the United States."
Young spoke alongside a panel including ACFN Chief Allan Adam, ACFN indigenous rights advocate Eriel Deranger, and environmental professor/scientist Andrew Weaver at a Massey Hall press conference to kick off the singer's "Honor the Treaties" tour. The benefit concerts – which also take place in Winnipeg, Regina, and Calgary later this week – will raise money for the ACFN's legal fight to protect their land and rights in the face of expanded mining at by Shell Canada at the Jackpine oil sands near Fort McMurray in northern Alberta.
RELATED POST: Neil Young Reveals All in New Memoir
"As people of the land, it becomes incredibly important to ensure that our ecosystems and our waterways are protected, not just now but for future generations," Deranger said. "Our rights are not to be molested or precluded by any other legislations or laws or development. And that rights to hunting, fishing, trapping, and access to cultural grounds, if they're going to be altered in any way, we need to be consulted and accommodated for those impacts."
Young, who recently made headlines for comparing the tar sands area to Hiroshima, noted that his first impression upon seeing them was "devastating, environmental catastrophe."
"In Alberta, with the way the tar sands are now, the amount of CO2 coming out of the tar sands industrial sites is equal to every car in Canada, every day," Young said, flanked by guitars, a piano, and other instruments for his concert later in the evening.
Chief Allan Adam discussed how increased development has nearly wiped out some animal populations the Athabasca First Nations community relies on for food, and how Health Canada warned that water contamination from the development meant people should not eat more than one fish a week – crushing news for a community that's literally lived off the land for thousands of years. He also noted rare cancers on the rise in the area.
"The economic development that's occurring is occurring at a rapid rate – we have a run away train without a conductor," Adam said. "It leads into something that's going to be catastrophic wherever it's going to end. So we've got to get a grip on it."
Young, at one point, noted three chairs on the stage to his left, reserved for federal government officials they had invited to explain their side of the story. They were adorned with name tags, but they remained empty.
RELATED POST: Celebrate Canada's First Nations
One of those invited was Environment Minister Leona Aglukkaq, who just a few days ago claimed the environmental consequences brought on by an expansion of the mines were "justified in the circumstances."
"We made a deal with these people. We are breaking our promise. We are killing these people," Young warned. "The blood of these people will be on modern Canada's hands, and it will be the result of not just a slow thing, but of a fast and horrific thing if this continues."
Deranger referred to the tar sands as "runaway development," but noted they aren't necessarily calling for a complete shutdown.
"We're saying it's time to take a step back, re-evaluate what's happened, look at what our actual proven methods of reclamation and responsible development really look like, looking at correcting the faulty consultation and accommodation that's happened for the last 50 years," she said. "Until we get to a point where we can sit down at the table, we say no more development."
If the upcoming legal battles with both the government and the oil companies prove fruitless, Chief Adam doesn't rule out strategies like disruption of roadways to ensure his community's voice is heard – a point Young re-enforced when he noted, "Believe me, these people are not going to sit back and let modern Canada roll over them."
Of course, those involved hope it doesn't come to that. With Young increasing both awareness, and funds, for the ACFN and their plight, this is a showdown the First Nations and their allies hope they can win with reason, no matter how tough a fight lay ahead.
"I'm here and these are my friends and I hope that we can make a difference for our grandchildren," Young said. "And I don't see that today in Canada. I see a government just completely out of control. Money is number one, integrity isn't even on the map."
Click here for more on the ACFN's plight, and the "Honor the Treaties" concerts.