Atom Egoyan's Beginnings and Endings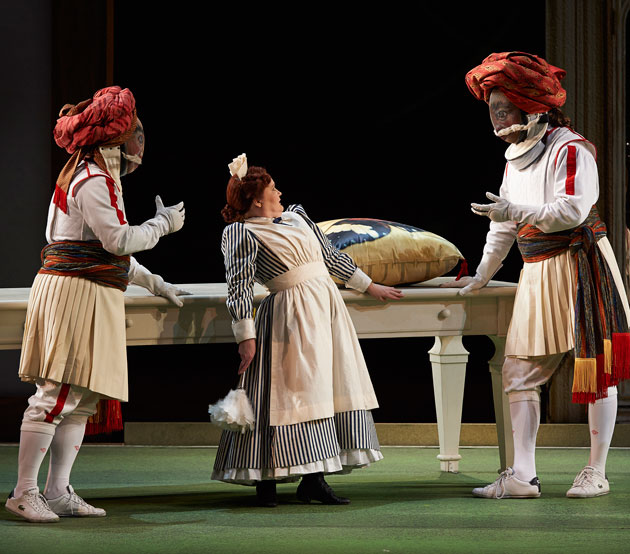 Atom Egoyan is dealing with a dilemma.
He's an Oscar-nominated film director and screenwriter. Internationally recognized opera director. Critically acclaimed stage director.
In other words, Egoyan can do everything.
Problem is, he can't do it all.
And he's the first to acknowledge that.
His Canadian Opera Company production of Mozart's Cosi Fan Tutti opened last week at the Four Seasons Centre in Toronto and runs through Feb. 21.
His film, Devil's Knot, with Reese Witherspoon and Colin Firth, opens Friday.
It's about the Memphis Three — adolescents found guilty for the murder of young boys whose bodies were discovered in a swamp 20 years ago.
And his next movie, The Captive, is already in the can and ready for release.
Right now, the 53-year old Torontonian is debating about whether to accept a starry invitation to direct a "major" opera in New York.
He's more and more in demand as an opera director. With Cosi Fan Tutti, the artist known for investigating the shadows and probing human pain and loss has taken on what is essentially an operatic rom-com.
The Mozart opera about two pairs of young lovers whose faithfulness is put to the test is traditionally presented as a frothy opera buffa.
"It's a very silly story about switched identities," explains Egoyan.
But you don't engage Atom Egoyan if you want something done the way it's been done since 1790.
"It took me a while to say yes to Cosi," Egoyan admits. In the end, he says, he was attracted by the opportunity to do "something different, something light so that I could explore ideas of visual exuberance and do something fun."
Still, nothing is that simple or superficial when it's Egoyan at work.
His approach examines "how to navigate between devotion, lust and desire" — a challenge that's just as great, or greater, for human beings in this era as in Mozart's.
Egoyan, of course, even in a romantic comedy, manages to find "the pain around those issues."
By setting the production in a school, as suggested by the opera's subtitle, School for Lovers, and finding his own way through the story, Egoyan dismayed some critics.
"People either respond or feel they don't quite get it," he explains.
That reaction, too, is typical of what happens with Egoyan's work. It's either deeply felt and visceral, cutting through to the bone, or it makes you turn away.
"This is different from other interpretations," he says. "It presents a more detailed view of human relations."
Egoyan is not content with the superficial happy ending, either.
In his vision, "at the tend, they're confused and distraught by what they've learned. The happy ending felt false to me."
He adds, "A director of Cosi has to find way to deal with the artificiality of the piece. "Setting it in a fabled place in Italy, making it ornate: that version does exist on Youtube, including the best traditional staging of the piece by Nicholas Hytner. The COC had done a traditional version. When they approached me, it was to do something new with it."
He says that if it's remounted, he might "trim down some of the visual exuberance and become more selective with the visual references."
And although he enjoyed doing Cosi, finding it "liberating," he says, "I don't know if I'd rush to do another comedic opera."
He's unsure, too, about whether to go ahead with the "major" New York opera he's been invited to stage.
"Last year was insane," he says. "I can't keep up that pace. It's a strain physically and I worry about all the people I'm working with getting the best of me."
He recalls, almost with horror, that when push came to shove last year, when he was working on a Chinese opera for Luminato and in pre-production for Devil's Knot, he briefly considered, "for a crazy moment," doing some opera rehearsals through Skype.
"I'm looking at my schedule now," he explains, "with various opera proposals, films and TV series.
"But I can't do everything. I would like to concentrate on the things that are most important to me, but I remain so curious about different forms and trying different things."
It's exactly that sense of loss that comes with choosing one path, one thing, one person and giving up the others that characterizes Egoyan's work.
Still, he says, as you get older, "You do become more choosy. You try to discover the essence of what you want to say and do. But I guess I've always tried to explore this notion of finding what it is at the core of what you do."
He comes back to his current dilemma, the New York offer, and concludes, not without a sense of loss, "Prioritizing an opera schedule in another place seems a little irresponsible for all these other things I do, for what I'm meant to do and privileged to do, my destiny: to tell stories through film."