The Top Arts and Entertainment Stories of 2014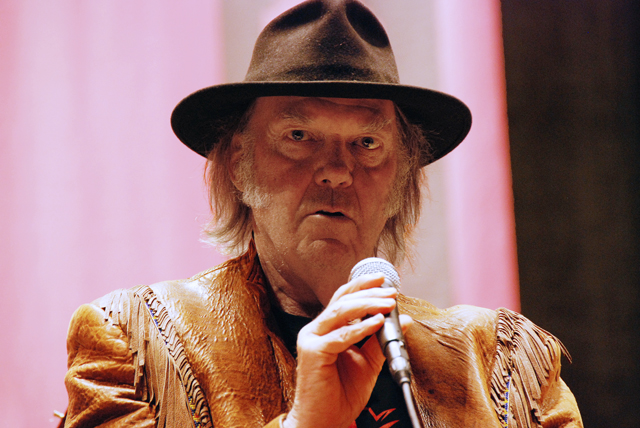 The Details: JANUARY: Young makes headlines protesting the effects of the Alberta oil sands development on the Athabasca Chipewyan First Nation and the environment as a whole. APRIL: Young surprises fans with the unexpected release of cover album A Letter Home, recorded in Voice-o-Graph recording booth. JUNE: Chrissie Hynde employs Young on her first solo album, Stockholm. JULY: Jimmy Fallon parodies Young in reunion with Crosby, Stills, and Nash on The Tonight Show; Young files for divorce from wife Pegi after 36 years of marriage. SEPTEMBER: The director's cut of Young's 1982 film Human Highway screens at TIFF; three separate versions of new Young song "Who's Going to Stand Up?" are released. OCTOBER: Two books about Young are released – Young Neil: The Sugar Mountain Years, by Sharry Wilson, and Special Deluxe, by Young himself; Young appears/performs on The Colbert Report and declares U.S. President Obama should be impeached for fracking; Young's ground-breaking music player, Pono, available for download. NOVEMBER: Young releases Storytone, his latest album, as both a solo effort and an orchestral album.
On the opposite end of the spectrum, Irish rockers U2 raised the ire of music fans around the world by releasing their latest album, Songs of Innocence, to Apple iTunes users, with the music automatically appearing in their song libraries. The good news: the ill-conceived PR stunt only affected iTunes users, who resented having a whole album automatically downloaded without their permission. The bad news: it's estimated that more than half a billion people use iTunes.
Why It's Relevant: Musicians in the future can learn from this. DO expand your creative horizons and challenge yourself artistically. DON'T take the results of all that work and download it to people's electronic devices without their permission.
The Late Night Shuffle
What Happened: The reigning kings of late night abdicated their desks, paving the way for a new generation of hosts…and viewers.
The Details: It started in February, when Jay Leno retired from The Tonight Show (again), making way for new host Jimmy Fallon. This meant that Fallon's old show, Late Night, needed a new host. Enter former Saturday Night Live writer/Weekend Update anchor Seth Meyers, who took over the 12:35 am time slot.
Meanwhile, Leno's late night rival, David Letterman, announced in April that he's retiring from The Late Show after nearly 22 years in 2015. Fast-forward a few months and Stephen Colbert was announced as Letterman's replacement, which meant he had to wrap up his late night show, The Colbert Report (which he did, in December). Craig Ferguson, who hosted The Late Late Show in the 12:35 am time slot after Letterman for nine years, also bowed out of late night in December. He'll be replaced by guest hosts and re-runs until British comedian James Cordon takes over permanently in 2015.
Two other late night shows signed off for the final time in 2014: The Arsenio Hall Show and Chelsea Lately, starring Chelsea Handler.
Why It's Relevant: Following Jay Leno's retirement, David Letterman became the last on-air link to the Johnny Carson era of late night TV, and will remain so until he exits the Ed Sullivan theatre in May 2015.
But lost in the story of the late night shuffle is the surge of new, and younger viewers flocking to late night TV. Jimmy Fallon's Tonight Show, which features celebs playing games or performing with the host after some back-and-forth banter, has proven particularly popular with the 18-49 demo, who routinely propel clips from the show to viral video status online.
However, as The Hollywood Reporter noted in June, "the most compelling part of the post-Jay Leno story is how Fallon hasn't really hurt the competition. He's brought new younger viewers, in that coveted 18-49 demographic, to late night. His wide margin of victory hasn't taken away any considerable portion of David Letterman's or Jimmy Kimmel's audiences."
That means that not only are older, long time viewers still tuning in, but a whole new generation is also discovering late night.
Crazy thought: Johnny Carson was 37 when he debuted as host of The Tonight Show. Fallon, who arguably resembles Carson's style more than any previous Tonight Show host, took over the show at age 39. Carson's show re-defined late night. Fallon is showing signs of doing the same. In 30 years, will Fallon be this generation's Johnny Carson?
Taking the Plunge
What happened: A slew of celebs said "I do" in 2014.
The Details: Not every celebrity wedding got the attention that George Clooney and Amal Alamuddin commanded as they cruised along Venice's Grand Canal after tying the knot, but 2014 had its share of star-studded nuptials. They included…:
Brad Pitt and Angelina Jolie
Elton John and David Furnish
Jodie Foster and Alexandra Hedison
Lily Tomlin and Jane Wagner
Tom Ford and Richard Buckley
Jeff Goldblum and Emilie Livingston
Katie Couric and John Molner
Melissa Etheridge and Linda Wallem
Pamela Anderson and Rick Salomon
Willard Scott and Paris Keena
Neil Patrick Harris and David Burtka
Kanye West and Kim Kardashian
Jenny McCarthy and Donnie Wahlberg
Why It's Relevant: If you can't count on the pure, binding, and lasting love of a Hollywood marriage, then your heart must be made of stone.
Let's Get Biblical – Noah, Exodus: Gods and Kings, Son of God
What Happened: The Bible got some major big screen treatment this year.
The Details: Son of God, which centres on the story of Jesus, hit theatres in February. Russell Crowe built an ark in March in Darren Aronofsky's Noah (what, you didn't know Noah was from New Zealand?) and in December Christian Bale led the charge out of Egypt in Ridley Scott's Exodus: Gods and Kings (what, you didn't know Moses was British?).
Unfortunately, Bale's staff couldn't halt the flood of negative reviews from critics. Meanwhile, theatregoers ensured a string of superhero flicks and franchise favourites topped the worldwide box office rankings this year. The top 10 grossing films (worldwide) of 2014 were:
Transformers: Age of Extinction ($1,087,404,499)
Guardians of the Galaxy ($772,152,345)
Maleficent ($757,752,378)
X-Men: Days of Future Past ($746,045,700)
Captain America: The Winter Soldier ($714,083,572)
The Amazing Spider-Man 2 ($708,982,323)
Dawn of the Planet of the Apes ($708,279,489)
The Hunger Games: Mockingjay – Part 1 ($644,458,000)
Interstellar ($635,433,000)
How to Train Your Dragon 2 ($618,909,935)
Why it's Relevant: The next time you wonder why seemingly every major Hollywood film has to either be part of a trilogy, feature superheroes in capes and tights, or both, take a glance at the box office numbers above.
Page Turners
What Happened: Some very talented authors were awarded some very high-profile literary awards.
The Details: Among the many literary accolades handed out this year, some of the highest profile were:
The Nobel Prize for Literature: Patrick Modiano (France)
The Scotiabank Giller Prize: Sean Michaels, Us Conductors
The Pulitzer Prize for Fiction: Donna Tartt (U.S.), The Goldfinch
The Man Booker Prize: Richard Flanagan (Australia), The Narrow Road to the Deep North
Rogers Writers' Trust Fiction Prize: Miriam Toews, All My Puny Sorrows
The Griffin Poetry Prize: Anne Carson (Canada), Red Doc>; Brenda Hillman (International), Seasonal Works with Letters on Fire
Governor General's Literary Awards (English and French language):
Fiction: Thomas King, The Back of the Turtle
Andrée A. Michaud, Bondrée
Non-Fiction: Michael Harris, The End of Absence: Reclaiming What We've Lost in a World of Constant Connection
Gabriel Nadeau-Dubois, Tenir tête
Drama: Jordan Tannahill, Age of Minority: Three Solo Plays
Carole Fréchette, Small Talk
Poetry: Arleen Paré, Lake of Two Mountains
José Acquelin, Anarchie de la lumière
Children's Literature, Text: Raziel Reid, When Everything Feels like the Movies
Linda Amyot, Le jardin d'Amsterdam
Children's Literature, Illustration: Jillian Tamaki, This One Summer
Marianne Dubuc, Le lion et l'oiseau
French to English Translation: Peter Feldstein, Paul-Émile Borduas: A Critical Biography
English to French Translation: Daniel Poliquin, L'Indien malcommode : un portrait inattendu des Autochtones d'Amérique du Nord
Hack Attacks
What happened: High-profile computer hacks shook Hollywood this year.
The Details: It started with the breach of Apple's virtual file storage centre iCloud in August, which led to nude photos of various celebrities leaking online. Depending on who you believe, either lax iCloud security or celebs being duped into revealing their iCloud passwords is to blame. Regardless, the result was a massive invasion of privacy that Oscar-winning actress Jennifer Lawrence responded to in Vanity Fair: "It is not a scandal. It is a sex crime. It is a sexual violation. It's disgusting…Just the fact that somebody can be sexually exploited and violated, and the first thought that crosses somebody's mind is to make a profit from it. It's so beyond me. I just can't imagine being that detached from humanity. I can't imagine being that thoughtless and careless and so empty inside."
Hollywood's other major hack attack came in November, when alleged North Korean cyber-terrorists broke into Sony Pictures' computer system, shutting down operations and releasing everything from confidential information belonging to employees and celebs, to embarrassing email conversations between Sony personnel trashing stars such as Adam Sandler and Angelina Jolie. The hackers also released five Sony films online (four of which hadn't hit theatres yet).
Why It's Relevant: In the case of the nude leaks, it brought the conversation about privacy rights and security to the forefront of public consciousness. As for the Sony situation, the hacks came in retaliation to the company's upcoming comedy The Interview, starring Seth Rogan and James Franco, the plot of which centres around the assassination of North Korean leader Kim Jong-un. Sony subsequently cancelled the film's release, though they agreed to release it in some theatres and on Youtube after overwhelming criticism for bowing to North Korean threats, including from U.S. President Barack Obama.
Falling Stars  
What Happened: Woody Allen, Jian Ghomeshi and Bill Cosby all found themselves at the centre of sexual abuse allegations this year. It wasn't the first time for either Allen or Cosby, but the decades-old allegations against each man hit a boiling point, causing many to re-evaluate the legacies of both the legendary director and the comedian.
The Details: For Allen, it was allegations that he molested his adopted daughter Dylan Farrow in the early 1990s, when she was seven, which heated up again following his lifetime achievement award at the Golden Globes in January.
In Cosby's case, comedian Hannibal Buress brought up the sitcom star's decades-old rape allegations in a stand-up routine that went viral online in October. To combat the bad press, Cosby's PR team arranged a Twitter meme meant to help repair his loveable image, but it was instead turned into a meme about the rape allegations. Since then, close to 30 women have come forward – including high-profile claimants such as model Janice Dickinson – all of whom have accused Cosby of sexual abuse, often involving being drugged, dating back to the 1970s.
Also in October, CBC Radio host Jian Ghomeshi took a leave of absence from his job hosting the popular interview program Q – presumed by many to be due to a period of mourning over the recent passing of his beloved father. A few days later, the CBC announced it was cutting ties with Ghomeshi, followed by a lawsuit by the host against his former employer and an open letter to the public detailing his distorted opinion that he was fired due to "the risk of my private sex life being made public as a result of a campaign of false allegations pursued by a jilted ex girlfriend and a freelance writer."
In reality, Ghomeshi was fired after CBC received a video reportedly showing a woman with a cracked rib caused by the host. Professional representatives and cultural institutions severed relations with Ghomeshi as more and more women came forward with accusations of abuse and sexual assault. Ghomeshi hired high-profile lawyer Marie Henein, dropped his lawsuit and eventually surrendered to police, where he was charged with four counts of sexual assault and one count of "overcoming resistance by choking." The CBC also came under fire for failing to act appropriately when employees reported mistreatment at the hands of Ghomeshi.
Why It's Relevant: Like with the nude leaks, these events brought a very important conversation to the forefront of public consciousness. In this case, it's the treatment of victims of abuse, and how difficult it is for them to come forward when faced with scepticism, disbelief, and even blame for the actions of their accuser.
Shows We Loved and Lost This Year (and also Honey Boo Boo)
What Happened: Bikers, vampires, mobsters and a mystery mom signed off of the small screen for the final time this year.
The Details: How I Met Your Mother wrapped a nine season run with the big reveal of the elusive "mother" in March – after which they promptly killed her off. Vampire drama True Blood bit the big one in August after seven seasons, while Boardwalk Empire's New Jersey mobsters put out their last hits in October after five seasons. The Sons of Anarchy crew, meanwhile, rode off into the sunset in December.
Mad Men, one of the most popular series on television, started the slow burn toward its finale by airing part one of it's two part final season between April and May. Part two of the series finale airs in the spring next year.
Here Comes Honey Boo Boo also ended this year, but that show belongs on our list of "Shows We Never Watched and Lost This Year."
Why It's Relevant: Honey Boo Boo is never relevant.
In Memoriam
What happened: As happens every year, in 2014 we lost a number of notable personalities.
The Details: The list of prominent celebrities and cultural luminaries we lost in 2014 includes:
Maya Angelou, 86
Richard Attenborough, 90
Lauren Bacall, 89
Jean Béliveau, 83
Sid Caesar, 91
Joe Cocker, 70
Ann B. Davis, 88
Ruby Dee, 91
Oscar de la Renta, 82
Queen Fabiola of Belgium, 86
James Garner, 86
Peaches Geldof, 25
Nadine Gordimer, 90
Philip Seymour Hoffman, 46
Bob Hoskins, 71
P.D. James, 94
Casey Kasem, 82
Gabriel Garcia Marquez, 87
Juanita Moore, 99
Mike Nichols, 83
John Pinette, 50
Harold Ramis, 69
Tommy Ramone, 65
Joan Rivers, 81
Mickey Rooney, 93
L'Wren Scott, 49
Pete Seeger, 94
Elaine Stritch, 89
Shirley Temple, 85
Eli Wallach, 98
Robin Williams, 63