Popcorn Picks: Phoenix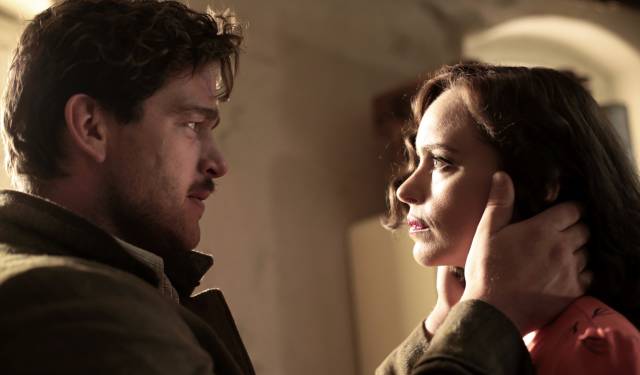 From the ashes of the Second World War rises Phoenix, a brilliant German drama about a concentration camp survivor who returns to Berlin and uncovers a horrifying secret about her husband and how she wound up in Nazi custody.
Starring: Nina Hoss, Ronald Zehrfeld, Nina Kunzendorf
Directed by: Christian Petzold
Genre: Drama
Choice Quote: "I always wished to sing with Johnny again, one day in Berlin…"
The Hype: A brilliant German drama about a concentration camp survivor named Nelly (Hoss) who returns home to Berlin, disfigured, following the Second World War. Her entire family, except her beloved husband Johnny (Zehrfeld), is dead, and after facial reconstruction surgery she sets out to find him. It turns out that, not only does he not recognize her, but when they meet he befriends her with the intention of hatching a plan to have her "impersonate" his "dead" wife in order to secure her inheritance. If that's not bad enough, the revelation of Johnny's worst betrayal of all is still to come…
The Reality: This film absolutely lives up to the hype, a brilliant tan intriguing story about a woman who secretly unravels the deadly layers of her husband's deception.
Hoss' nuanced performance, evoking Nelly's sorrow, anguish, and anger as she literally and figuratively reconstructs her life, woven into the foreground of a country trying to do the same, is simply masterful. Meanwhile, Zehrfeld manages to somehow summon a sense of humility and charm from within the treacherous ashes of Johnny – a feat no less amazing when the full extent of his betrayal is revealed.
And then there's the director Petzold, who crafts a shrewd, thrilling and tension-filled drama devoid of many of the conventions that would make a Hollywood version entirely predictable. I thought I saw the end coming multiple times, and when it did it was more satisfying than I'd hoped.
The Verdict: Phoenix is an inventive, original and thrilling Second World War film. A magnificent cinematic achievement.
Rating (out of 5): 4.5
Phoenix is now playing at the TIFF Bell Lightbox in Toronto and opens in Vancouver at Vancity Theatre and in Victoria at the Vic Theatre on May 15.
What did you think of the film? Tweet reviewer Mike Crisolago (@MikeCrisolago), or leave a comment below.