Monologue Master: Jay Leno Returns to "The Tonight Show"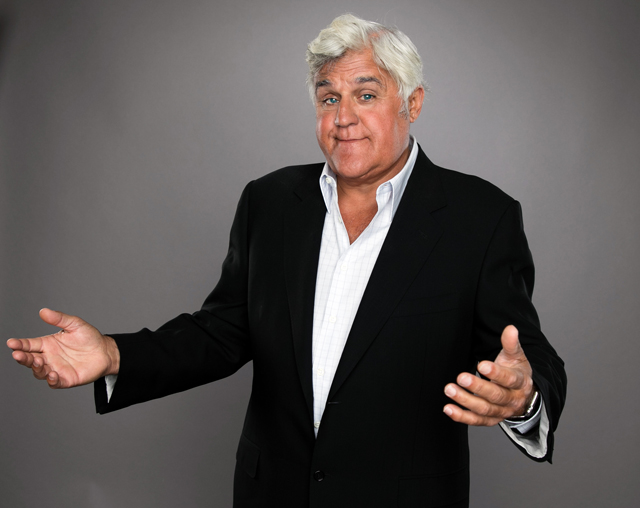 Leno delivers the laughs as a sub for host Jimmy Fallon.
Jay Leno visited his old stomping grounds last night when he became the first former Tonight Show host ever to return to the famed late night franchise and deliver the trademark opening monologue. And not only that – he killed it.
Leno "tagged in" to the monologue when current host Jimmy Fallon feigned a hamstring injury following a joke. Because the monologue must go on, he asked if someone could take over for him. That's when Leno made his surprise appearance, marking the first, and likely the last, time you'll see such a feat, at least in this generation, unless Conan O'Brien and NBC patch up their differences and opt for a cross-promotion with his own current TBS late night show, Conan.
Though Leno's return came out of the blue, the fact that he delivered the monologue better than 90 per cent of comedians in a similar role came as no surprise. Leno is and always has been, first and foremost a stand-up comedian. He's toured extensively as a stand-up since leaving The Tonight Show last year. Even former late night rival David Letterman, who famously trashed Leno many times on air, has admitted that, "I'm happy to say that I think (Leno) is the funniest guy I've ever known. Just flat out, if you go to see him do his nightclub act, just the funniest, the smartest, a wonderful observationist and very appealing as a comic."
Leno, 65, jumped right into the monologue with jokes about American politics and the economy before eventually being joined on stage by Fallon to cap off the appearance. Leno's new car show, Jay Leno's Garage, debuts tonight (Oct. 7, 2015) on CNBC, which helps explain the timing of his Tonight Show appearance. Still, Leno proved that you can take the comic out of the late night show, but you can't take the late night show, or the punch lines, out of the comic.
See the video above for Leno's full Tonight Show appearance.