Lemon Bucket Orkestra Revisits Ukrainian Revolution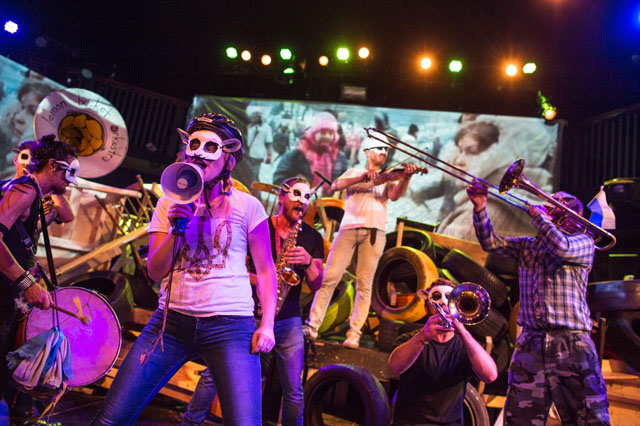 Mark and Marichka Marczyk talk the Lemon Bucket Orkestra's "revolutionary" folk opera Counting Sheep.
The violent uprising of the 2014 Ukrainian Revolution in 2014 holds deep significance for Mark and Marichka Marczyk. Not only did they both find themselves amid the turmoil in Kyiv's Independence Square, but they very literally found each other. The pair met during the revolution and, a little over a year later, married in Toronto.
Later that year Mark, a founding member of the Juno-nominated Lemon Bucket Orkestra – dubbed a "balkan-klezmer-gypsy-party-punk-super-band" – and singer Marichka created and performed, along with the Orkestra, Counting Sheep, a folk opera about the Ukrainian Revolution that blends traditional Ukrainian polyphony choral music, video of the conflict and audience involvement in a show that earned rave reviews in Toronto and on tour around the world.
Now, until June 5th, the Lemon Bucket Orkestra returns with a remounting of Counting Sheep at Broadview Place in Toronto.
Mark and Marichka Marczyk recently spoke to Zoomer about the show.
MIKE CRISOLAGO: Counting Sheep was inspired by your experiences during the 2013 Ukrainian Revolution. Can you tell us a little about what you experienced in Ukraine during that time and why it was important to you both to write this folk opera?
MARK: We tried to write about what we saw and felt while on Independence Square in the winter of 2014, but the experience was too wide and dense and multi-faceted for our combined vocabularies. So we created something that engaged and overwhelmed all the senses without saying a thing. And we put it to music we felt gave body to the many voices of the revolution: traditional Ukrainian polyphony … that's what we wanted – to somehow welcome people into the experience we had, that many Ukrainians had.
It's important because no one understood what happened on an emotional level. It was a distant event that took over global news coverage for a few days and then faded into obscurity, like other revolutions and outbreaks and wars. But war is not obscure. It's real and it hasn't stopped in Ukraine.
MC: How does the creative process of putting together this performance piece about the revolution differ from your regular process of writing music?
MARICHKA: We didn't write the music. The songs are traditional. Our goal was to convey these songs as close to the originals as we could, including ornaments, vocal technique, pronunciation. The code of the "folk," the people, is embedded in these elements. It may be hard to explain, but it is felt. It's there. We didn't only want to express what the revolution was but what a Ukrainian is and [that] is encoded in these songs.
The process is draining – first of all, it's very difficult to teach people of another culture about Ukraine, let alone ask them to embody the elements that make us, us. But when other Ukrainians see and hear the show and can't tell that most of the cast is not Ukrainian, it's very rewarding because it means we have demystified the Ukrainian – for the audience AND for the cast.
MC: Your music is often very upbeat and energetic. When it comes to your fans, what reaction have you received to this show, which is obviously about a very serious and tragic event?
MARK: Revolution is not only serious and tragic, it is also empowering and celebratory. Because our fans are used to the latter from us, that wasn't such a far departure and gave them an access point. Then it's up to us to hold their attention, to guide them through the more difficult emotions, the ones they're not expecting or less ready for. And because that desire to guide comes from such an honest place, they tend to let us, and we're grateful for that.
MC: In a world where violent and armed clashes seem more and more common, what role do you think music and performance pieces like this can play in helping people to understand such conflicts?
MARICHKA: Music is like water in times of intense thirst – it gives you just enough strength to live, a moment of rest, a bit of hope that there is not only war in war, that in the civilian world there are people also struggling to understand and care. In moments of historical stress, art blossoms, becomes deeper and stronger. Art lets people cry and laugh and… that's the only goal in times of conflict. To let people feel human.
MC: You've toured with this show and continue to do so. Has performing it so many times, and receiving audience reaction, helped you glean any new or fresh perspectives about the Ukrainian Revolution that perhaps you may not have thought of before?
MARICHKA: No matter how interactive or immersive the play is, it's still happens in a theatrical space. You can't get across the real fear or joy or grief or inspiration one feels when the stakes are real.
MARK: I don't know that it taught me anything new about the Ukrainian Revolution. But it certainly reaffirmed my belief that people are generally happy here in Canada. I'm interested in how happy or unhappy people are in other places in the world.
Counting Sheep is on at Broadview Place until June 5, 2016. For show and ticket information, visit www.countingsheeprevolution.com.