Gord Downie Receives Order of Canada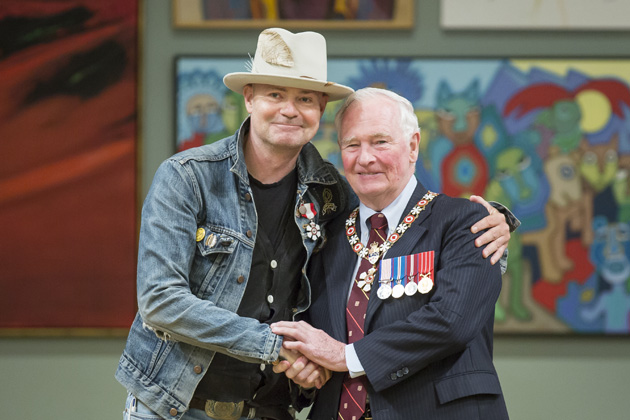 Gord Downie receives his Order of Canada from Governor General David Johnston. Photo: Getty Images
The Tragically Hip frontman was appointed to the Order of Canada alongside indigenous activist Sylvia Maracle.
It's been a big morning for Gord Downie: The Tragically Hip singer was named a member of the Order of Canada by Governor General David Johnston earlier today at Rideau Hall in Ottawa, along with indigenous activist Sylvia Maracle who was named an officer of the Order for her advocacy for urban indigenous peoples and women's issues.
Prime Minister Justin Trudeau and wife, Sophie Gregoire-Trudeau, were on hand to help pay tribute to the recipients.
According to the office of the Governor General, fellow Tragically Hip members Rob Baker, Johnny Fay, Paul Langlois and Gord Sinclair will receive their insignia at a later date. The band tweeted that they were "honoured" to be receiving the Order of Canada.
Downie and Maracle are among 30 recipients honoured for displaying leadership in indigenous issues, including NHL player Jordin Tootoo, who received a meritorious service medal in the civil division.
RELATED: Secret Path: Gord Downie's Final Crusade 
After the 53-year-old Downie first announced his terminal brain cancer diagnosis and embarked on a national farewell tour with the Hip, he's become a vocal advocate for indigenous people across Canada and the globe.
His recent solo album, documentary and graphic novel, Secret Path, chronicles the true story of a 12-year-old Ojibwe boy named Chanie "Charlie" Wenjack who died while trying to escape a Kenora, Ont. residential school in 1966.
RELATED: Gord Downie Sobs During Emotional AFN Special Assembly 
In a CBC documentary about the story, Downie said it's, "the best thing I've ever done. And by 'best' I just mean it helps my heart a little bit. This is what I want to do. Nothing else really matters to me… It's an attempt to capture the feeling, somehow, of trying to get home…Imagine if [the First Nations communities] were a part of us, and we them—how incredibly cool it would make us. That's what's missing as we celebrate doughnuts and hockey [to mark Canada 150] over and over again."