Here, New York Times bestselling author, Alan Bradley on what inspires him – and spending time with his favourite fictional character.
Alan Bradley, 79, was born in Toronto and grew up in Cobourg, Ont. After a long career in broadcasting, he turned to writing full-time. It was his 2007 mystery novel, The Sweetness at the Bottom of the Pie, that launched his international bestselling 1950s-era Flavia de Luce series about an 11-year-old girl "with a passion for poison."
All of the books in the series, which is set in England, were New York Times bestsellers and have been optioned for a television series. So, anticipation is high for the latest instalment, The Grave's a Fine and Private Place, which finds Flavia, now 12, dealing with a family tragedy. Invited on a river trip with her two sisters, something grazes Flavia's fingers as she dangles them in the water. She clamps down on the object and pulls up what she expects will be a giant fish. But is something far better: a human head, attached to a human body.
"I'm still as thrilled – even after nine books – to be in the presence of Flavia de Luce: even more thrilled than she is herself," says Bradley of his creation.
"Like most young people, Flavia grows in spurts, and you never know, from moment to moment, which facet you're going to be presented with. She can be like a diamond – or a lump of coal. It depends upon your viewpoint and her momentary mood. I suppose that like all heroines and heroes, she's a mirror."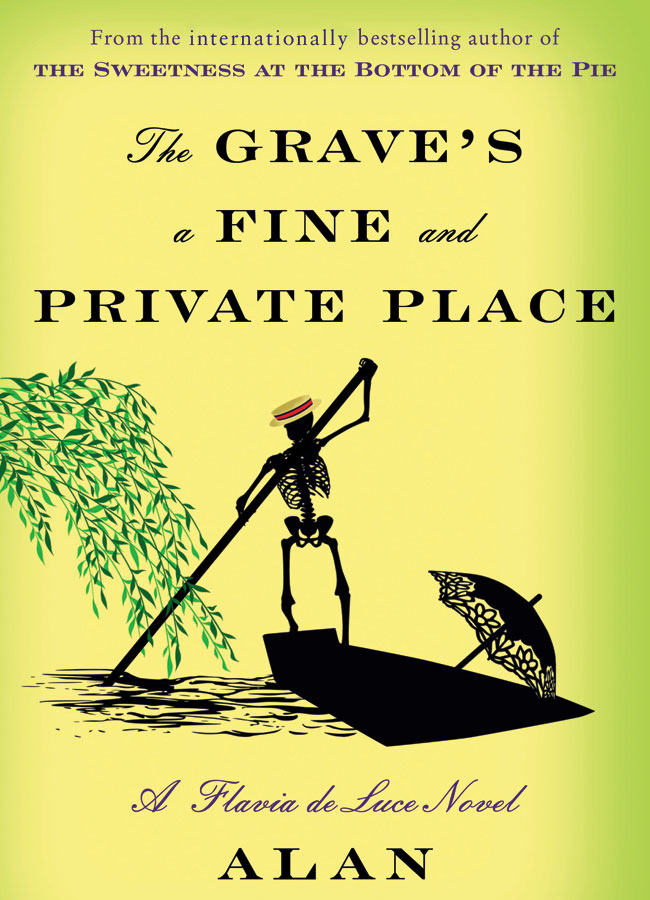 What advice do you wish you had given your 25-year-old self? Relax.
What advice would you give your 80-year-old self? Don't relax too much.
What do you know for sure? That all true wisdom is hidden in the written word.
What have you learned? Classical guitar and Morse code. So, I'm working on a thriller where the secret message is contained in a flurry of flamenco rasqueados for the dashes and castanet clicks for the dots.
What will you never learn? To play bridge.
Best piece of advice? My sister once told me, "It's not just you. Everyone is tired in the morning. I'm just as exhausted as you are. So get up and get dressed."
Did it work? Eventually. I now start work at 4:30 a.m.
What inspires you? The sense of wonder in young people – and even more so in old people.
The moment that changed everything? Coming back from the dead.
Happiness is … the respect of our friends, family and colleagues and the love of an intelligent cat.