Comedian Bassem Youssef Talks Dictators, Diets and Toronto's Brave Festival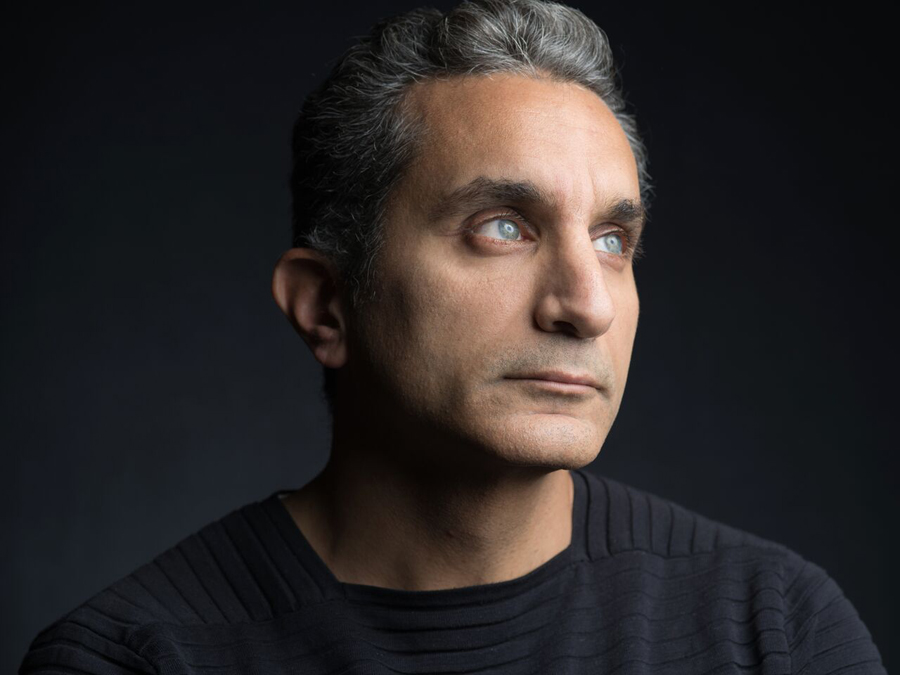 Can comedy topple dictators? Are concerns of American authoritarianism overblown? What's the best diet for us as we age? These questions may seem tenuously related but, in fact, there is one man with the life experience and qualifications to answer all of them.
In 2011, Bassem Youssef, a Cairo-born cardiothoracic surgeon, went from treating the wounded during the Egyptian revolution to posting a series of five minute satirical videos to Youtube – filmed in the laundry room of his apartment building – which served as a mouthpiece for the throngs of protesters railing against the corruption and brutality of then-Egyptian President Hosni Mubarak.
Youssef's videos racked up millions of views on Youtube and, a few months later, an Egyptian television station gave him his own satirical comedy show – Al Bernameg.
Not unlike British comedian Sacha Baron Cohen, whose new series series, Who Is America?, is already garnering rave reviews for lampooning America's current far-right political leaders and ideologies, Youssef proved an instant success in using comedy to combat Egypt's oppressive regimes. His show eventually garnered 30 million viewers and earned him the nickname the "Jon Stewart of the Arab world."
"I found myself wanting to pursue this because I thought there was a need to talk to people, especially in a place where political satire was out of the question," Youssef says. "So honestly I thought maybe I'll do one season and go back to medicine, but one season led to another to another and this led to a whole career shift."
As he rose in popularity – including appearing on Stewart's The Daily Show more than once, and having Stewart come to Egypt to appear on his show – the successive governments of President Mohamed Morsi and General Abdel Fattah el-Sisi increasingly condemned his comedy. Authoritarians, as we know, can rarely a joke.
After a tumultuous three-year run, which included being arrested and interrogated, Youssef fled Egypt and eventually landed in the United States, where, at 44, and after being named one of Time magazine's "100 Most Influential People in the World," his comedy career is on the upswing.
This Thursday, July 26, Youssef travels to Toronto's Harbourfront Centre to perform a set called The Joke Is Mightier than the Sword at the Brave: The Festival of Risk and Failure. And with a tagline like, "If all we have to fear is fear itself, why be afraid?" the festival seems perfectly suited to the surgeon-turned-satirist.
Youssef spoke with Zoomer ahead of his appearance at Brave, where he answered our questions about everything from dictators to diets.
MIKE CRISOLAGO: Could you have imagined, seven years ago, that those Youtube videos you made would lead to everything that's come after?
BASSEM YOUSSEF: This has been a rollercoaster in the whole sense of the word. I never actually imagined this seven years ago. I always thought of myself as someone who's going to have a very expected mundane career of being a doctor. And I know it sounds like a little bit of an oxymoron, you know, like saying a mundane career as a doctor, because that in itself is very exciting for a lot of people. But compared to the rollercoaster that we've been through during the seismic shifts that happened to the Middle East, that's how I can describe it now.
MC: Did you have comedic inclinations before you went into medicine?
BY: I was a regular kid who liked telling jokes but it was not something that you would see and say, "Oh, you should be on television." I was just a guy who liked to laugh like 100,000 other kids.
MC: People in power hate to be laughed at, of course, as it robs them of their strength as a leader. As someone who's confronted an authoritarian regime with comedy firsthand, how effective is comedy is as a weapon?
BY: I think this is too much of a romanticized vision of this. Comedy is not a weapon, and comedy will not bring down dictators. I'm sorry to say it; we have to be very honest about this, right? Because at the end of day a dictator can just take a [comedian] and put him into jail. But the thing is, even in a quality functioning democracy, comedy could be used in a way to strip that dictator [of] what he relies on, which is fake respect and fear. This is the two things that are going on for authoritarian leaders, even in a democracy like the United States. Donald Trump is a perfect example of someone who is using lies, using fear, using rhetoric populism. And comedy strips him of that and this is why he gets pissed because he has nothing else to rely on other than respect and fear. He always talks about, "Oh, I need people to respect me, to be nice to me." He is basically a spoiled reality TV star. And the same thing happens with the Middle East. The only difference is that the system here in America prevents Donald Trump from putting those people in jail. So basically it is not a weapon as it can put down dictators but it just exposes them for who they are.
MC: You left Egypt and autocratic rule and escaped to America and now you encounter someone like Donald Trump, who a lot of people are saying is laying the groundwork for authoritarianism. Since you've lived through authoritarianism, do you feel a similar vibe in America to what you endured back home?
BY: There's similar techniques of course, similar in the rhetoric, but hopefully there's still a system intact that allows you to change that every couple of years through election. So, for example, [if] people went out and voted, and they flipped the House and the Senate, Trump will not be able to do what he wants. It's not really about Trump, it's about how he is empowered by the Republicans who basically are pushing the agenda that divides people more and more. So the divide is there, but again the system is resilient enough to give people the chance to go back.
When you go through a true [military] dictatorship, there is no space for people to change anything … but here the people have the power every couple of years to go and change things and that's the big difference between the vibe in the Middle East and here.
MC: What's one of most important things you've learned about performing and creating comedy?
BY: I have to rewire my brain in order to do comedy in English. It is almost scary, because I have to deal with a different language, different faith and different mechanism in order to do the comedy. So this is why I had basically to relearn everything, and that was interesting and at the same time scary. In Arabic it's much easier of course, but in English it allows me to go to places that I cannot go to in Arabic, which is very interesting.
MC: Tell us about what people can expect from you when you come to the Brave Festival in Toronto.
BY: In Toronto I'm going to change just a little bit, so it will be like a mixture of comedy, mixture of stand-up, mixture of story-telling, even a mixture of interaction with the audience, playing videos from my own show and show them what we have been through. So I think that's going to be interesting … Just come and have fun.
MC: Do you have any thoughts on Canada or Canadians?
BY: Well I have been to Toronto once; I've been to Montréal twice. Of course lovely people, very nice people, and it's a mixture of French and British vibes there. It's kind of like America but with better healthcare … [and] very polite.
MC: We're also keen on health and wellness so I thought I would ask you, as a former surgeon, what advice you have for staying healthy and vibrant as we age.
BY: Eat vegan.
MC: So you're a vegan?
BY: I am.
MC: When did you become a vegan?
BY: Four years ago?
MC: And what benefits have you noticed?
BY: I get sick less. My system is much better. My skin and my hair is different, I have more energy. Yeah, it's just changed my life completely.
MC: You came to this second career sort of by accident, so what's your longterm goal for your comedy career?
BY: I wish to actually have a foothold in the American and western media to put forward voices like me who come from the Middle East, who can tell people what is really going on right now instead of listening to it second-hand from people who just visit it or read about it.
Click here to learn more about Bassem Youssef's appearance at the Brave Festival.