Birthday Boy: Prince Harry's Most Charming Royal Moments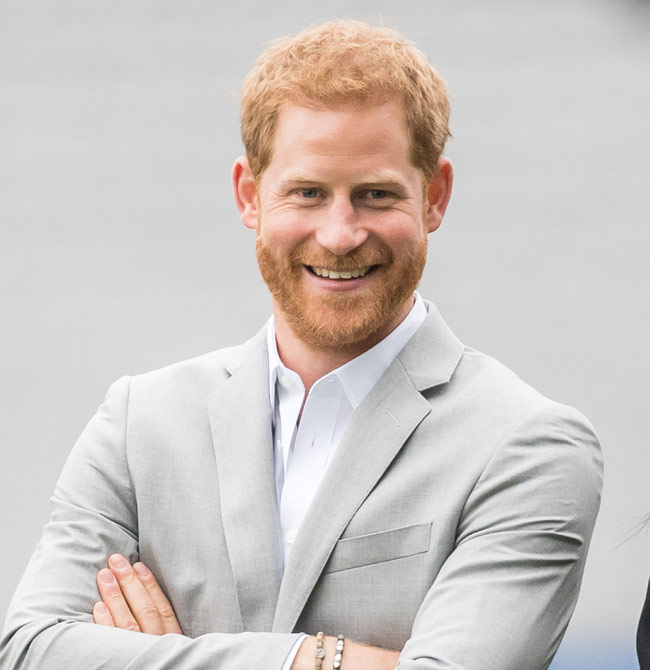 Photo: Samir Hussein/WireImage via Getty Images.
This weekend, Prince Harry bids a fond farewell to an exciting and busy year as he celebrates his 34th birthday on September 15 — his first as a married man. So, that must mean the royal has a full-blown party planned that could rival his own wedding, right? Well, no — the complete opposite, in fact.
That's right — on Saturday, the formerly hard-partying prince (remember those days?) will instead enjoy a quiet celebration out of the limelight with his new bride, Meghan, Duchess of Sussex. With no public engagements or royal duties scheduled for the day, Harry and Meghan can avoid the glare of the paparazzi's lens and relish some downtime before their rather hectic travel schedule next month. (More on that in a moment.)
Gone are the days of, as Tatler called it, "Jack the Lad, Prince Hal on a night out with Falstaff." Now, Harry frequently opens up about his battles with depression that followed the devastating 1997 death of his beloved mum, Diana, Princess of Wales.
In his late teens and 20s, Harry earned a reputation as a royal rebel. He partied too hard and made a series of ill-advised public gaffs, routinely making tabloid headlines for his naughty behavior — including one infamous game of strip billiards in Vegas. Although he ultimately found a sense of purpose and discipline in the British Army, it still took a few years for him to shake that reputation.
However, those days are finally a thing of the past. "Harry's drinking days are over," a source told People. "All of his best friends have settled and had children, so he's had fewer people to go out and play with. He realized he was getting a bit older and that it was time to settle down a little bit."
In October, we'll be seeing a lot more of Harry and his life of newly-wedded bliss as he and the Duchess of Sussex travel for their first royal trip overseas together, heading to Australia to take part in Harry's Invictus Games, which is being held in Sydney from Oct. 20-27. The rest of the royal tour includes treks to Fiji, New Zealand and the Kingdom of Tonga.
In honour of Harry's 34th birthday, we revisit some of our favourite photos of the cheeky royal through the years.
We may as well start with this gem of a photo from 1988 when the pint-sized royal drew laughs for his tongue-out pose during the annual Trooping of the Colour. If nothing else, it proved to be one of the earliest examples of the spunky, fun-loving personality of the young prince. Although, his mum, Diana, Princess of Wales, didn't appear all too impressed with his behaviour.
OK, so Harry isn't exactly the focal point in this snap, but it's just such a sweet photo of his mum running towards him and older brother, William, that we couldn't resist including it — and it was taken in Toronto! The young princes had just arrived on the deck of the yacht Britannia when they joined their parents on an official visit to Canada in October 1991.
This one is a personal fave: Her Majesty is positively beaming as she inspects the soldiers — including her grandson — at the Sovereign's Parade at Sandhurst Military Academy in 2006. Even Harry can barely suppress a grin.
A royal affair: Harry stepped up as his big brother's best man for the April 2011 nuptials of Prince William and Kate Middleton. Paired with the bride's younger sister, Pippa, Harry no doubt proved a comfort to his sibling on his big day.
In 2012, Harry challenged Olympian Usain Bolt to a race at the Usain Bolt Track at the University of the West Indies in Kingston, Jamaica. Despite a valiant effort, the royal was no match for the King of the Track.
Tag, you're it! The sporty prince enjoys an energetic game of tag rugby with kids at Kings Park Stadium in Durban, South Africa in December 2015. Some of Harry's best photo ops have featured him interacting with kids and babies. Case in point …
There's no denying the prince is a natural with the wee ones. This adorable snap from 2015 went viral — and for good reason. The royal charmingly mirrored a baby's gummy grin during a visit to Christchurch, New Zealand.
Didn't believe me when I said Harry is great with babies? I present Exhibit B: During the 2017 Invictus Games in Toronto (and only days after he made his official public debut with Meghan Markle), Harry got in a playful scuffle with a young toddler who expressed more than a passing interest in the royal's box of popcorn. The photos and accompanying video went viral — and millions of people around the world swooned.
The look of love: It was the engagement that rocked the world. In November 2017, on the grounds of Kensington Palace, Harry and American actress Meghan Markle confirmed what we all already knew — that the high-profile couple — humanitarians at heart — were meant for one another.
The handsome groom: It feels like he grew up before our eyes, doesn't it? A visibly over-the-moon Harry exchanged "I do's" with his beautiful bride, Meghan Markle, at St. George's Chapel in Windsor on May 19. Don't pretend you didn't watch the whole glorious affair, because we know you did.