In honour of Marion Ross' 92nd birthday (Oct. 25), we revisit our recent interview with the Happy Days star.
It's little wonder that Marion Ross earned the sobriquet "America's Mom."
For more than a decade, Ross fully embodied the role of Mrs. Cunningham on the smash hit ABC sitcom, Happy Days — right down to the homemade apple pies and motherly advice. No doubt audiences were drawn to Ross's comedic chops, warm smile and sweet temperament — which, as it turns out, is an awful lot like the real Marion Ross.
When I recently chatted with the retired actress, she answered the phone with a breezy "Hello, dear" and immediately asked where I was calling from. "Oh, I have such fond memories of Toronto," she says in response, recalling her theatre days. "My mother was Canadian, you know." (I did, but more on that later.)
Happy Days, which aired 255 half-hour episodes between 1974 to 1984, chronicled the escapades of Milwaukee teens Richie Cunningham (Ron Howard) and his buddies, Ralph Malph (Don Most), Potsie Webber (Anson Williams) and high school dropout Arthur "Fonzie" Fonzarelli (Henry Winkler). Set in the mid-1950s, creator Garry Marshall envisioned a feel-good series that would harken back to the idealized vision of life that appeared in Leave It to Beaver-esque shows from back in the day. The gamble paid off: the series went into syndication and remains one of the most beloved TV series of all time.
Ross was an integral part of the series' success: Although audiences came for the hilarious antics of its central teens, we stayed for the head-strong housewife who had a knack for scene-stealing.
As you can imagine, speaking with Marion Ross was a lot like speaking with Mrs. C — lots of laughs, lots of memories, lots of warm wishes.
Even her sign-off won me over as our chat came to a close. It even came off, somewhat, as an affectionate motherly command. "My love to all you Canadians, okay?"
Yes, Mrs. C!
We recently caught up with the actress to talk Hollywood, Happy Days and turning 90.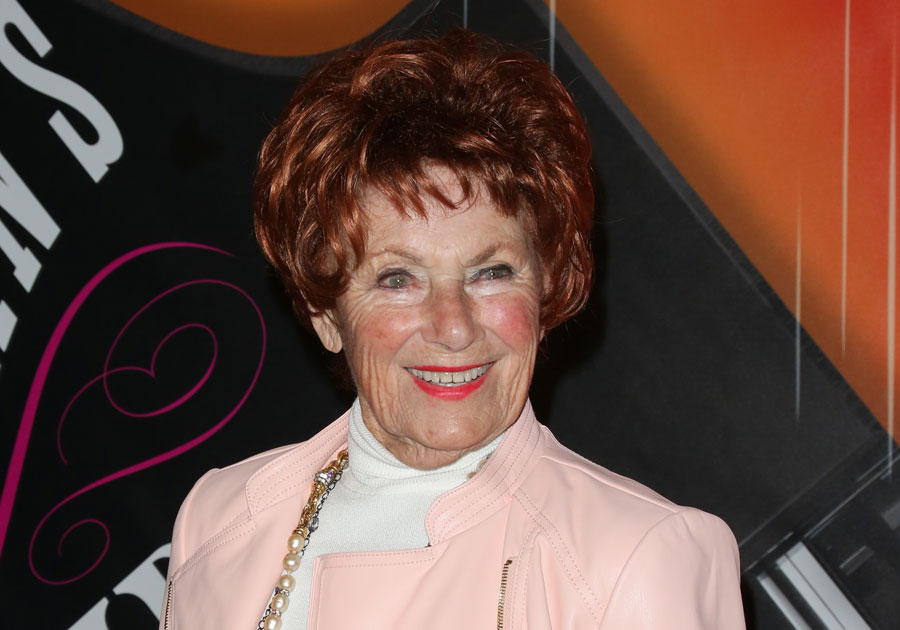 LAURA GRANDE: Congratulations on the release of My Days: Happy and Otherwise. I love that your son, actor-comedian Jim Meskimen, encouraged you to do it. Tell us a bit about that.
MARION ROSS: "He said, 'Mother, I'm bringing this man to the house, and we're going to do a book about you.' I said, 'No, no. I don't want to do a book.' So then they tied me up, put me in a chair and got me to start talking. [laughs] We kept this up until he finally had a full book."
LG: How did you enjoy the writing process?
MR: "I liked it a lot, but it would have been impossible for me to write it by myself because we actors are talkers but not necessarily writers."
LG: In your book, you talk a lot about your lifelong desire to become an actress. Can you tell us where that longing came from?
MR: "I remember very distinctly that it came from having a crippled brother. My brother was about 18 months younger than me, and also I was the second little girl in the family, so I didn't get a lot of attention — unless, of course, I made sure I was so damned cute, you know? [laughs] I kind of learned to be a canny child right off the bat and I could see the effect I'd have on people."
LG: You also have a Canadian connection.
MR: "Yes, my mother was born in Saskatchewan. Do you know where Tisdale is? It's right above Regina. My Irish grandmother, Ellen Hamilton, saw all her boys fight in the Crimean War, and they were given free land if they were willing to go to Canada after the war. But they weren't farmers — they were Irishmen! They could play the fiddle and tell stories and things like that. [laughs] But my Canadian mother [and her family] are a very important part of me."
LG: You share a story in your book about the rude awakening you received during your first audition in Hollywood. 
MR: [laughs] "Yes, I was finishing up college at UCLA and I was working as a waitress when this man comes over to the kitchen area [after finding out I wanted to be an actress] and gives me his business card. He says, 'Come see me.' On the card it said Studio B, so I thought, 'Wow! Studio B!' But it was actually his apartment. He says to me, 'How do you think you're going to get anywhere in Hollywood?' So I said, 'Well, I'm 21 and a college graduate and I want to become an actress.' And he said, 'Well, if there are 10 girls all lined up for the same part, which one do you think they [the producers] will choose?' I said, 'Well, the one they like the best!' And he said, 'Well, why would they like one better than the others?' Well, this took me forever to figure out his meaning. [laughs] Once I realized what he meant, I punched him in the shoulder and said, 'You have no character!'"
LG: Not many people can boast to having made their film debut alongside the likes of Ginger Rogers and William Holden. What was it like filming Forever Female (1953) with such marquee stars?
MR: "Oh, I'm so glad you ask these lovely questions! I was under contract with Paramount Studios by the time I was 22 years old. Only now do I look back and I think, 'Wow! That was a pretty good career!' So there I was with William Holden, Paul Douglas and Ginger Rogers — all these big stars — and I have this tiny little part. But the director thought I looked like Greer Garson, for pete's sake! He'd say, 'Ms. Garson, what do you think about that scene?' Well, I certainly had opinions about the script. [laughs] Every day he'd ask again, and I'd have more opinions. But believe me, I eventually learned not to have so many opinions in Hollywood."
LG:  You eventually landed the role of Mrs. C on Happy Days and, just like that, you became known as America's Mom. What did you love most about the series?
MR: "It was a wonderful job and, at the time, I was divorced and had two children to feed. All of a sudden, we had a show that was a hit. I didn't realize at the time that it would be my home for the next 11 years, but it was. It allowed me to raise my children, buy a home, you know?"
LG: Now, you didn't exactly get along with your screen husband, Tom Bosely, at first. Tell us about that.
MR: "He had been on Broadway, and I think he really wished he was 'married' to a more important actress than I was at the time. Also, at home, which I didn't realize at the time, his own wife was ill, so he was unhappy in part of his life, so he was crabby at work — especially with me. It was hard at first, especially those first couple years."
LG: What do you think made the Happy Days gang so tight-knit?
MR: "I want to give Garry Marshall a great deal of credit because he created the show and was concerned that we all get along. We were a wonderful family. We were all on a softball team together. He created a world for us. They all wanted to be a part of my book. Isn't that wonderful to have had that kind of relationship? And now our show is pretty damn old, but we're still all bonded together. Very unusual, very rare."
LG: What's your fondest memory from the set of Happy Days?
MR: "Oh, I've never had some many memories come back to me at once. [pauses] We'd just have so much fun. We were all professionals, so it was very rare that any of us would make a mistake so the audience loved it when we did make a mistake. We'd have to shoot it again, and if someone got the giggles, we'd have to shoot it again. And again. [laughs] We had a pretty darn good time together. Every Friday night, when we'd shoot the show, it was a party!"
LG: You turn 90 in October. Any plans to celebrate the milestone?
MR: "Oh, yes! [laughs] But I can't believe it — it's shocking to me! Betty White is a dear friend of mine, and she's 96, and I tell you, there's no stopping us girls."
RELATED: