It's confirmed: Meghan Markle and Michelle Obama — two of the world's most influential women — have finally met in person. Oh, to have been a fly on the wall during that conversation.
On Monday night, the pregnant Duchess of Sussex attended an exclusive discussion between the former first lady and feminist writer Chimamanda Ngozi Adichie at London's Southbank Centre.
Although their interaction wasn't captured on film — nary a discreet cellphone photo exists — it's been reported that the two humanitarians discussed girls' education, among other subjects. Obama was in London to support her new memoir, Becoming, which has been flying off shelves since it's Nov. 13 release.
RELATED: "I Will Never Forgive Trump," Writes Michelle Obama in New Memoir
"They spoke at length about the importance of supporting and empowering women across all cultures and communities," a source told the Evening Standard. "They also talked about shared experiences of pregnancy and raising children, plus shared causes including girls' education."
Meghan and Michelle's meeting should come as no surprise, really. The Obamas have a longstanding history with the House of Windsor. In 2016, Princes William and Harry and Catherine, Duchess of Cambridge hosted then-President Barack Obama and FLOTUS Michelle for a private dinner. "The three of them have built up a relationship with the President and First Lady over the years," a source told PEOPLE at the time.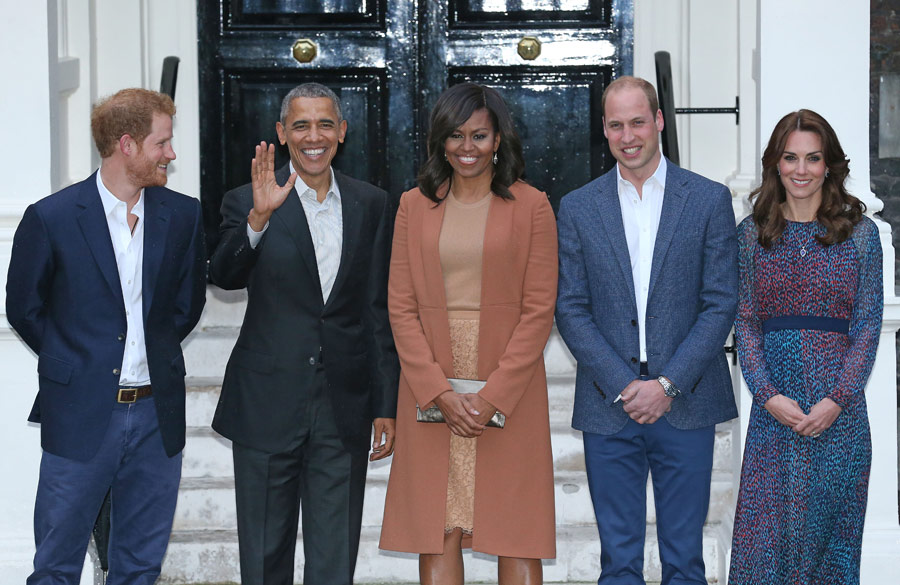 Royal watchers will recall that the evening's event resulted in the adorable snap of the pint-sized and rosy-cheeked Prince George shyly greeting the Commander-in-Chief and the First Lady in a fluffy white monogramed bathrobe, gingham blue PJs and little slippers.
Previously, Harry hosted Michelle and Barack's daughters Malia and Sasha — along with their grandmother Marian Robinson — for tea at Kensington Palace in June 2015.
The former president and his VP, Joe Biden, even made a surprise guest appearance at Harry's Invictus Games in Toronto last year, which you'll recall, was the first time Harry and Megan officially appeared in public together. At the basketball game they attended, Obama was heard asking Harry about the future duchess. Michelle and Harry later followed up their Invictus meet-up with a visit with some Chicago high school students while the royal was in town for the summit of the Obama Foundation.
More recently, the former FLOTUS-turned-author, 54, offered some sage advice to the 37-year-old Duchess of Sussex in the latest issue of Good Housekeeping — one high-profile woman to another.
"Like me, Meghan probably never dreamt that she'd have a life like this, and the pressure you feel — from yourself and from others — can sometimes feel like a lot," Obama said. "So my biggest piece of advice would be to take some time and don't be in a hurry to do anything."
She also touched on Meghan's chance to make a difference in the world given her new position in the Royal Family.
"What I'd say is that there's so much opportunity to do good with a platform like that — and I think Meghan can [maximize] her impact for others, as well her own happiness, if she's doing something that resonates with her personally," Obama said.