When they go low,  she goes high — high enough, in fact, to top the literary bestseller charts. In fact, Michelle Obama's hugely popular memoir Becoming is now predicted to top 10 million sales by it's publisher Bertelsmann, which would make it the most successful autobiography of all time.
So what does that mean, exactly? Well, as The Root notes, "Obama's book helped catapult Bertelsmann to its highest sales in more than a decade; the company cashed in on approximately $20 billion in total sales last year. The candid memoir, which traces Obama's upbringing in Chicago's Southside up through her and Barack's time in the White House, sat at the top of the bestseller list longer than any book since 2012's Fifty Shades of Grey."
So yeah, it's a big deal.
And as the former First Lady's autobiography sales continue to climb at a record pace, we look back at 15 other fantastic, must-read memoirs.
1. Tuesdays with Morrie by Mitch Albom
Detroit sports journalist Mitch Albom's memoir about reconnecting with his beloved college sociology professor Morrie Schwartz captivated readers from its release in 1997. As Schwartz gradually succumbed to ALS, Albom visited him every Tuesday for the final weeks of his life, gleaning some final lessons from his mentor. The meditation on life, loss, debilitating diseases and the truths learned along the way proved a runaway hit, topping bestseller lists and setting a standard for the reach of modern memoirs. Anniversary re-releases continue to attract new readers while a 1999 television adaptation of the book won Jack Lemmon, who played Morrie, an Emmy for Outstanding Lead Actor in a Miniseries or Movie for what would turn out to be his final TV role.
2. I Know Why the Caged Bird Sings by Maya Angelou
Poet, singer and activist Maya Angelou lays bare the truth of enduring racism, sexual abuse and struggles with identity that marked her childhood in I Know Why the Caged Bird Sings, a memoir celebrated both for its honesty and cultural importance as well as its poetic language. Released in 1969 as the first in a series of autobiographical books by the author, this memoir became required reading in many schools and communities, a literary landmark and culturally celebrated story of enduring hope against hopelessness that continues to resonate with new readers to this day.
3. The Diving Bell and the Butterfly by Jean-Dominique Bauby
It's one thing to write a memoir. It's another to find yourself completely paralysed, compose the memoir in your head and then spell out the entire book to an assistant one painstaking letter at a time. That's what former French Elle Editor-in-Chief Jean-Dominique Bauby did in 1995 following a catastrophic stroke that left him paralysed with a condition known as locked-in syndrome, which allowed his mind to function normally while his body remained incapacitated. The only part of his body that Bauby could move was his left eye, so he literally wrote the memoir in his head and spelled it out, letter by letter, by blinking his left eye whenever his writing assistant signalled the right letter. According to Wikipedia, the book, which chronicles Bauby's life before and after the stroke, including dreams and thoughts that come to him while he lay paralysed, took 10 months to write by working four hours a day on it. All told, the site says, "The book took about 200,000 blinks to write and an average word took approximately two minutes." Bauby passed away just two days after it was published.
4. Kitchen Confidential: Adventures in the Culinary Underbelly by Anthony Bourdain
The late Anthony Bourdain blew the doors to professional kitchens open with this compelling, raw and honest examination of both the restaurant industry and his own addictions. Part culinary expose, part restaurant advice column and part unvarnished personal memoir, the book offered an unprecedented up-close perspective of the trials and tribulations of the restaurant industry and those who work within it. The memoir grew out of an essay Bourdain published in The New Yorker and proved a publishing phenomenon when it hit bookshelves in 2000, helping to establish a new modern memoir benchmark for authentic insight and gritty honesty.
5. Between the World and Me by Ta-Nehisi Coates
Ta-Nehisi Coates is one of the foremost cultural observers and writers of our time and his autobiographical Between the World and Me tackles issues of race and culture in the modern United States. Written as a letter to the author's son, Coates recalls the institutionalized racism and prejudice that hung over his own youth and the repercussions that African-Americans face today because of the ever-present veil of white supremacy and racist systems in place in everything from law enforcement to education. The book received rave reviews upon its release, topping bestseller lists and earning a National Book Award, and remains as prescient and essential today as it was when it came out in 2015.
6. The Year of Magical Thinking by Joan Didion
The famed journalist and writer's memoir about dealing with grief is a must-read for anyone overcome by loss. A finalist for the Pulitzer Prize and winner of a National Book Award, among other accolades, Didion's celebrated tome documents the grieving process in the time following the death of her beloved husband, writer and literary critic John Gregory Dunne, in which she struggles with the reality of his passing. At the same time, she was caring for her seriously ill daughter, who would recover but then pass away unexpectedly shortly before the book was published. But despite the tragic topic, The Year of Magical Thinking offers a universal perspective on love and loss and serves as a pivotal addition to literature about coping with grief.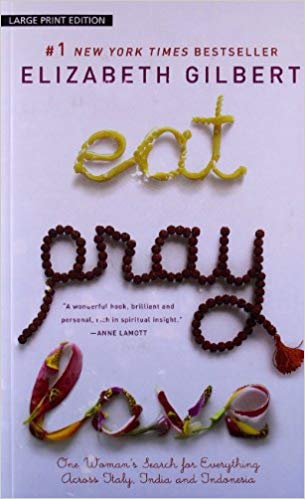 7. Eat, Pray, Love by Elizabeth Gilbert
Yes, we've all heard of this one. It was eaten up by readers, praised by Oprah and loved by Hollywood so much that they made a movie out of it starring Julia Roberts and Javier Bardem. But at the heart of this literary hit is a tale of heartbreak and yearning and one woman's journey to various corners of the globe in search of culinary, spiritual and romantic fulfillment. It's a story that transcends borders and continents, which is why so many people love it.
8. The Liars' Club by Mary Karr
Karr's seminal 1995 memoir of a childhood in 1960s Texas marked by mental illness, alcoholism and sexual abuse proved an instant hit when it came out in 1995, earning praise from critics and readers and accolades from the literary establishment. Anniversary editions continue to introduce new readers to Karr's story while the book also sparked two sequels, Cherry and Lit. On top of it all, the book is "credited for launching a resurgence in popularity to the memoir genre."
9. On Writing: A Memoir of the Craft by Stephen King
Stephen King has penned some of the most beloved books of all time, but one of his most lauded has nothing to do with monsters, prisons or haunted hotels. On Writing: A Memoir of the Craft is hailed by many as a modern classic — part memoir, part literary how-to and part reminiscence of the difficulties he faced after being hit by a car in 1999. The memoir aspect is warts-and-all-honest while the literary discussion is roundly accepted as one of the best examples of writing advice ever published. Many a scribe has a copy of King's memoir on their writing desk (myself counted among them) and there's a reason — King's genius spans multiple genres and this is yet another example of it.
10. West with the Night by Beryl Markham
In September 1936, 33-year-old Beryl Markham took off on a solo flight from England and flew across the Atlantic before touching down in Nova Scotia, becoming the first woman in history to fly across the ocean solo from east to west. Six years later, she published West with the Night, a memoir of her childhood in Kenya and early flying experience that led Ernest Hemingway to exclaim, "She has written so well, and marvellously well, that I was completely ashamed of myself as a writer." And even though public reaction to the book proved somewhat less enthusiastic than Hemingway's at the time, successive generations have come to recognize the book as one of the great adventure tomes ever written.
11. Angela's Ashes by Frank McCourt
One of the most celebrated memoirs of its time, Frank McCourt's 1996 release Angela's Ashes won the Pulitzer Prize for its depiction of the author's family growing up impoverished in America and Ireland. A story about eccentric characters, addiction and going to desperate ends to survive, the book also serves as a time capsule of sorts of Ireland and America in the first half of the 20th century. The book was made into a motion picture in 1999 and spawned two more memoirs, 'Tis (1999) and Teacher Man (2005).
12. Reading Lolita in Tehran: A Memoir in Books by Azar Nafisi
Professor and writer Azar Nafisi was 55 when she published her memoir of post-revolution life in her native Iran, where she flouted repressive laws and organized a book club for other women who, like herself, wanted to read western works including Lolita. The story of a woman's subversive struggle for equality and freedom in the Islamic Republic gained almost immediate success, being translated into more than 30 languages and dominating bestseller lists for months on end. A universal tale of longing for freedom and identity filtered through great works of western literature, Reading Lolita in Tehran is one that resonates with readers of every age and background.
13. Save Me the Plums by Ruth Reichl
Famed food writer and Gourmet magazine Editor-in-Chief Ruth Reichl releases one of 2019's most anticipated reads with Save Me the Plums, a memoir complete with recipes, reminiscences of great writers and chefs and the story of how Reichl came to edit the magazine she grew up adoring. "This is the story of a former Berkeley hippie entering the corporate world and worrying about losing her soul. It is the story of the moment restaurants became an important part of popular culture, a time when the rise of the farm-to-table movement changed, forever, the way we eat," publisher Penguin Random House declares, adding that, at its heart, it's "a personal journey of a woman coming to terms with being in charge and making a mark, following a passion and holding on to her dreams." It's no wonder, then, that it's one of the hottest reads of the season.
14. Just Kids by Patti Smith
For classic rocker Patti Smith, the reasons for publishing her hit 2010 memoir went far beyond nostalgia. It fulfilled a promise she'd made to her late partner, photographer Robert Mapplethorpe, on his deathbed to tell the story of their life together. The result is a National Book Award-winning modern classic that transports readers back to the New York of the 1960s and 1970s and all the music, art and unique experiences that go with it.
15. Night by Elie Wiesel
The first in a trilogy of memoirs, Elie Wiesel's Night tells the heartbreaking and anger-filled story of the author's teenage imprisonment, along with his ailing father, in the Auschwitz and Buchenwald concentration camps during the last year of the Second World War. One of the cornerstone and most enduring publications about the Holocaust, Wiesel's story is both one that history can't afford to forget and one that readers continue to discover generation after generation.