Tyra Banks Appears on "Sports Illustrated" Swimsuit Cover at 45 for Its Most Diverse Issue Yet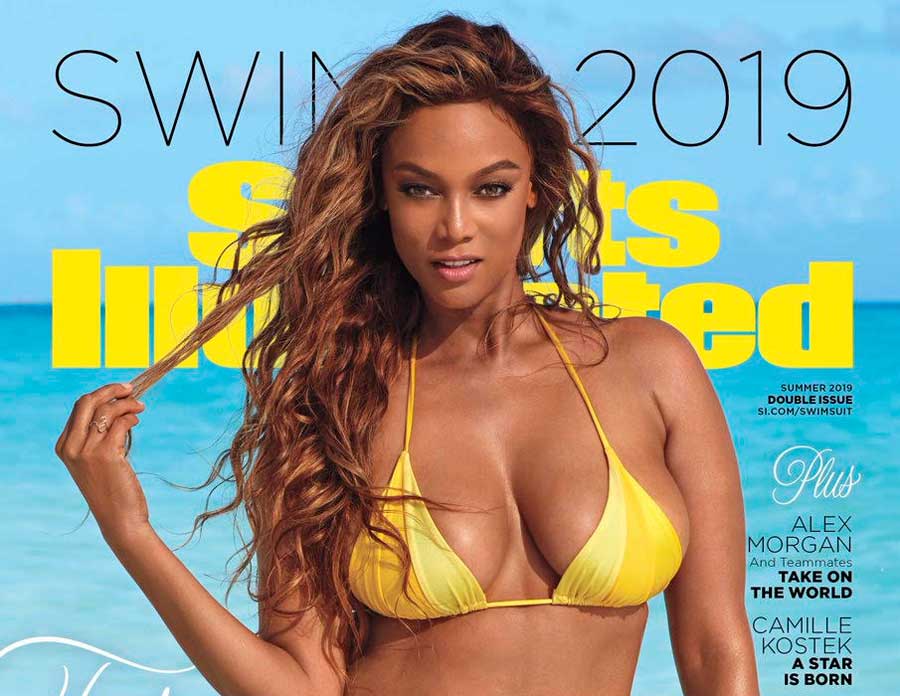 Photo: Sports Illustrated
Tyra Banks, 45, is back on the cover of the Sports Illustrated Swimsuit issue, more than 20 years after she made history as the first black woman to appear on the publication's cover alone in 1997.
The cover also comes more than a decade after she retired from modelling in 2005. She joins soccer player Alex Morgan, 29, and model Camille Kostek, 27, who appear on other versions of the cover.
In a video shared to the publication's Instagram page, Banks reflected on her previous cover and her return all these years later.
"Being the first black woman on the cover, I didn't dream it, because I never thought it was possible, almost like this," she said. "I never thought it'd be possible — I'm 45-years-old on the cover of this magazine again."
In another video shared to the issue's Twitter account, the legendary model said that the shoot offered a little more luxury than she had in previous shoots, including a windscreen and umbrella to keep the sun out of her eyes. She also said that she had to get used to working with a slightly different figure than she had when she was in her 20s.
"My body's different. Booty is bigger. Everything's a little bigger," she said. "At first I was like, 'Ooh, I've got more stuff to work with,' she said. "At first, it was a little bit more difficult, but after the first shot, I was like, 'I got this.'"
While Banks looks fantastic, she's no stranger to the body shaming that woman often face in society, which is often magnified for those in the spotlight.
In 2007, after paparazzi photos of Banks on vacation in a swimsuit emerged, she was criticized for her apparent weight gain. Never one to mince words, Tyra appeared on her talk show and told the critics to "Kiss my fat ass!"
For the inside photos, Banks recreates her iconic 1997 cover photo, clad in a polka dot bikini.
"We couldn't find the exact one in the archives — it was the polka dot bikini so we recreated that bikini," she told People. "I recreated it [the shoot] — 25 pounds heavier."
This isn't the first time a legendary Sports Illustrated cover subject has returned for a victory lap. Czech-born model Paulina Porizkova made her return to SI's cover at 53, over three decades after her first appearance.
The publication is looking to represent diversity in other ways as well. Last month, it was revealed that the new issue will feature Halima Aden, who will become the first SI model to appear in a hijab and burkini — a swimsuit that covers the whole body to respect Islamic traditions of modest dress.
Appearing on Good Morning America, SI Swimsuit editor MJ Day said the upcoming issue would feature "a wide range of age and race and levels of modesty that really is a first for us."