André De Shields, 73, Wins First Tony Award; Gives Longevity Advice in Acceptance Speech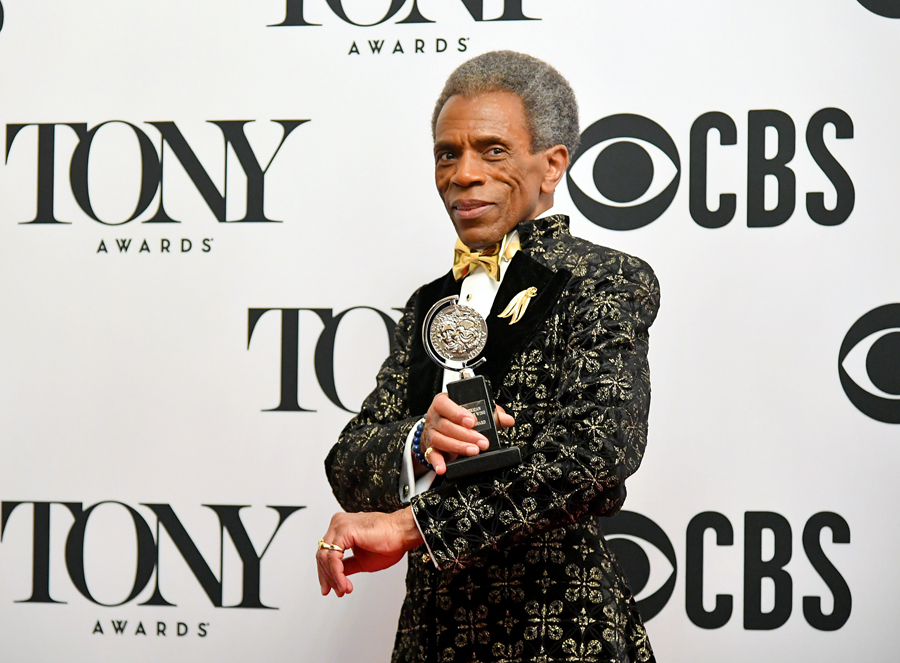 Photo: Mike Coppola/Getty Images for Tony Awards Productions
André De Shields' perseverance paid off. Twenty-two years after his first Tony nomination, the 73-year-old actor, director, singer, choreographer and Broadway legend finally nabbed the award for Best Featured Actor in a Musical for playing Hermes in Hadestown at the 2019 Tony Awards on Sunday night. And in his acceptance speech, De Shields offered longevity advice, or what he described as, "three cardinal rules of my sustainability and longevity.
"One, surround yourself with people whose eyes light up when they see you coming," he declared, to applause. "Two, slowly is the fastest way to get to where you want to be. And three, the top of one mountain is the bottom of the next. So keep climbing."
De Shields' win comes after two previous nominations in the same category, for Play On! (1997) and The Full Monty (2001). Hadestown, described as "the reimagining of the Greek myth of Orpheus and Eurydice," nabbed eight trophies out of 14 nominations.
But De Shields wasn't even the oldest winner on the night. That distinction goes to Elaine May, 87, who nabbed her first major acting accolade with the award for Best Performance by an Actress in a Leading Role in a Play for playing an Alzheimer's afflicted grandmother in The Waverly Gallery. With the win, May becomes the second-oldest performer to ever win a Tony Award, a year younger than Cicely Tyson was in 2013 when, at age 88, she scored her first Tony nomination and win in the same category as May for the play The Trip to Bountiful.
"I've never won a nomination for acting before, so I wanna tell you how I did it," May said during her acceptance speech. "I got in a play written by Kenneth Lonergan. It was about his family, I played his grandmother. My director was Scott Ellis, my producer was Scott Rudin. My family was played by everyone you've ever wanted to be on stage with — Joan Allen was my daughter, Lucas Hedges was my grandson, David Cromer was my son in law and Michael Cera was my only friend. And, at the end of the play, I died. Now, my death was described onstage by Lucas Hedges so brilliantly. He described it, so heartbreaking, he was so touching, that watching from the wings, I thought, 'I'm gonna win this guy's Tony.'"
May's career began in improv as part of the duo Nichols and May, alongside famed actor and director Mike Nichols, before achieving success as a director and screenwriter (including penning acclaimed screenplays like The Birdcage, with Nichols, and the Oscar-nominated Heaven Can Wait and Primary Colors scripts).
To make her Tony win even sweeter, she won the award in a stacked category that included Annette Bening (All My Sons), Laurie Metcalf (Hillary and Clinton), Laura Donnelly (The Ferryman), Janet McTeer (Bernhardt/Hamlet) and Heidi Schreck (What the Constitution Means to Me).
Elsewhere on the evening, Breaking Bad star Bryan Cranston, 63, won his second Tony Award for Best Leading Actor in a Play for playing troubled anchorman Howard Beale, who famously declares, "I'm as mad as hell, and I'm not going to take this anymore!" in the stage adaptation of Network, based on the hit 1976 film. The actor kicked off his speech with a laugh, shouting, "Finally, a straight, old, white man gets a break!" before taking a moment to honour real-life journalists.
"I would like to dedicate this to the real journalists around the world, both in the press and in the print media and also broadcast media who actually are in the line of fire with their pursuit of the truth," he said, to rousing applause, before taking a direct shot at U.S. President Donald Trump by shooting down one of Trump's most ridiculous and dangerous accusations. "The media is not the enemy of the people. Demagoguery is the enemy of the people."
Meanwhile, legendary fashion designer Bob Mackie, 80, won the first Tony Award of his celebrated career, for Best Costume Design of a Musical for The Cher Show. Mackie, of course, first began designing costumes for Cher in 1967, when she appeared on an episode of The Carol Burnett Show, and has worked with the singer and actress ever since.
"I'm so crying," Cher, 73, tweeted on Sunday night following the award announcement. "Bob Mackie deserves this award more than anyone will ever know."
As well, actress Stephanie J. Block, 46, won the award for Best Performance by an Actress in a Leading Role in a Musical for portraying Cher in The Cher Show. Cher tweeted again, "I cannot stop jumping, crying, laughing,….I feel like I won an award‼ Not even sure if I can use emojis. Stephanie, besides me…you are the" best me." Bob I loved you the moment I saw you."
The evening also included Oscar-winning American Beauty director Sam Mendes, 53, picking up the award for Best Direction of a Play for Jez Butterworth's The Ferryman, about a former IRA agent, which won four awards overall including Best Play. And stage and screen star Judith Light, 70, was honoured with the 2019 Isabelle Stevenson Award, an honour awarded annually to "an individual from the theatre community who has made a substantial contribution of volunteered time and effort on behalf of one or more humanitarian, social service or charitable organizations, regardless of whether such organizations relate to the theatre." Light was given the honour for her extensive work in raising awareness about HIV/AIDS and for her work with the LGBTQ community. She noted how honoured she was to receive the award in her acceptance speech, though most people didn't see it as producers made the unfortunate decision of presenting Light with the award during a commercial break.
On a happier note, however, 31-year-old actress Ali Stroker made Tony's history by becoming the first person who uses a wheelchair to be nominated for, and win, a Tony Award. Stroker won for Best Performance by an Actress in a Featured Role in a Musical for Oklahoma!