Remembering Toni Morrison: The Essential Reading List
Photo: Deborah Feingold/Corbis/Getty Images
"Navigating a white male world was not threatening; it wasn't even interesting. I was more interesting than they were. I knew more than they did. And I wasn't afraid to show it." — Toni Morrison in The Pieces I Am, the 2019 documentary about her life. 
Toni Morrison, the first African-American woman to win a Nobel Prize — she won, of course, for Literature — died on Monday in New York City. She was 88.
Morrison  — born Chloe Anthony Wofford, in 1931 in Ohio — was almost 40, a single mother and working as a book editor, when she published her first novel The Bluest Eye in 1970. She went on to gain "the attention of both critics and a wider audience for her epic power, unerring ear for dialogue, and her poetically-charged and richly-expressive depictions of Black America."
Throughout her life, Morrison was honoured with virtually every literary award imaginable, including the Nobel Prize, the Pulitzer Prize and the American Book Award.
RELATED: Toni Morrison: Barack Obama, Shonda Rhimes and Others Remember the Late Author
Her ability to marry the stark realities of black life in America with touches of magical realism through her lyrical writing won her many notable fans, including President Barack Obama, who presented her with the Presidential Medal of Honour in 2012.
"Toni Morrison's prose brings us that kind of moral and emotional intensity that few writers ever attempt," Obama said during his remarks at the medal ceremony. "From Song of Solomon to Beloved, Toni reaches us deeply using a tone that is lyrical, precise, distinct and inclusive. She believes that language arcs toward the place where meaning might lie. The rest of us are happy to be following along for the ride."
In addition to her writing and her work as an editor, Morrison was also a teacher, whose lessons both inside the classroom and in the world are fundamental not only to our understanding of ourselves, but to our understanding of the future. She once famously said, "If there's a book that you want to read, but it hasn't been written yet, then you must write it."
Toni Morrison was the author of 11 novels, along with children's books and essay collections. Here's a roundup of her essential reading:
Morrison's first novel wasn't exactly a sensation upon its publication in 1970, but it forms the cornerstone of a stunning literary career and has gone on to sell nearly a million copies in the last half-century. The story of a young black girl who longs to have blue eyes, The Bluest Eye started life as a short story, which Morrison reworked and expanded into a novel — by getting up at 4 a.m. every day to write — while raising two children on her own and working full-time as an editor.
"Two girls who grow up to become women. Two friends who become something worse than enemies." This line from Sula's jacket copy gives some insight into why Morrison's stories are often called modern-day Greek tragedies filled with domestic details. Sula is Morrison's second novel and in its short 170-odd pages — which span 50-odd years — Morrison captures the vivacity of a young girls' doomed friendship and the terrible loss of its eventual destruction.
Song of Solomon was the novel that made Morrison nearly a household name. Published in 1977, Morrison's third novel received almost universal critical acclaim and was awarded the National Book Critics Circle Award for Fiction in 1978. The book has also been challenged and banned in school districts in the United States, while also, apparently, being President Barack Obama's favourite book.
The novel, which tells the life story of Macon "Milkman" Dead III — the first African-American baby born in the hospital in the fictional town of Mercy, Michigan — is harrowing and at times difficult reading, but ultimately exultant. It is rightly considered one of Morrison's masterpieces, and is essential reading for, well, anyone.
Published originally in 1987, Beloved is considered Morrison's masterpiece, with a New York Times survey of writers and literary critics naming it the best work of American fiction from 1981 to 2006. The novel was inspired by "A Visit to the Slave Mother who Killed Her Child," a newspaper article published in 1856, which was reproduced in The Black Book, a compilation of black history and culture, edited by Morrison in 1974. Morrison wondered what could possibly lead a mother to commit this crime and answered that question with this landmark novel about slavery.
Beloved was awarded the Pulitzer Prize and was critical to Morrison receiving her Nobel Prize. Getting in made into a movie was a 10-year labour of love for Oprah Winfrey, who knew it was meant to be on the big screen.
The second novel in Morrison's Beloved trilogy (loosely modelled on Dante's Divine Comedy), Jazz is set primarily in Harlem in the 1920s. First published in 1992, Jazz was the immediate precursor to Morrison receiving the Nobel Prize. Taking its stylistic approach from its title, Jazz is a musical novel, rooted in solos that come together to form a cohesive whole, shifting rhythms and motifs as the book coalesces.
Morrison intended for the three novels of the Beloved trilogy to be read together, as a sweeping historical examination of race and the legacy of slavery and disenfranchisement in America. "The conceptual connection is the search for the beloved – the part of the self that is you, and loves you, and is always there for you." The trilogy concludes with Paradise, published in 1997.
Perhaps the most important book from Morrison in the last decade of her life, The Origin of Others, published in 2017, is a powerful and resonant examination of racism, fear of the other, the role of borders and the human need to belong. Based on her Norton Lectures, and rooted in an examination of racism, history and culture in the United States, The Origin of Others is a clarion call for understanding and for community, in the face of deeply entrenched violence and fear.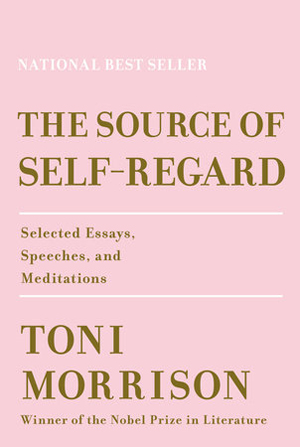 Morrison's most recent book, published earlier this year, collects speeches, essays and occasional pieces from more than forty years of Morrison's writing. It is a profound and galvanizing book, rooted in Morrison's erudition and her profound moral clarity. The Source of Self-Regard is a rich sampler of Morrison's thoughts, and what she deemed significant enough to preserve, including her Nobel Prize Lecture, which is a few pages of distilled, sharp power and insight.