Author Ann Cleeves on Sense of Place, Character Development and Success After 50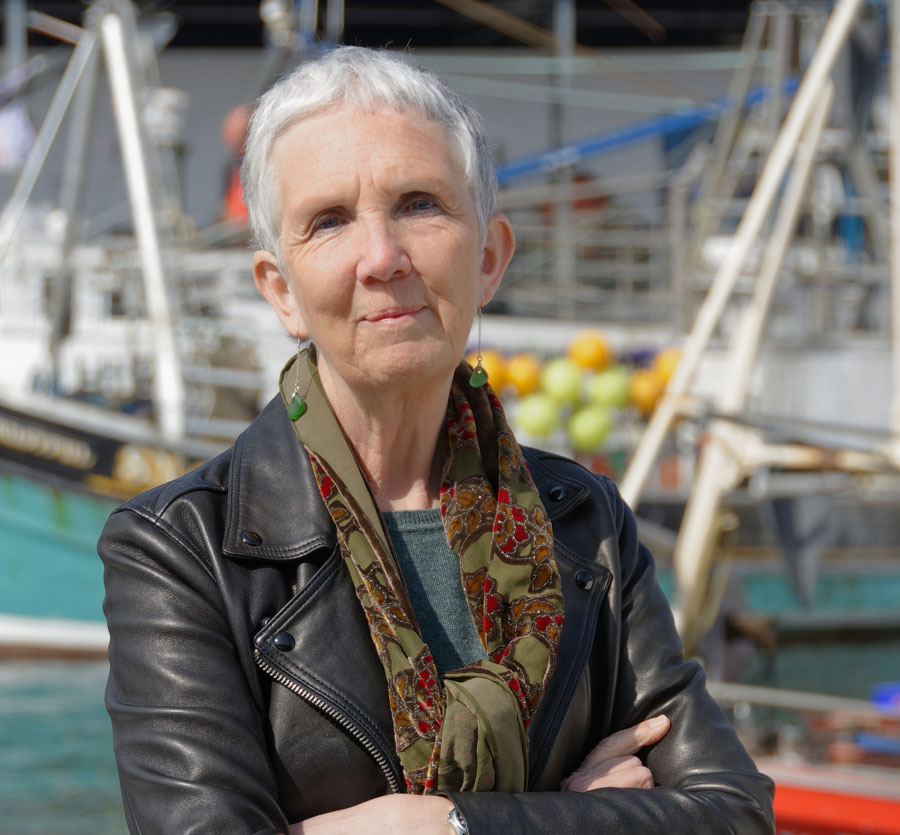 As the critically acclaimed television series based on her wildly popular Vera and Shetland novels continue to air around the world, author Ann Cleeves, 64, launches Two Rivers, a new series of novels in a new scenic locale and with a dapper new detective. The internationally bestselling author has been dubbed the queen of 'village noir' and in 2017 was presented the Diamond Dagger of the Crime Writers' Association, the highest honour in British crime writing. On the eve of publication for The Long Call, the debut book of her first new series in over a decade, I spoke with the author at her home in Northumberland about community, belonging, and becoming an 'overnight' success after twenty years.
The Sweet Smell of Older Success
It was only when Cleeves was in her early 50s and already two decades into her career that she achieved breakout mainstream commercial success. Her novels had previously sold just well enough to stay in the right side of a publisher's balance sheets — yes, even The Crow Trap, the first Vera Stanhope novel twenty years ago. She persisted, and wrote through lean years and challenges that included breast cancer as well as navigating her late husband Tim's bipolar diagnosis, all while raising a family. Then in 2006, Raven Black, the first Shetland, won the CWA Golden Dagger for best crime novel of the year. "It's so much better than finding success as a young person!" she says.
"Partly because my kids understand the value of money, because they know that we had very little. That's not a bad thing. And I didn't have to travel so much when I started writing so I could just stay home and write. And I think what's different now is that young authors get much bigger advances for a first book but they're not given time to get better, to practice their craft. If the second book doesn't sell that's it. That's incredibly ruthless and cruel."
When Something New is Actually Something Old
"I wanted to write something very different." Known for highly atmospheric stories rooted in a sense of place, the starting point for the new Two Rivers series was geographic. Set in North Devon, where the rivers Taw and Torridge converge and run into the sea, it's also a region Cleeves knows well because she grew up there in her teens. The area's once-thriving Victorian and Edwardian resort towns, with their picturesque beaches and cliffs, also provide Cleeves with fertile ground to explore how overlapping groups of artists looking for cheaper lifestyles, longtime residents and "that mix of incomers and locals" intersect and affect one another. "They're interesting because when people stopped going to them for holidays—they go to the Mediterranean or Spain instead now—so those big houses and big villas quite often were turned into places like centres, day hostels, for homeless people, maybe places were addicts are housed. I was quite interested in that great range of communities within one town."
A New Chapter
In contrast with disheveled and irascible Vera Stanhope, who has no personal life to speak of and survives on a diet of salty ready-meals, new DI Matthew Venn is tidy and soft-spoken, and trying to maintain work-life balance with a spouse who's a gourmet. The prickly Stanhope grew out of the formidable spinsters Cleeves knew as a child in the 1950s but Venn — and his husband Jonathan — were closer to home. "The relationship between Matthew and Jonathan came because my husband died just over a year ago and our two very close friends — Paul and Martin, a gay couple — kind of swooped in and looked after me. They were around so much they were in my head and wheedled their way into the book."
The case involves a strict fundamentalist Christian sect called the Brethren that his family still belongs to, and from which Venn is estranged. "He's an outsider — and then thinking what if he were gay as well, that would explain the problems he might have [building] bridges with the family. He is unsure of himself and doesn't know who he is, and I think that he became a cop as a way of bringing order and a sense of justice and maybe even a sense of redemption back into his life," his creator explains.
Ripped from the Headlines
In a deliberate break with the tired trope — the perennial dead girl — that all too often sets a crime investigation in motion, the victim is a man with a dark past. The story also explores depression and mental health as it orbits the Woodyard, a former industrial complex that's now a community centre housing art classes, an outreach centre, and a café. It's a challenge to discuss The Long Call themes without revealing plot spoilers, but Cleeves says her character studies of the men look at the very different ways men metabolize their culpability. "And guilt. I was thinking in general about the toxic nature of a cover-up—it's powerful, entitled men who think they can do that. And it seems to me," she adds, "that ever since Watergate it's the cover-up that's more damaging than the original crime."
Field Research
Before becoming a writer Cleeves worked in various jobs, like a cook at the bird observatory on remote Fair Isle (where she met her late husband, and her continued ties to the region eventually led to the Shetland series). Although one of her earlier series featured amateur sleuths who are birders, it's a later job that helped prepare her for a life of crime fiction. "I met real murderers when I was a probation officer, but most of them wouldn't be very interesting to write about," she says. "They were mostly rather pathetic inadequate little men. But what that did give me was license to go into all sorts of different homes and ask quite intrusive questions of the people that I found there because I was writing reports, looking at background history, education, family history."
Her recent Vera novel The Seagull delved more into Stanhope's own early career and younger years, including excavating more about her father, the black sheep of a family of landed gentry. "I am very interested in that idea of psychological archeology, going back and seeing what happened in the past to make people who they are in the present," Cleeves says.
Location, Location, Location
Cleeves makes a distinct break between her multiple ongoing series by changing her mindset through location. "I live in Northumberland where Vera is set so I spend most of my time here, and I've just finished the first draft of a new Vera," she says. "But I'm already thinking about a new Matthew and I'll go down and spend some time in North Devon first. It's about getting stimulus from place, but it's also about hearing people speak, hearing their preoccupations, getting the rhythms of the dialogue right. I suppose it's akin to sociology, doing what I do. It's looking at place and how that affects the people who are there."
From Page to Screen
The BBC Shetland television series is ongoing with new original stories based around detective Jimmy Perez. "They've done beautiful work and I'm very very happy with it," Cleeves says, although she won't be writing any more Shetland novels herself (she bid farewell last year with the publication of Wild Fire, her final book in the series). Meanwhile, ITV hit Vera is currently filming its tenth season nearby and Cleeves mentions she's abut to visit the set and watch Brenda Blethyn, complete with rumpled mac and hat, in action. "Brenda's terrific. She is the champion of that character, very much," she says of Blethyn's portrayal, which always goes back to the books to stay true. "Her way goes back to [filmmaker] Mike Leigh working with actors to develop characters separate from themselves." The idea is to know absolutely everything about the character. "So Brenda knows Vera's birthday," she adds with a laugh. "I'm not sure that I do—but Brenda does!"
Another Golden Age for Crime
In spite of the many articles suggesting that domestic thrillers and crime fiction are newly on the rise, that phenomenon isn't unique to the current political climate of unrest. "It's always been like that in history," Cleeves explains, citing the golden age writers like Agatha Christie, Dorothy Sayers, and Margery Allingham between the wars. "We think of it as snobbery with violence and big houses and wealthy people. But that period in Europe was the time of the rise of fascism, the Jarrow hunger marches, the Depression, the General Strike—a time of great social change and turmoil.
"I think people wanted some idea of order and justice. The world coming back to itself, being more at least with itself. I think that's why now, in this time of great chance and turmoil, violent disagreements between opposing wings, we feel the need to see a story that has some kind of resolution. The bad guy led away in handcuffs and order restored, at least in fiction." 
In the meantime, there will definitely be more of Matthew Venn. "But I'm not quite sure what's going to happen next with him," Cleeves admits of the second Two Rivers book she has yet to start. "I will enjoy writing more about [his colleagues] Jen and Ross, and also about Jonathan. I do know that I like the idea of a more ensemble piece. Matthew needed rules to hold him together. But I hope he'll lighten up over the series and that Jonathan will give him a better sense of humour!"
X The Long Call will be published in Canada September 3; Ann Cleeves will be in conversation with Louise Penny at the Toronto Public Library's Appel Salon, November 11 2019; the event is free but ticketed. Tickets will be available October 14.