Day 7: Meghan Meets Anti-Apartheid Icon; Harry Lands in Malawi
Meghan, Duchess of Sussex (R) speaks with South African female activist, Sophia Williams-De Bruyn (L) in September of 2019 in Cape Town, South Africa.Photo: @SussexRoyal via Getty Images
Before leaving Cape Town on Sunday to head to Johannesburg with Archie, Meghan, Duchess of Sussex revealed she had convened a private power meeting of female academics, policymakers and activists, including legendary South African anti-apartheid icon Sophia Williams-De Bruyn.
Now 81, Williams-De Bruyn was just 18 when she led the Women's March to Pretoria's Union Buildings, a massive demonstration that attracted 20,000. She is the last surviving leader of the historic 1956 march to protest the requirement that women carry pass books, limiting free movement in the country. To this day, the country commemorates the march with a public holiday in August called National Women's Day.
In a statement about the Thursday meeting on the @sussexroyal Instagram account, Meghan called Williams-De Bruyn "a symbol of those who fight for fundamental human rights. For her it is simple — she fights for what is right."
The Duchess went on to conclude her takeaway from the trip to date: "In the last week I've met with women from all walks of life — religious leaders, such as the first female rabbi of Cape Town, grassroots leaders in Nyanga at Mbokodo, community activists, parliamentarians and many more. In sitting down with these forward thinkers, it was abundantly clear — it is not enough to hope for a better future; the only way forward is 'hope in action.'"
This is the internet-savvy Meghan at her most effective. While her husband was away on official tour business, she not only sought out smart women, but found a way to make her voice and her mission heard without filtering it through the media and avoiding the press pack following her every move.
In drawing the international spotlight to a hero such as Williams-De Bruyn, Meghan is connecting the dots back to a history of advocacy. Also invited to the meeting with Meghan was Lindiwe Mazibuko, the first non-white leader of the Democratic Alliance party, and Nompendulo Mkhatshwa of the African National Congress (ANC), one of the youngest women ever to serve in Parliament. These are powerful leaders of today tackling women's issues close to the Duchess's heart.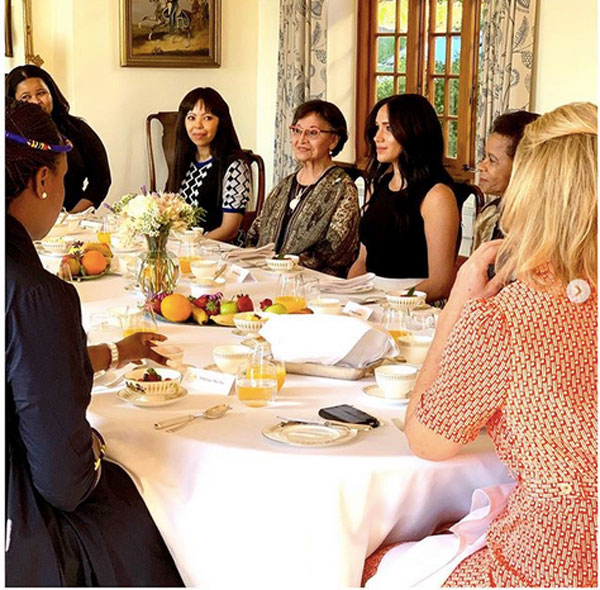 She has been keen to raise awareness about the urgent issue of violence against women in South Africa, and the exceedingly high murder rates of women in the country, where 3,000 women were killed last year — five times higher than the global average. The Cape Town meeting preceeded another private visit the Duchess paid to a memorial for Cape Town university student Uyinene Mrwetyana, whose August murder sparked the #AmINext social media movement. She also made a private phone call to Mrwetyana's mother to offer her condolences.
There were some blurry paparazzi shots of Meghan and four-month-old Archie leaving Cape Town — again on a scheduled commercial British Airways flight — to head to Johannesburg, where Harry will meet up with them on Tuesday. The babe was only seen once on an official visit to see Archbishop Desmond Tutu and his daughter Thandeka Tutu-Gxashe  on Wednesday, where he grinned and drooled for the cameras.
Meanwhile,  Prince Harry began his visit to Malawi by touring the Nalikule College of Education in Lilongwe. On the agenda was a conversation about education for girls, as the college is involved in a push to ensure female students receive at least 12 years of formal instruction. As this is a subject important to Meghan, she Skyped in to listen to the educators and to lend her support to the Campaign for Female Education.
Harry and Meghan are president and vice president of the Queen's Commonwealth Trust, which supports the program through the CAMA Fund to help girls and young women go to secondary school in countries such as Ghana, Tanzania, Zambia and Malawi.
Harry met female graduates who had attended school  over its 20 years. As the SussexRoyal website later said of the 175,000 alumni in Malawi, "These positive female role models, leaders and entrepreneurs, are working to life their communities out of poverty."
Harry is scheduled to visit Malawian President Peter Mutharika and pay tribute to a British Guardsman, Matthew Talbot, who was killed by an elephant as he was took part in anti-poaching campaign earlier this year.
As women's rights and girls' education has been a major focus of the Duchess this trip, anti-poaching has been a focus for The Duke, who has gone out with crews guarding wildlife several times this trip.
The visit to the president is somewhat controversial, as opposition leaders in the country accuse Mutharika of rigging the election earlier this year, and as reported in The Telegraph, they expressed hope Harry would meet with them also. There have been widespread protests against Mutharika's government in in the past week.
RELATED:
Read Our Daily Updates of The Royal Tour: Prince Harry, Meghan and Baby Archie Meet South Africa