Oscar-winning Costume Designer Ruth E. Carter Talks 'Black Panther' and Dressing Eddie Murphy in 'Dolemite Is My Name'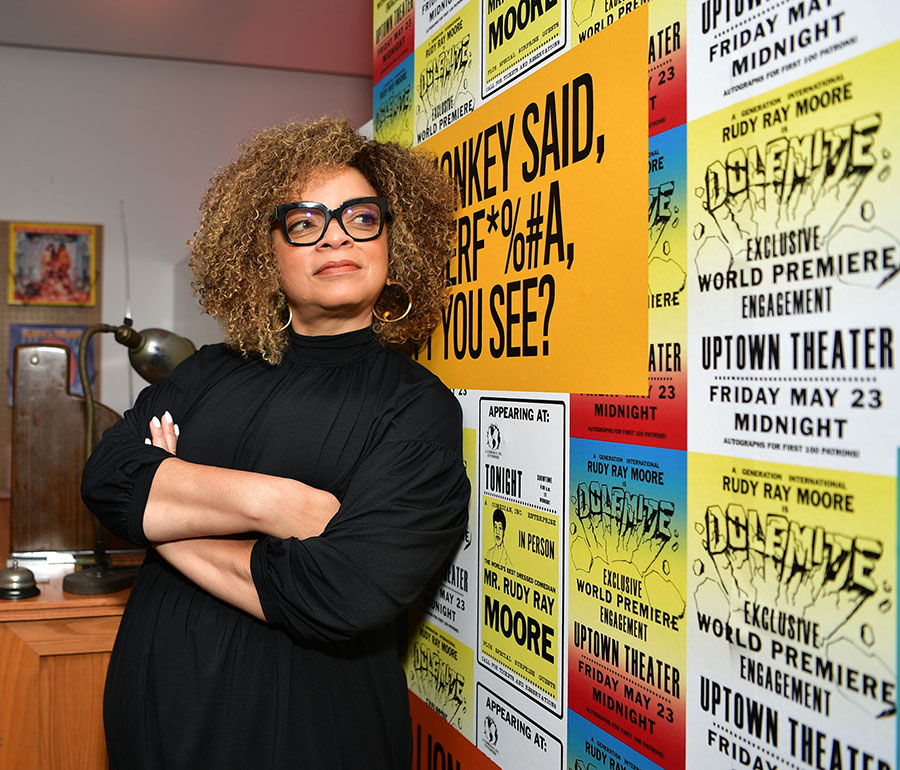 Photo by Emma McIntyre/Getty Images for Netflix
In the opening credits for Dolemite Is My Name, Ruth E. Carter's name appears just as Eddie Murphy struts past a boutique where the window display features the latest in 1970 fashion: a patchwork leather coat.
It's a fitting choice for Carter, 59, who became the first black designer to win the Academy Award for Best Costume Design for her work on Black Panther, Marvel's 2018 blockbuster about an African superhero king.
Carter is currently filming Coming 2 America, the long-awaited sequel to Eddie Murphy's 1988 hit comedy. But first, there's their sixth project together — his new movie Dolemite Is My Name, yet another multi-faceted dive into a slice of black cultural history. In an R-rated return to form, it stars Murphy as real-life legend Rudy Ray Moore, the middle-aged entertainer who found success by creating a trash-talking comedic (and later, cinematic) alter ego he called Dolemite. The action moves between the Chitlin' Circuit of the South to 1970s Los Angeles, with an all-star cast that includes Craig Robinson, Wesley Snipes, Snoop Dogg, Chris Rock and Tony nominee Da'Vine Joy Randolph.
Part biopic, part backstage musical that goes behind the scenes of the making of Moore's self-financed 1975 classic Dolemite, it's a period film dressed to the nines.
Black Panther is, for many reasons a culturally and historically significant film. But so is Dolemite, Carter says, because it's a story about a man who not only created a legendary character but created a whole world surrounding it. "Rudy Ray Moore represented someone who actually stepped outside the system and produced his own movie," Carter says, explaining why the project appealed to her. His maverick approach was innovative and the epitome of independent filmmaking, not unlike the comparison to John Cassavetes made by a character in the movie.
"And I think that was very groundbreaking in light of the fact that most of other blaxploitation films were done by studios, and the people in the films were not the beneficiaries of the profits. That," she adds, "and because culturally it represents both North and South."
A costume designer has to be an anthropologist, especially when dressing a celebrity figure who was a cultural touchstone. Carter's accumulated research for previous period movies as well as her personal archive of vintage Eleganza menswear mail-order catalogues contributed to the process. "But I'm looking in my heart first because I've done so much research of the period and I actually was raised in the '70s and I could kind of get it," she explains. For the earnest actor troupe, for example, "I got it from the Negro Ensemble Company coming out of the 1960s," she says, while for Chris Rock's Indianapolis deejay, she looked to Marvin Gaye and Billy Paul. "It was an exploration in album covers, in Jet magazines and what I really felt in my core was real and was right," Carter adds, rhyming off Bootsy Collins, Pam Grier and Stevie Wonder.
The designer also singles out the profound influence on fashion from cult movies like Shaft and The Mack and the unique style of characters like "Pretty Tony." They shaped the taste of a generation, and it made her want to look up and revive the names of the costume designers on those films"because they too created the look of that era. They were responsible for it!"
But unlike, say, Black Dynamite (the affectionate blaxploitation pastiche she designed a decade ago), the homburgs, ruffled tuxedo shirts, leisure suits and outlandishly patterned stage outfits in Dolemite Is My Name aren't a punchline. "This is totally serious. It's a way that people dressed and thought they should dress," she says. In an era when Diana Ross was featured on the cover of Ebony in full feathered regalia from her movie Mahogany, fashion as a mode of self-presentation was so important that, in one Dolemite scene, Moore gives his friends clothes for Christmas.
Actor Billy Dee Williams is another of the era's style icons that comes to mind in the movie's first glimpse of D'Urville Martin, played by Wesley Snipes. "I wanted him to feel like a character and exposed to more," Carter explains of the character, first seen in a meticulously matched patchwork denim ensemble. "I remember the matching hats to the denim vest and pants, even your shoes would have the same denim patchwork. Those things weren't cheap! Introducing him like that, to me, was my ode to the '70s."
For the all-important, larger-than-life look of Dolemite himself, Carter's research found that Moore often had clothes custom made by a tailor, and she was able to do the same, thanks to a trove of dead-stock, period textiles. "What was crazy is that it was actually the '70s fabric that didn't sell," she says. Using the cloth nobody wanted was an advantage, and she did some customizing herself. "It actually made him even more different than the typical '70s because I was able to over-dye and work with these double knits and fabrics so they were unique, but they still were period."
To date, her costuming and design work includes most of the critically acclaimed, landmark movies of the African-American experience, from dressing Angela Bassett in What's Love Got to Do With It and How Stella Got Her Groove Back, David Oyelowo as civil rights hero Dr. Martin Luther King Jr. in Selma and Chadwick Boseman as crusading lawyer Thurgood Marshall in Marshall. That's aside from her longtime collaboration with Spike Lee on 14 films, beginning with School Daze and including Do the Right Thing, Bamboozled and Malcolm X. Carter's costume design for Malcolm X and Steven Spielberg's Amistad both garnered Oscar nominations. The third time's a charm.
As Carter said in her Oscar acceptance speech for Black Panther, "It's been a long time coming." She hopes her award will encourage more opportunities for black designers to enter a field where diversity has been sorely lacking.
In the wake of her historic win, Carter has been criss-crossing the U.S. giving talks at exhibitions like her "Heroes & Sheroes" career retrospective and introducing some of the films that feature her work. Her increased profile has given her a larger platform, which resulted in being named to Variety's 2019 Impact Report as one of the most influential figures of the year.
In the spirit of Rudy Ray Moore's shoestring budget and DIY ethos, she kept it raw. "You can't refine some things," Carter explains. "You gotta keep them where they are. It makes it more crafty and it makes it more charming. I really hate when I see a character like, say, James Brown and he's been given the costume, and it doesn't have the sweat, it doesn't have the grit," she continues. "Some things need to be ill-fitted in order to show the person. I try to stop myself from going too far."
Still, she couldn't resist a couple high-style moments in Dolemite Is My Name where the characters push it to the limit. "Like when you see them crossing the street on the way to the premiere," she says. Lady Reed wears a sequined green gown with chiffon cascading from the shoulder. It's subtle, but the styling detail resembles a cape.
Chalk it up to Carter's attention to detail when she breaks down a script — earlier in the movie, when Murphy gives Lady Reed a pep talk, he suggests she adopt a persona and put on a cape to go onstage. It's also, however, a subtle wink from the designer herself to dialogue that's about dressing like a superhero.
"That's on purpose," Carter admits with a laugh. And she's got the little gold man statuette with pride of place on her fireplace mantel to prove it.
Dolemite Is My Name opens in Toronto, Montreal and Vancouver on Oct. 11. It debuts on Netflix on Oct. 25.