Elizabeth McGovern Talks "Downton Abbey" Movie
Elizabeth McGovern as Cora Crawley, Countess of Grantham, dances with with Hugh Bonneville, who plays Robert Crawley, Earl of Grantham, in "Downton Abbey: The Movie." Photo: Universal Pictures Home Entertainment
Downton Abbey's Elizabeth McGovern isn't so different from her character, Countess of Grantham (a.k.a. Cora Crawley), an American heiress happily married into British peerage. In real life, the 58-year-old American actress has made a life for herself in England with husband Simon Curtis, a filmmaker, and their two daughters.
McGovern most recently reprised the role of Cora Crawley this past September in Downton Abbey: The Movie, the continuing story of the upstairs/downstairs denizens of Downton that proved a smash hit at the box office following the show's six hit television seasons. In fact, the film has earned nearly US $200 million worldwide — a big box office success story that out-grossed the likes of Men in Black: International and Rocketman. Downton held strong, thanks in no small part to the support of older moviegoers: according to PostTrak polling, half the audience came in over the age of 45.
But Elizabeth McGovern doesn't have time to sit around and celebrate the film's success. In addition to Downton Abbey, she's the frontwoman of folk-rock band called Sadie & the Hotheads and stars in both the PBS Masterpiece period piece The Chaperone as the middle-aged Midwestern housewife who accompanies a young Louise Brooks to New York, and the new dystopian TV series War of the Worlds. And in January, she  reprises her role in a U.K. production of the Tony and Olivier Award-winning play God of Carnage.
Elizabeth McGovern recently spoke with Zoomer ahead of the Downton Abbey: The Movie's holiday DVD release.
What initially drew you to the role of Cora and Downton Abbey a decade ago?
ELIZABETH MCGOVERN: I was inclined even before I read the script and drawn to the idea of the project because I'd seen Julian [Fellowes'] work in Gosford Park and some of the movies he'd directed … And when I read the script it seemed to be an interesting part. It was the tapestry of the script, which has turned out to be what I think has really distinguished it, the way Julian has a gift for interweaving so many stories and having you have this experience that has so many threads. I think that's what makes the series really special.
What was the most memorable or challenging moment for you making the Downton Abbey movie?
EM: In a funny way, what's most challenging and fun are the scenes that you're in but there's a lot of people in [that] scene. When the focus isn't on you, it's sometimes a struggle to keep your character alive … Without disrupting the flow, you want to still fight for your character to actually behave in a way that's authentic.
In the big royal ball finale, during those Strauss waltzes, Cora has a great line that captures her role: "He asked the King, but I asked the Queen." Tell me about that.
EM: That's the beauty of the part, which I'm so happy that people, for the most part, seem to get. In the sense that [Cora] is powerful underneath the radar — she's not ever drawing attention to herself or her beliefs but when something needs to get done, she in a subtle way does it. There is a lot of strength to that. But it's not a contemporary feminist version of strength. It's not strident. It's basically how I believe strong women have operated since time began, which is they just went ahead and did what they needed to do and not make a fuss. I think a lot of times society has really benefited from those women that remain nameless and faceless — they're pulling strings and making a difference.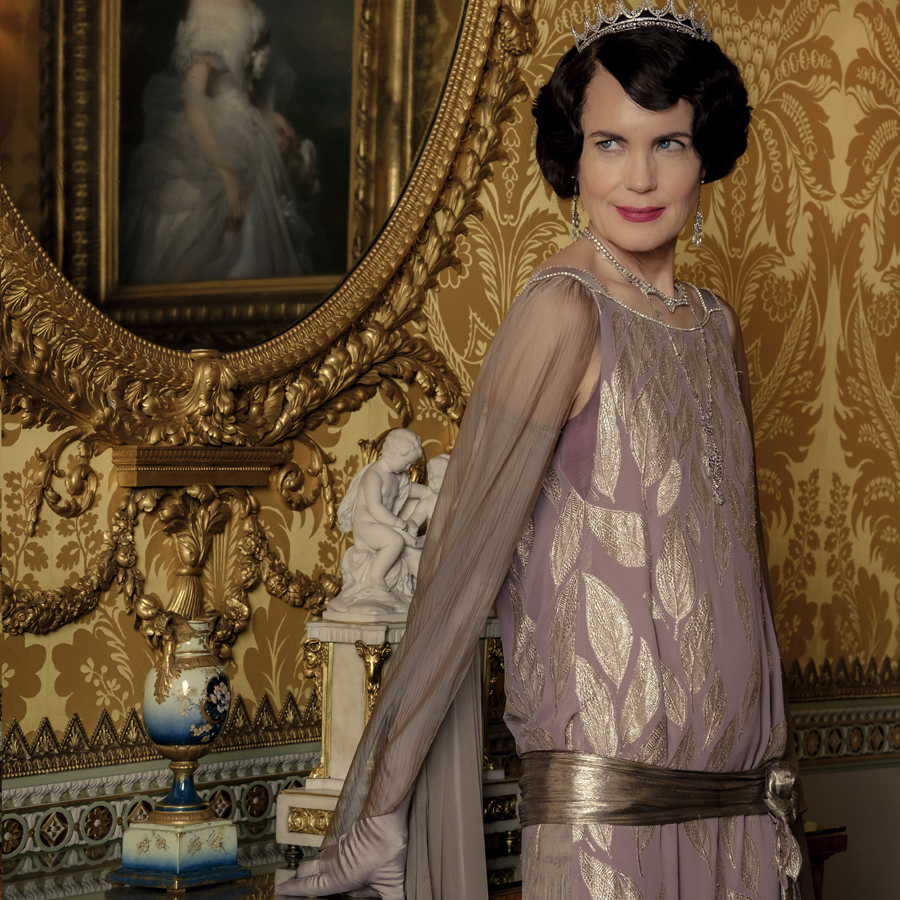 What is Downton Abbey's enduring appeal?
EM: My present theory is that today's world is so fractured and so ADD, there's so much stimulation and so much messaging. The world that Downton Abbey represents, where there are rules about how to behave and what people's roles are in the strata of society and to just relax into this world without mobile phones and social media and without a hundred different choices about everything you do in this world. If you're at all confused, Carson will tell you what to do, when and how! I actually think people find that a relaxing thing to escape to. 
The character Norma that you play in The Chaperone is different from Cora but, at heart, they share commonalities, including figuring out their place in a new era.
EM: Because so much is changing! I see Norma as someone who doesn't have really as much confidence as Cora does. She actually was completely lacking in confidence at the beginning — she has a bunch of rules she feels people should follow. Which is a sort of fake confidence, just a house of cards really. She's clinging to these and, miraculously, during this summer she discovers how to come alive within herself — and she discovers that she actually has a right to having a loving sexual existence. Which is quite revolutionary! I guess the way she and Cora are similar is that they both do what they need to do underneath the radar. Without holding a sign or a banner or a button about female rights, they both kind of arrange for their happiness and for the happiness of those around them underneath the societal structure. Because it's not that computer "woke" printout of the feminist that goes and changes the world. It's a different kind of feminism I suppose — it's quiet.
You're in a band, you just shot an intense miniseries and this winter you're back onstage. What's the daily routine that keeps you in fighting form and fit?
EM: You mean keeps me from feeling wiped out? [Laughs] I feel pretty worn out to be honest! I have to say that I'm really lucky because I am nurtured by my relationship and by my family, and that gives me energy. I don't think I would be able to function without it. I don't know if that's a politically woke thing to say but it's really true. I have to confess that really feeds me. My down time is really all about that.
Downton Abbey: The Movie is available now on digital demand and on Blu-ray and DVD on Dec. 17. And don't forget to check out all things Downton on VisionTV (a ZoomerMedia property), the Canadian broadcast home of Downton Abbey. 
RELATED: