Killers & Thrillers: 7 Must-Reads for Your Next Book Binge
Photo: David Lezcano/Unsplash
What to read next? From murderous family dysfunction to mind-bending sci-fi to a support group with a sinister agenda, here are some thrillers to add to your book list.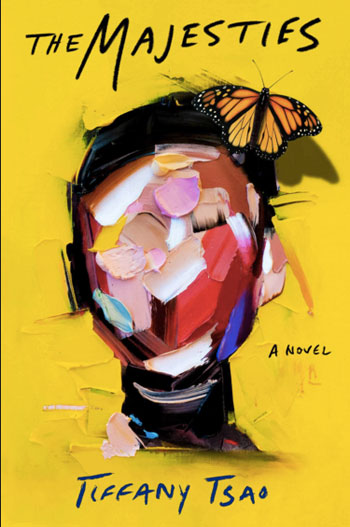 1. THE MAJESTIES (Atria) by Tiffany Tsao
Described as a dark Crazy Rich Asians, the novel follows sisters Gwendolyn and Estella of the Sulinado dynasty, a mega-wealthy Chinese family living in Indonesia. It opens, shockingly, with one sister in a coma and the other one dead after she poisoned her entire family (and herself) at a banquet, killing 300. Desperate to discover the reason for her sister's unthinkable act, Gwendolyn retraces her childhood memories even as she fights to regain consciousness, taking us back to the clan's ruthless, empire-building past.
2. GOOD GIRLS LIE (Harper Collins Canada) by J.T. Ellison
It's Ivy League charm personified, but nothing is quite as it seems at this prestigious all-girls prep school located in a small town outside of Washington, D.C. Populated by the daughters of wealthy Beltway power brokers, student life revolves around cruel secret societies and entitled young women who expect to get away with anything and everything, including murder.
3. THE OTHER PEOPLE (Penguin) by C.J. Tudor
The cover blurb from Stephen King reads simply, "If you like my stuff, you'll like this." From the bestselling author of The Chalk Man comes this new thriller about a man searching for his wife and daughter who disappeared under suspicious circumstances. What he finds is a sinister support group called The Other People whose members have also lost loved ones but seek justice through their own murderous agenda.
4. THE WIVES (Graydon House) by Tarryn Fisher
Likened to Gillian Flynn's Gone Girl, the story is about a woman called Thursday, who is married to a man with two other wives who live in a different city. While she entered into the polygamist marriage knowingly, she manages to mostly ignore the other wives' existence until something happens to make that impossible. From there, the plot takes unexpected twists and turns as Thursday takes a tumble down the rabbit hole, obsessed with learning more about the other women – only to discover that her husband may have a hidden dark side.
 5. THE OBSIDIAN MURDERS (Harper Collins) by Thomas King
The latest instalment in the popular mystery series finds Inspector Thumps DreadfulWater dragged back into an unsolved case that has haunted him for years: the Obsidian case, where an elusive serial killer murdered both his girlfriend and his daughter. King, who is a member of the Order of Canada, is also author of the bestselling The Inconvenient Indian.
6. FORESIGHT: THE LOST DECADES OF UNCLE CHOW TUNG (Spiderline) by Ian Hamilton
Author of the popular Ava Lee series, Hamilton turns his attention to Ava's business mentor, Uncle Chow Tung, and his early career as a clever Hong Kong businessman. The second novel in the Uncle series, Foresight follows his dealings in China back in 1981, where he manufactures knockoffs of designer clothes to be sold in the West.
7. AGENCY (Penguin) by William Gibson
Following up on his best-selling The Peripheral, Gibson's new mind-bending sci-fi thriller takes place over variable timelines: in 2017, a young women is hired to test a powerful Artificial Intelligence device; and 100 years in the future where it's possible for people to look into alternative pasts and influence their ultimate directions, including the role this device may play in the coming apocalypse. While the story is set in the same universe and with many of the same characters as The Peripheral, it can also be read as a stand-alone.