2020 Scotiabank Giller Prize: Mootoo, Bergen, Thammavongsa, St. Mandel and Adamson Named to Short List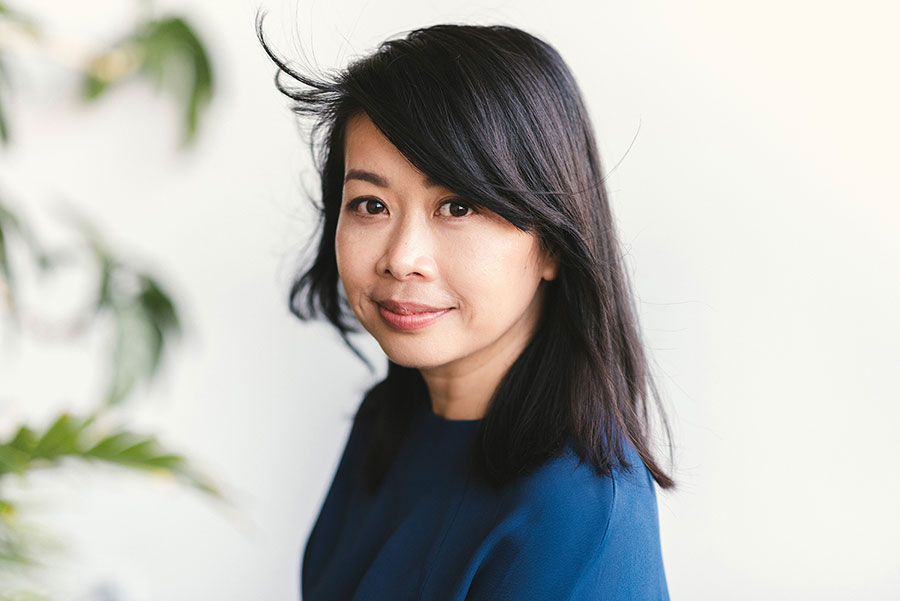 Poet Souvankham Thammavongsa, who was born in the Loa refugee camp in Nong Khai, Thailand and raised in Toronto, has been named to the shortlist of the 2020 Scotiabank Giller Prize for her collection of short stories about the immigrant experience called How to Pronounce Knife. Photo: Sarah Bodri/Penguin Random House Canada
Three first-timers, a past winner and a veteran nominee made the short list for the 2020 Scotiabank Giller Prize, which will be awarded Nov. 9 in a virtual gala hosted by Canadian actor Eric McCormack with musical guest Diana Krall.
"We know the world has changed, but the one remaining constant is our love affair with books and our devotion to Canadian authors," executive director Elana Rabinovitch said today in a virtual announcement. The winner will receive $100,000, the richest prize in Canadian literature.
Former winners Esi Edugyan, Sean Micheals, Madeleine Thien, Elizabeth Hay and Michael Redhill read out the names and titles, as well as excerpts from the panel of judges, which was lead by Mark Sakamoto.
Here are the titles, in alphabetical order:
The Glass Hotel by Emily St. John Mandel
In her follow-up to 2014's Station Eleven, a post-apocalyptic tale of a world decimated by swine flu, The Glass Hotel is another realistic fantasy about a Ponzi-like scheme and a woman missing at sea.
Characters from Station Eleven resurface, including shipping magnate Leon Prevant – who was responsible for spreading the virus in Station Eleven – and his secretary, Miranda.
"A boldly lyrical tale echoing the deceit and ruin of the 2008 financial crisis, The Glass Hotel brings together two restless siblings and a multi-billion dollar investor as they each negotiate ambition, secrets and loss within the kingdom of money," reads the Giller jury citation.
St. John Mandel, who was born in Comox, B.C., but lives in New York City where she writes for the books and culture site themillions.com, describes it as "a ghost story that's also about white-collar crime and container shipping."
This is the author's first Giller nomination, although Station Eleven, her fourth novel, won the Arthur C. Clarke science fiction award and was a finalist for both the National Book Award and the PEN/Faulkner Award.
Here the Dark by David Bergen
A short story collection that ranges from Vietnam to Honduras to the Canadian Prairies, Here the Dark is about the topography of desire and all its incertitude.
"Sexual loneliness and moral confusion pull at the delicately wrought characters in David Bergen's latest work, a story collection of masterly skill and tension," the Giller jury writes.
Bergen's Mennonite upbringing in Winnipeg informs one of the stories, a novella about a young woman "torn between faith and doubt in a cloistered Mennonite community." He wrote these stories "for enjoyment, for exploration of morality, to see where my characters would go and how they would act and for the love of the sentence."
This is Bergen's fourth time on a Giller list, with his 2005 novel The Time In Between taking the $100,000 prize, while his fifth novel, The Retreat, made the 2008 short list and his sixth novel, The Matter With Morris, was shortlisted in 2010.
How to Pronounce Knife by Souvankham Thammavongsa
Toronto writer Souvankham Thammavongsa's collection of short stories follows four books of poetry. How to Pronounce Knife features stories about a young man who paints nails at a salon; a housewife who learns English by watching the daytime soaps; and a woman who plucks feathers at a chicken processing plant. All Thammavongsa's characters are struggling to make a living and make a life.
"How to Pronounce Knife is a stunning collection of stories that portray the immigrant experience in achingly beautiful prose," the Giller citation reads. "These stories are vessels of hope, of hurt, of rejection, of loss and of finding one's footing in a new and strange land."
This is Thammavongsa's first Giller nomination, while her book Light won the Trillium Book Award for poetry in 2014.
Polar Vortex by Shani Mootoo
A friend's true story of a complicated love triangle inspired Mootoo, who lives in Prince Edward County, Ont., to write a novel the Giller judges described as "a keen meditation on the complexities of identity and desire."
Polar Vortex tells the story of artist Priya and writer Alexandra, whose six-year relationship is unravelling. When Priya's old flame, Prakash, visits them at their home in the pastoral Southern Ontario countryside, the story takes a menacing turn and ends with a shock.
"I'd never written anything like that before and found myself absorbed by the manipulations, contrivances, secrecies and lies that all involved were engaging in," Mootoo writes.
As an immigrant who was born in Ireland but grew up in Trinidad, Mootoo set the novel in a southern Ontario winter because, 40 years after she moved here, she is trying to understand a season that "still baffles me."
This is Mootoo's fourth Giller nomination, after her first novel, 1996's Cereus Blooms at Night, made the short list and was long-listed for the Man Booker Prize. Two other novels, 2008's Valmiki's Daughter and 2014's Moving Sideways Like a Crab were named to the Giller long list.
Ridgerunner by Gil Adamson
This is Toronto writer Gil Adamson's follow-up to her award-winning 2007 novel about 19-year-old Mary Boulton, The Outlander, but the author was careful to ensure Ridgerunner stands on its own.
"I don't like being fed backstory when I read, so I was careful to write Ridgerunner as an independent story. After all, Jack Boulton, the kid in this book, has no idea about his parents' lives before he came on the scene."
That said, there are a few "Easter eggs" for those who have read the previous tale of a 19-year-old on the run after she murders her husband.
"Drawing richly on both the Western and on gothic fiction, Adamson evokes a mythic landscape to frame the question: how is it possible to live a good life, when obedience to manmade laws is so at odds with love, loyalty and respect for the natural world?" the Giller citation reads.
This is Adamson's first Giller nod, while The Outlander won the Dashiell Hammett Prize for Literary Excellence in Crime Writing, the Amazon.ca First Novel Award, the ReLit Award and the Drummer's General Award.
RELATED: