A Look Back at the Most Iconic Wedding Gowns in Royal History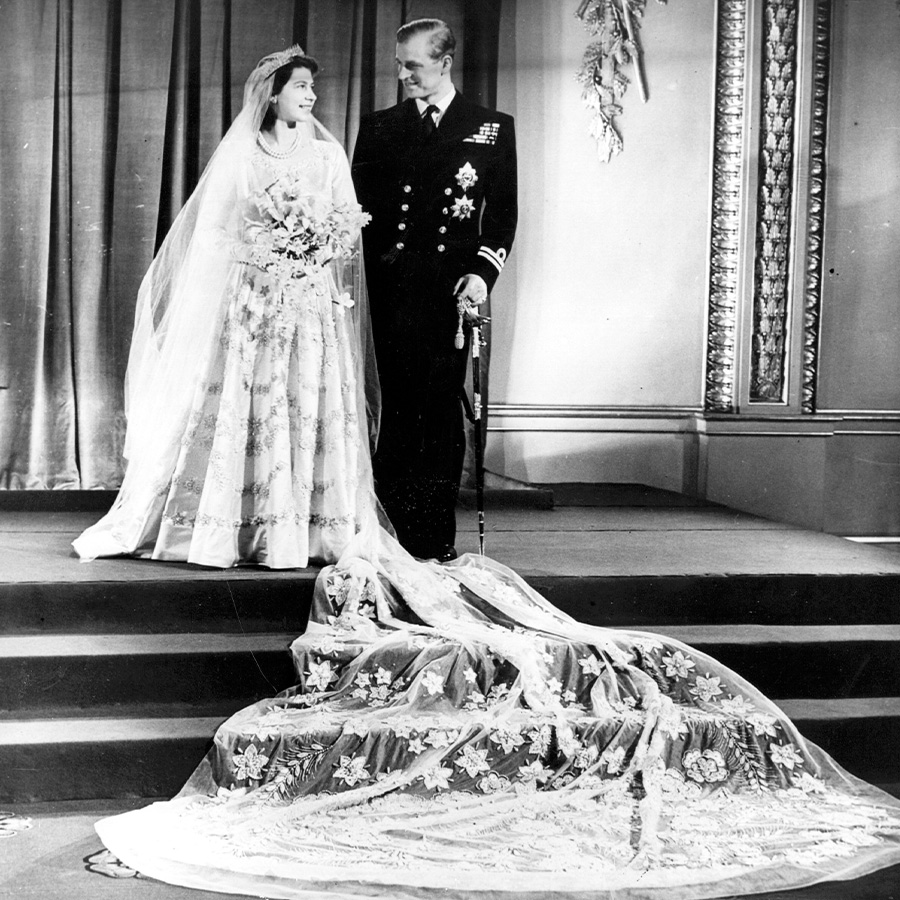 Princess Elizabeth and Prince Philip at Buckingham Palace after their wedding, November 20, 1947: Photo: Hulton Archive/Getty Images
With Diana's fairy tale wedding gown set to go on display in Kensington Palace and Prince William and Duchess Kate celebrating their 10th wedding anniversary this week, we're all feeling a little nostalgic. So to help satiate that hunger for Royal pageantry, we're revisiting some of the most iconic dresses in Royal history — from Queen Victoria's trend-setting gown in 1840 to the long trains and impeccable designs of the more modern gown.
When 20-year-old Queen Victoria wed Prince Albert in 1840, she selected a white gown. Coloured gowns were then the fashion, and royal brides previously tended to silver, with ermine-trimmed robes. Thus, Victoria's silk- satin crinoline "court" style dress, executed by Mrs. Mary Bettons, was aspirational in her era and continues to be so today.
The train stretched 5.5 metres behind the bride. Her choice of Honiton lace kickstarted the artisanal industry in Britain; the exotic pattern was designed by William Dyce, including orange flower blossoms for fertility. Victoria was buried with her wedding veil covering her face.
The Duchess of Windsor: American Chic
The whippet-thin, twice-divorced American chose a powder-blue gown for her wedding in 1937 to the former Edward VIII following his abdication. Designed by the American couturier Mainbocher, the shade was dubbed "Wallis blue" to match her eyes but also because virginal white just wasn't going to fly. The Duchess has been accused of choosing the nipped-waist, bias-cut dress for posterity's sake to showcase her sophistication in the midst of scandal. But that doesn't mean she didn't desire sartorial redemption: fashion historians feel the "halo" style hat by Caroline Reboux was an attempt to signal a new image as "saintly" wife. The dress is now part of the costume collection of the Metropolitan Museum in New York.
Princess Margaret: Royal Rebel
Princess Margaret, vexed once in love by the constraints of royal convention, decided to revel in her younger sister status when it came to her wedding. She got all the pomp of Westminster Abbey in her marriage to Anthony Armstrong-Jones in 1960, plus millions of viewers for the first televised Royal wedding. But she also enjoyed much more freedom than her big sister. She expressed that freedom through fashion. Norman Hartnell designed the gown: it still featured 30 metres of silk organza for the skirt, but there was, per the bride's choice, little ornamentation. Minimalism was a bold move for the stylish princess.
The Duchess of Cornwall: Perfectly Appropriate
The wedding ensemble for the second-time bride presented a challenge to Camilla Parker-Bowles. Her 2005 wedding to the love of her life, Prince Charles, was an opportunity for the pair to start afresh after a decade of scandal and bad feelings while the nation mourned Diana. She chose the designers at Anna Valentine, requesting something crisp, clean and subtle. For the civil ceremony, the now Duchess of Cornwall wore a silk chiffon dress with an oyster-coloured coat and a spectacular Philip Treacy broad-brimmed hat with lace and feathers. Later, for the church blessing, she added a floor-length blue and gold coat with a chiffon dress beneath.
Queen Elizabeth: War Bride
The year 1947, the year of Elizabeth's marriage to Philip Mountbatten, was a time of austerity in Britain. Brides were given clothing rations, and though many throughout England donated theirs to the Princess, she couldn't use them. Even the silk was a political minefield: her mother, then Queen Elizabeth, ordered silkworms from mainland China (not silkworms from enemies Japan or Italy) to make the silk satin.
Royal couturier Norman Hartnell designed the dress, in a fit-and-flare style with long sleeves. It took 350 women and seven weeks to finish the gown, which glowed with more than 10,000 pearls and crystals. For extra drama, the four-metre lace train, inspired by Boticelli's Primavera, was intended to symbolize the rebirth of Britain after the war.
Princess Grace of Monaco: Hollywood Story
As befitted a princess of Hollywood, Grace Kelly collaborated with the MGM costume designer Helen Rose to design her dress to marry Prince Rainier of Monaco. The stunning dress – a fitted neck-to-wrist lace bodice set atop a cummerbund and a froth of fabric and petticoats, some 300 yards of antique lace and 150 yards of silk, taffeta and tulle – is a crisp look that is as modern today as it was in 1956. Grace wore a Juliet cap studded with pearls and lace flowers to hold back her veil. The veil itself was engineered to keep her famous visage as visible as possible as she entered the formal Catholic ceremony. She carried a prayer book instead of a bouquet but did allow one fun superstition, adding a penny in her shoe for luck.
The Duchess of Cambridge: Influenced by the Past
Even the designer of Kate Middleton's wedding dress remained closely guarded, inspiring fierce betting and conjecture ahead of her 2011 wedding to Prince William. No one was disappointed by the gown, designed by Sarah Burton for the British label Alexander McQueen. The choice went a long way to boosting the label after its namesake's death. Demure, classic and reminiscent of Grace Kelly's gown with its fitted lace bodice and skirt pleating, it is said to have cost a jaw-dropping $500,000 (250,000 GBP), though the palace has never confirmed that number. Burton selected British fabrics of ivory and white satin gazar. The construction echoed some of McQueen's hallmarks, including corsetry and a slightly enhanced hip to exaggerate the new Duchess's tiny waist. Thus, the dress was modern with a nod to British and royal tradition. The lacework was created, also in utmost secrecy, by the Royal School of Needlework and its backstory remains muddled: we do know they used Carrickmacross lace techniques and 19th-century machines, mixed with more modern effects. Today, it is known simply as Kate's lace.
Diana, Princess of Wales: A Fairy Tale Dress
If there is one fashion look from the 1980s that will come to represent that decade best, it is the fairy-princess meringue designed by David and Elizabeth Emanuel. The commission had been leaked, but the dress itself, a confection of ivory taffeta with flounced neckline and huge puffy sleeves, stayed secret until Diana emerged the morning of the 1981 wedding. The train, which measured nearly eight metres, barely fit into the carriage carrying her to St. Paul's. It emerged wrinkled. Few people know there was also a small stain on the front, and a lucky horseshoe sewn inside. Diana herself, having lost a great deal of weight under pressure of the tense run-up to the wedding, had to be sewn into the garment on the big day.
A version of this article appeared in the special Royals in Love May 2018 issue with the headline "The Most Iconic Wedding Dresses," p. 86.