Remembering Diana, Princess of Wales: A Virtuoso of the Photo Op in an Age Before Instagram
Diana, Princess of Wales, sitting alone outside the Taj Mahal in Agra (Photo: David Hartley/Shutterstock)
It was 30 years ago (Feb. 11), that Diana, Princess of Wales, was pictured alone in front of the Taj Mahal in Agra. Here, in light, of the anniversary,  we revisit the famous snap and other iconic images of the People's Princess.
When it comes to indelible images of the late Diana, Princess of Wales, a few dolled-up pics might promptly come to mind.
A blast from 1985, for instance, when, near the strike of midnight one November night, Diana was tapped on the shoulder by John Travolta who asked her to dance during an official state dinner hosted by the Reagans in D.C. It was her Saturday Night Fever moment, a jig made even more celebrated by the dress she had on: an off-the-shoulder, midnight blue, mermaid-style velvet gown, designed by Victor Edelstein.
Even more time-test-standing: a plunging Christina Stambolian gown, dubbed the "revenge dress," that she wore to a party at the Serpentine Gallery in the summer of 1994, on the very night a documentary aired in Britain in which Prince Charles confessed to his affair with Camilla Parker-Bowles. Iconic or what?
My own vote, however, for the most enduring moment from the Di look-book? Frocks be damned, it would have to be the simple button-down shirt (sleeves rolled up) and equally austere chino paints (okay, Armani) that she paired with brown loafers, complete with ready-for-business flak jacket, when the Princess famously visited the land-mine fields of Angola. This was just months before her tragic death in 1997.
And when the news swooshed in earlier this year that her younger son, Prince Harry, would be visiting Angola with his wife, the Duchess of Sussex, as part of a larger trip to Africa — going to the very site where his mother once walked among the vestiges of war — those images immediately came rushing back. Having thrown his weight behind those continued mine-clearance efforts — a cause championed by his mother two decades ago — I was reminded what powerful iconography those three pics still have in their reinforcement of Diana at her finest: Diana defiant, Diana humane, Diana alone.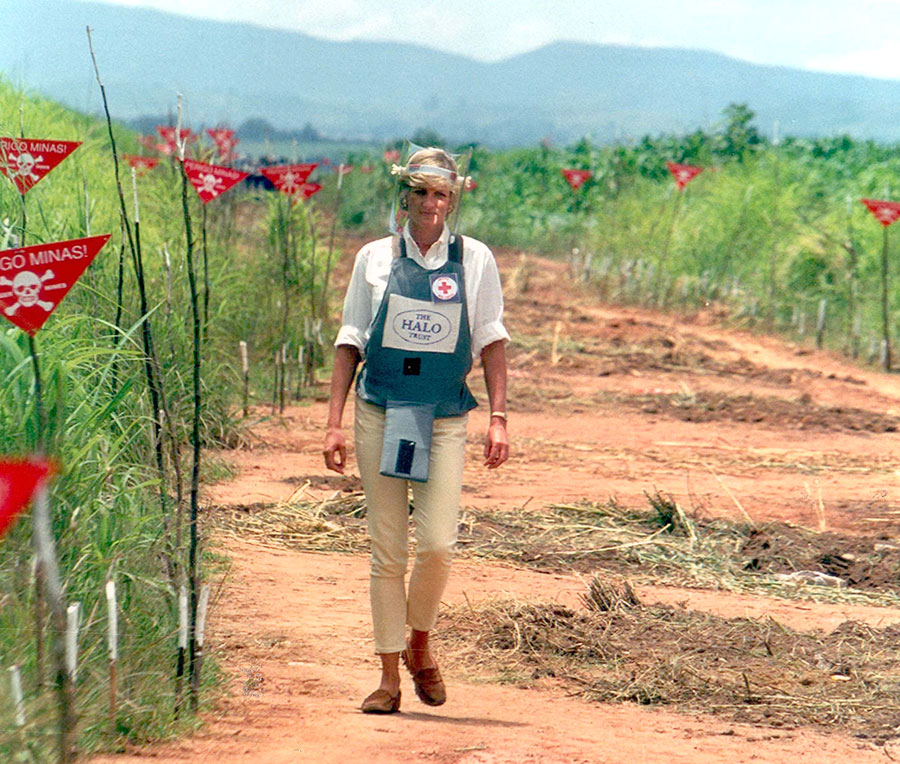 (Never mind the fact some of her more pared-down day looks have aged better than some of the brasher silhouettes of her evening wear!)
Some context: Back then, Diana's very public position on land mines was a tipping-point moment because it constituted one of her first major efforts since the high-stakes divorce from Charles. Still officially the Princess of Wales but stripped of Her Royal Highness stripes, Diana remained that most incongruous of insider-outsiders. She was the most famous royal in the world — the mother of the future king, natch — but no longer, technically, a royal. Her role was in flux, and her own raison d'être, an existential riddle.
As uncomplicated as the mission in Angola seems now, images of that campaign also rev up memories of how Diana unnerved some with her political awakening. The new Labour government had already banned land mines when she made the visit as a patron of Halo Trust, the same land-mine clearance NGO Prince Harry continues to support. A meeting between Diana and British MPs was cancelled after some Conservative MPs were nonplussed over pictures that showed Diana with a land-mine victim, with at least one member of the Commons Defence Select Committee saying at the time: "This is an important, sophisticated argument. It doesn't help simply to point at the amputees and say how terrible it is." Another MP called her a "loose cannon." Unbowed, Diana took the dais at a conference on land mines and made yet another fact-finding trip to Bosnia.
It all speaks to a question still asked about how political the royals are supposed to be, and what precisely is meant by political even today, given some of the nattering spurred by Meghan's all-too-conspicuous "wokeness," as evidenced by her span of subject matter when she guest-edited the September issue of British Vogue. As far as the mother-in-law Meghan would never know, "few would have predicted such engagement from the plummy girl who emerged onto the public stage in 1980 as Charles' latest squeeze," as Catherine Mayer, a writer with Time, once put it.
"The royal wedding in 1981 — with Diana's endless train, the pages and flower girls, the choirs and coaches — was widely seen at the time as a reaffirmation of tradition in Britain," she continued. "… That it should have taken place during Margaret Thatcher's first term only added to the idea that Britain was becoming a more conservative society and that Diana, the girl from the old aristocracy who had married into royalty, epitomized it."
Yet the Princess was never really a Thatcher girl. And by Diana's last year on this earth, Thatcherism had been vanquished by the tah-dah of a Labour government, led by Tony Blair, and the idea of a more inclusive, outward-looking Britain. That agenda echoed Diana's, as Mayer elaborates, pointing to diaries published by Blair mastermind Alastair Campbell in which he wrote that the Princess actually had two secret meetings with Blair, telling the intermediary "she would like to help [Labour] if she could."
Ultimately, the more prevalent assessment today is that she was small-p political at best, but it does not seem out of the realm of possibility that she could have grown to become a real player in diplomacy had she lived and had she been able to keep her demons at bay. An ambassador to the UN, perhaps?
A virtuoso of the photo op — she had an innate capacity to use visual imagery years before the age of Instagram influencers — those photos from Angola also demonstrate several things.  One, the way her body movement and sheer grace, enabled by a childhood practice of ballet, motored her powers of non-verbal persuasion, whether it was getting out of cars or climbing stair, as the world watched her evolve (in real time!) from Shy Di into glamour queen.
Second, it was a classic case of the utter synergy, perhaps not seen since, between the media and a celebrity. "A Madonna-Dietrich level of manipulation," as cultural critic Camille Paglia has put it, sometimes used for selfish aims, sometimes for virtuous ones. As Paglia has further noted: "The press became her ally against the fuddy-duddy British establishment; she was frozen out by the bureaucrats and the House of Windsor, so she turned to the media to get her view out and her personality felt. The world stage of the media became her avenue of expressiveness."
One final thought: Although there remain more than a few memorable images from that visit to Angola, including one of Diana sitting alongside a young amputee, the most iconic photo is of her walking solo though the land mines. It is iconic because of its aloneness, I would argue. It almost acts as a companion photo to that other infamous pic of the princess sitting by herself on a bench in India, framed by the Taj Mahal in the background.
A portrait in irony — the most famous woman in the world who ultimately was very lonely — it also drips with some of the vulnerability that indubitably connected her to millions. The Diana who was not one thing but a plethora: woman scorned, princess on the loose, international fashion plate and sainted global envoy.
This story was originally published online on Sept. 19, 2019.