Carol Burnett: As The TV Icon Turns 90, Paying Tribute to a Life of Laughter and Love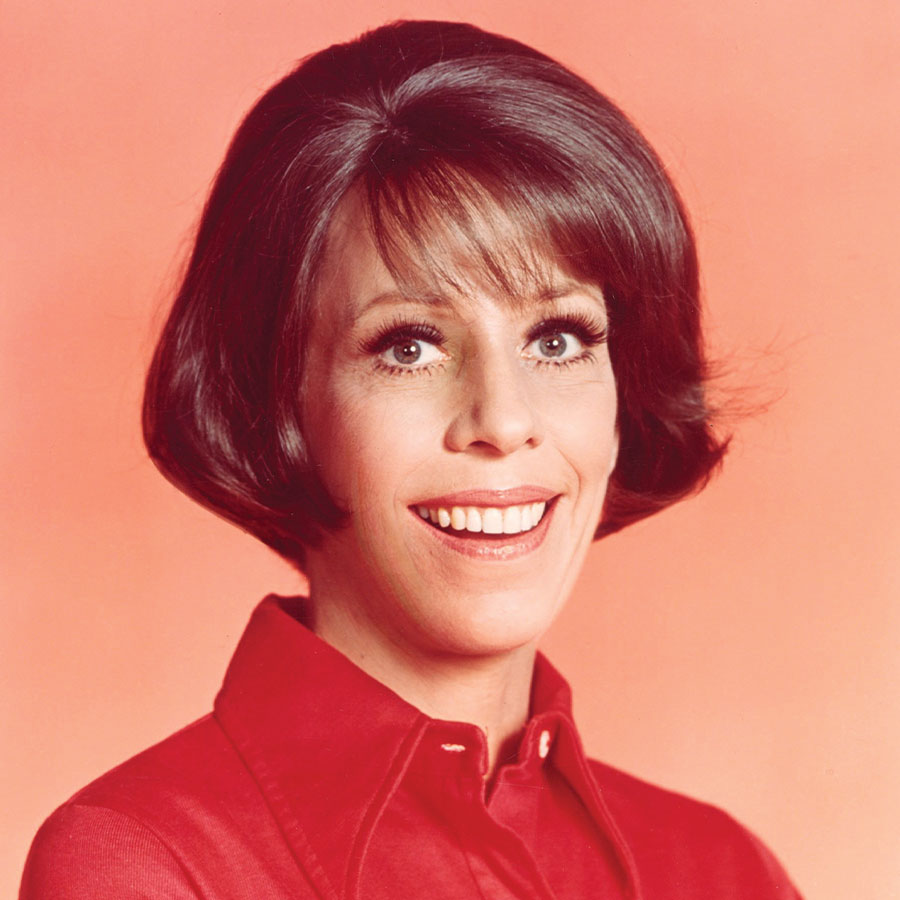 Carol Burnett, in a promotional shot for 'The Carol Burnett Show.' The Hollywood legend turns 90 on April 26. Photo: Everett Collection/Canadian Press
As her theme song goes, viewers will be "so glad to have this time together" when NBC presents Carol Burnett: 90 Years of Laughter + Love — a two-hour special celebrating the television icon on her 90th birthday on Wednesday., April 26.
The beloved entertainer is, of course, best remembered for hosting The Carol Burnett Show, a CBS comedy-variety hour that ran from 1967 to 1978.
For about half of that run, the series aired on Saturday nights and was part of one of the most impressive lineups in the history of broadcast television: Starting with All in the Family at 8 p.m., followed by MASH, The Mary Tyler Moore Show, The Bob Newhart Show and ending with The Carol Burnett Show.
Burnett opened each episode taking questions from the studio audience at CBS Television City Studios in Hollywood. One of the most popular requests was for Burnett to belt out her robust Tarzan yell.
At the end of all 279 episodes she would give a little tug on her ear — a shout out and, later, an homage to the grandmother who helped raise her after Burnett left Texas at an early age for Hollywood.
In between were dozens of memorable comedy sketches, performed with a troupe that usually consisted of Vicki Lawrence, Harvey Korman, Tim Conway and announcer Lyle Waggoner. Dick Van Dyke was part of the 11th and final season.
Conway was famous for cracking up co-star Korman, especially during a famous sketch set in a dentist's office.
Betty White, a Carol Burnett Show guest, appeared with Tim Conway at a 2007 press conference saluting "Pioneers of Television" in Los Angeles. She told TV critics that the "wonderful, spontaneous thing about The Carol Burnett Show," was that the ad-libs were purposely designed — mainly by Conway — to derail sketches. Conway would rehearse right up until showtime, "and then Tim would come out with either changing maybe a half word or an inflection or a piece of wardrobe, then maybe he would turn his tie over, nothing important, and it would put Harvey away."
Conway said at that PBS press session that it was easier to ad-lib in an era when there was only one producer and maybe five writers.
The series also benefitted from the flamboyant costumes provided by designer Bob Mackie. It was his idea to add a curtain pole through the dress worn by Burnett in her famous send up of Gone with the Wind. When Burnett walked out onto the top of the staircase, the laugh was the longest in the series' history.
The series also boasted a who's who of guest stars, including frequent visitors Jim Nabors and Steve Lawrence to big names such as Bob Hope, Lucille Ball, Ronald Reagan, Jerry Lewis, Sammy Davis, Jr. and even The Jackson 5.
The guest list for the two-hour 90th  birthday special is just as dazzling, with Vicki Lawrence and Mackie joining Cher, Ellen DeGeneres, Kristen Wiig, Lily Tomlin, Amy Poehler, Bill Hader and many others. Bernadette Peters, Billy Porter, Jane Lynch, Katy Perry and Kristin Chenoweth will perform musical tributes.
A Star in the Making
Burnett already had a substantial career in television even before her landmark comedy-variety show began. Unlike Lucille Ball, who was a B-movie queen before hitting big on the small screen, Burnett was a TV baby, born and raised.
Back in the mid-'50s when TV was mainly wrestling, westerns and puppet shows, Burnett landed a role on The Paul Winchell and Jerry Mahoney Show as the girlfriend of a ventriloquist's dummy. That led to a short-lived stint as Buddy Hackett's girlfriend on a sitcom called Stanley (1957-58).
She went viral, in a pre-internet way, with a novelty number titled, "I Made a Fool of Myself Over John Foster Dulles." (Dulles was a non-descript politician at the time.) In 1957, she performed the song on both The Tonight Show and on The Ed Sullivan Show.
By 1959, she was performing on Broadway — and earning a Tony nomination — in Once Upon a Mattress. That same year, she became a regular player on The Gary Moore Show. In 1962, she teamed with another fast-rising star — Julie Andrews — in "Julie and Carol at Carnegie Hall." (Andrews will be part of the 90th birthday salute.) The special was co-written by Mike Nichols and its success vaulted Burnett into a whole new level of TV stardom.
Burnett teamed later with Lucille Ball on a similar special. The two remained lifelong friends until the day Ball died in 1989 – on Burnett's birthday.
CBS already had Burnett under contract when they asked her to star in a sitcom. The contract, however, stated that the network had to showcase her in a variety show first. That turned out to be The Carol Burnett Show — and the rest is history.
An Enduring Career
Later, Burnett made a few movies, co-starring with writer-director Alan Alda in The Four Seasons (1981) and the next year in John Huston's Annie.
She returned to series television in 1983, rejoining former co-star Lawrence in the Burnett Show spin-off Mama's Family. Also featuring Ken Berry, it stumbled on NBC but thrived in syndication until 1990. During this time, she also appeared on one of her favourite soaps, All My Children.
Later roles included guest starring stints on Mad About You, Glee and a brilliant turn as herself on HBO's The Larry Sanders Show. As recently as last year, she appeared in a pivotal four-episode arc on the final season of AMC's Better Call Saul — a show, she admitted to Jimmy Kimmel, that she was already a big fan of.
Along the way, Burnett has been awarded six Primetime Emmy Awards, a Tony Award, a Grammy Award, and seven Golden Globe Awards. She received the Presidential Medal of Freedom in 2005 and the Mark Twain Prize for American Humor in 2013.
Part of her appeal was how she never lost sight of the impression movie stars made on her back when her grandmother took her to the local cinemas in Los Angeles. She told Johnny Carson on a late- '70s Tonight Show appearance that she could barely speak after coming to Hollywood and meeting movie idols such as Cary Grant and Jimmy Stewart.
In 2016, Vicky Lawrence shared some insight on her friend and mentor with reporters.
"When I was first on The Carol Burnett Show and nobody really knew who I was. I used to run around in the parking lot on Friday nights and watch Carol and whoever the guest stars were come out of the studio because they always used to go to Chasen's for dinner afterwards."  
Lawrence noted that movie stars entering the restaurant would hear shouts such as, "Ms. Swanson" or "Ms. Hayworth." If it were a TV star, however, the greeting would be, "Hi Carol!" or "Hi Lucy!"
Lawrence asked Burnett why fans reacted in different ways to TV stars.
"Sweetie," Burnett said to Lawrence, "they go to bed at night and have a beer and watch you between their toes, and they need to love you on a first name basis."
Burnett understood her connection to her fans. It was why she always took questions before each show. It also explains why — even into her 90s — she never wore out her welcome on television.