Popcorn Picks: The Age of Adaline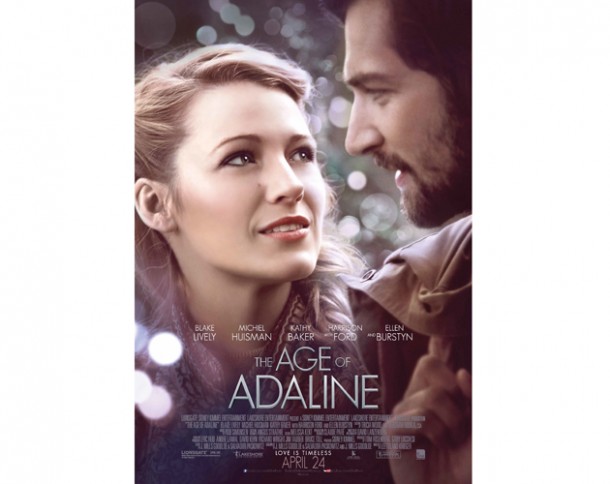 Do you really want to live forever (forever and ever)?
Starring: Blake Lively, Michiel Huisman, Kathy Baker, Harrison Ford, Ellen Burstyn and Amanda Crew
Directed by: Lee Toland Krieger
Genre: Fantasy/Romance
Choice Quote: "Without someone to grow old with, love is just heartbreak."
The Hype: Oh, to be young and beautiful forever and ever. Wouldn't that be grand? Or, would it be? When Adaline Bowman (Blake Lively) finds herself in a freak accident one fateful night in the 1930s, she emerges frozen at the age of 29. While some would revel in being a young, blonde, blue-eyed beauty, Adaline's life is sent into a tailspin. Fast forward to the 1950s where shadowy McCarthy-era authority types hunt her down in order to run "tests" on her predicament and our heroine is forced to leave her daughter behind and spend the rest of her days running from fear, but also from falling in love. Because what good is it to take up with one of her suitors in this situation? "Without someone to grow old with, love is just heartbreak," she says and it's true.
The Reality: The Age of Adaline is the kind of movie you want to lose yourself in as the sweeping cinematography and incredible costuming makes for a visually arresting two-hours and change (in fact, Blake Lively was outfitted in vintage designer threads from the likes of Gucci). Even as we see Adaline in the present day, she carries the past with her in her style of speech, retro-inspired hairdos and literal old soul (she even works in a library, a fixture of the past working amongst old words). And some of the best scenes of the movie take place during her heyday youth, where her mortality actually made living that much more exciting.
By the time she meets the dashing Ellis, a well-to-do sweetheart who is patient with her despite her insistence in pushing him away, Adaline has lived over 100 years. But the movie doesn't spend enough time relishing in those bygone decades and a few story threads (something about an underground boat? And what's that about a comet?) don't pay off. The fantasy elements are anchored in pseudo-science explanations about Adaline's condition, but don't expect to see it get any more fantastical than that.
Despite some of its shortcomings (and at times, slow pacing), the movie features some great performances, especially when we get to see Lively interact with two older actors—Harrison Ford and Ellen Burstyn. Although Lively is a stunning woman and made great choices in portraying her character, the difference in acting experience is evident when she shares screen time with these two veterans.
Can the grandkids see it?: Yes, but only if they're into love stories.
The Verdict: A fantasy film for romantic movie lovers, The Age of Adaline delivers a great commentary on our society's obsession with the fountain of youth. Adaline's lived all these years, but she's never had a life. There is something to growing older as long as you have loved ones along for the ride.
Rating (out of 5): 3.5
The Age of Adaline opens Friday, April 24, 2015.