Michael Jackson's Estate and Cirque du Soleil Team Up for the Immortal Tour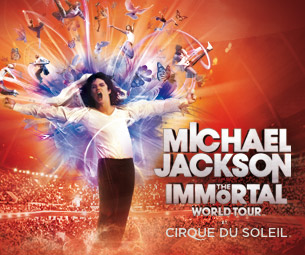 By Charmaine Gooden
Michael Jackson had always hoped to do a show with Cirque du Soleil, and on Sunday that dream came true. The "Immortal World Tour" debuted at Montreal's Bell Centre, combining acrobatics and dance with the King of Pop's massive catalogue of hits spanning more than four decades.
From "ABC" to "Thriller," the high-octane performance paid tribute to Jackson's lasting impact on dance and fashion — from his patented moonwalk to his iconic white glove.
Jackson was indeed an ardent fan of the Cirque du Soleil, since its early Las Vegas days at the Mirage. He even traveled to Montreal to visit Cirque headquarters at one point. Michael Jackson's family members gathered on the red carpet for the world premiere of the show in Montreal on Sunday October 02, 2011. Director Jamie King says he hopes Michael would be proud of the show, which pays tribute to the life and music of the late superstar.