It's Hard to be King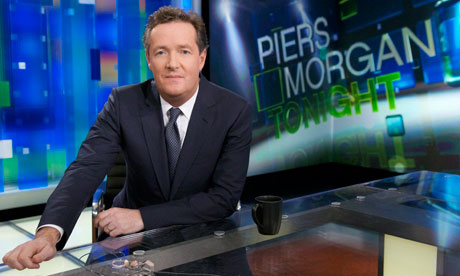 One year ago today the first episode of Piers Morgan Tonight, a nightly CNN talk show helmed by British tabloid editor turned reality TV judge Piers Morgan, took over the timeslot held for a quarter of a century by the venerable Larry King Live.
While some speculate that King may have been forced out due to sagging ratings, his age or a combination of the two, it was hoped that his replacement would boost the network's penetration in the nine o'clock slot against cable titans Fox News – especially in the coveted 25-54 age demographic.
Though Piers Morgan Tonight fared well at first – his debut pulled in almost 2.1 million viewers overall, though having Oprah Winfrey as a guest will do that for you – a year to the day that King stepped down Morgan is, at best, breaking even with his predecessor.
"I think they might have been better off starting quietly," Larry King told BBC Radio 4 regarding the hype leading to Morgan's debut. "I think one of the problems they did was over sell it – (saying) he was going to be dangerous, he was going to be water cooler talk."
According to the New York Times, Piers Morgan Tonight averaged 589, 000 total viewers a night in October of 2011, 176,000 of those in the 25-54 age demographic. While King averaged 168,000 in the 25-54 age demo at the same time the year prior, his 657,000 total viewers a night edges out Morgan. In November of this 2011, Morgan's show posted a mere 154,000 viewers 25-54 to King's 161,000, and 620, 000 total viewers to King's 635, 000.
Reasons for Morgan's difficulties in outdoing his predecessor often revolve around the fact that he hasn't lived up to the billing the network provided him. Like King, he isn't a hard-hitting journalist. As well, he doesn't ask the "dangerous" questions and he's been accused of both overtly flattering, and frequently talking over, his celebrity guests.
Morgan's attempts to create buzz via high-profile feuds have fallen flat too, most notably when he banned Madonna from appearing on his show, telling the Daily Express the pop star is too boring and that "We have Lady Gaga now."
"Madonna doesn't know who Piers Morgan is," Madonna's publicist told Popeater.com in response, "but she's a big fan of Lady Gaga."
Also, keep in mind that, while King stepped down, he hasn't disappeared. Since leaving his nightly talk show, King has hosted four hour-long specials on CNN, each time providing a lead-in for Morgan's show. King's ratings were by no means spectacular, but in every instance Morgan lost a significant fraction of the total audience that watched King's show an hour earlier, and only one time out of four did Morgan gain more viewers in the 25-54 age demo (a modest 5,000 extra).
In fairness, a CNN spokesperson told the New York Times that in late 2011 Morgan was up 28 per cent in the coveted 25-54 age demo and had increased the overall total 9 p.m. viewership by 10 per cent. Still, according to the San Francisco Chronicle's website, CNN hired Katie Nelson Thomson, who once booked guests for Barbara Walters, in an attempt to help boost ratings earlier this year, though it doesn't appear the move has had the significant results the network hoped for.
As well, Morgan's appearance at the Leveson Inquiry in December to defend himself against allegations related to the phone-hacking scandal that engulfed British media last year is hardly a public-relations boost. While Morgan, who helmed both The Daily Mail and News of the World, maintained his ratings during the initial controversy in the summer of 2011, there's no telling what long-term effect, if any, his participation in the inquiry will have on his viewership.
Either way, the fact that, Morgan remains only moderately ahead of where King was in the ratings a year in doesn't necessarily bode well for his show's future.
"He's certainly not bad. He's certainly an acceptable host," King conceded to BBC Radio 4. "He asks good questions, maybe he interrupts a little too much at times. I think he may have been oversold."
-Mike Crisolago