Mr. Harper, Your Timbits Are Showing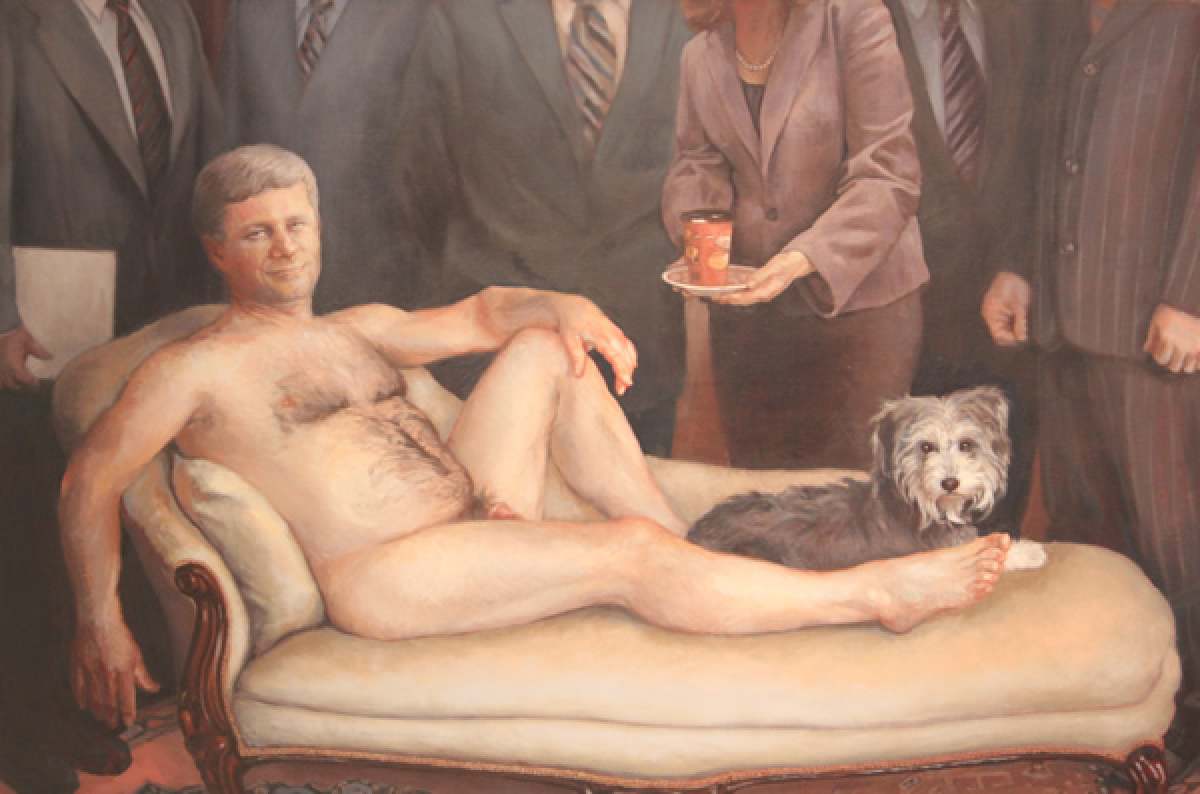 If you're wondering why you're looking at a nude image of Prime Minister Stephen Harper, with his "Member of Parliament" in full view, you can thank Canadian artist Margaret Sutherland. Sutherland, who lives in Kingston, Ont., says her "Emperor Haute Couture" is meant as satire and based on another work of art – "Olympia" by Edouard Manet.
Sutherland's painting depicts the prime minister in a relaxed state, laying back on a lounge and surrounded by an entourage of suits as a presumably hot Tim Hortons beverage is served precariously close to his, ahem, Timbits. A canine companion is seated next to him.
Viewers can decide whether the satirical elements of the painting have to do with Harper's governance or his physical stature. The prime minister's face looks enough like the man himself, though perhaps a little older than in real life. His "Upper House," so to speak, appears rotund while his "Lower House" – well, let's just say his Lower House is depicted as more pup tent than Peace Tower. Still, despite the initial shock of the image, a bigger discussion revolves around where the painting resides.
Currently, Sutherland's painting – which can be yours for $5,000 by the way – is hung in a room at a Kingston library that is used, among other things, for children's recitals. The irony of this questionable decision, of course, is that poor judgment is also a trait that seems to run in the Harper cabinet (see: Bev Oda).
Evidently, repercussions of the decision angered Sutherland herself, since the library continually removes the painting whenever the room is rented.
"I heard from several people that they were actually taking it off the wall and then forgetting to put it back up again," Sutherland wrote in the comments section of a Kingstonist article about an art show in which her painting is entered. "I've now provided them with a cloth to cover the painting to lessen the chances they will damage it taking it down."
The library says they've been using the cloth to cover the image when needed.
Another odd twist to this story is that this is not the only nudity-related issue the Conservative government finds themselves associated with at the moment. Public outrage and concerns from the federal heritage minister's office prompted Ottawa's Museum of Science and Technology to raise the age of admission for its exhibit Sex: A Tell-All Exhibition from 12 to 16. No word yet if little cloths will be handed out to cover each individual artwork.
This is not the first time a Canadian political leader has been depicted nude. Last April, Toronto-based alternative publication NOW Magazine published a Photoshopped image of Mayor Rob Ford semi-nude on their cover alongside the headline "The Naked Truth About Rob Ford." In response, the Mayor's office ordered a ban on all issues of the publication from city-run locations.
It appears Canada's conservative leaders truly take the term to heart when it comes to artistic expression. We can only imagine the level of outrage should other like-minded politicians find their way into nude art parodies. Ontario PC leader Tim Hudak done up Birth of Venus-style anyone?
-Mike Crisolago