Queen Announces Exit Deal for Harry and Meghan, "Much Loved Members of My Family"
Queen Elizabeth II announced today that Prince Harry and Meghan Markle's step back from the Royal Family would be much more permanent and more extensive than anyone had assumed. Photo: Chris Jackson/Getty Images
The Queen has spoken. After an extraordinary 10 days of shock and conjecture surrounding the announcement by the Duke and Duchess of Sussex that they would be "stepping back" from royal duties, all parties have come to an agreement. The Queen announced today that the step back would be much more permanent and more extensive than anyone had assumed.
The news flash is a gobstopper. Harry and Meghan will lose their HRH titles. As in: it appears that though they will technically not be stripped of the royal designation — which is the Prince's birthright as son of the Prince of Wales and the future King Charles — they will no longer use them. They will no longer accept any public funds from British taxpayers as they will no longer formally represent the Queen. They will personally repay the £2.4 million (C$4 million) taxpayer-funded renovation of Frogmore Cottage (although they will retain use of the home, a gift from the Queen, as their U.K. base).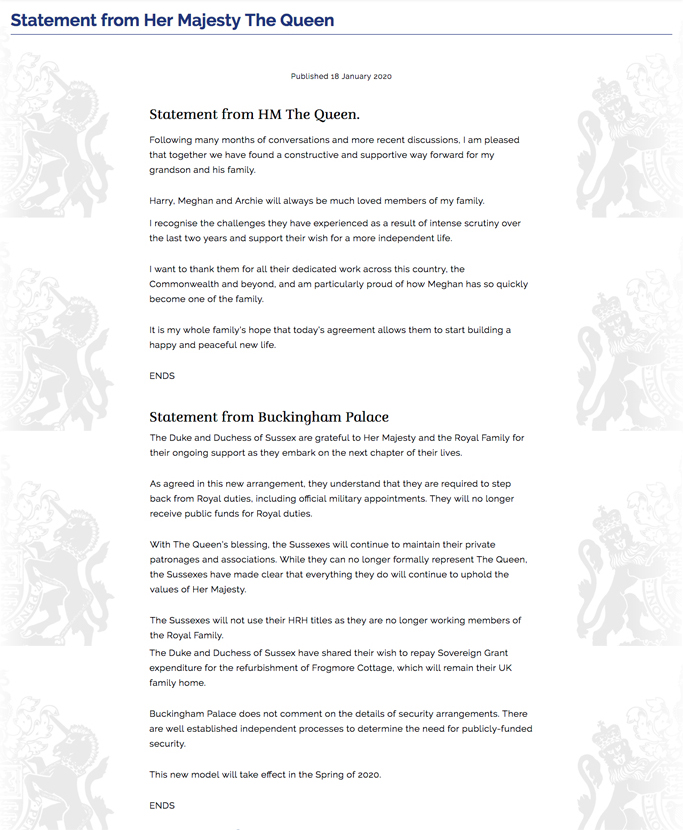 These decisions come after a week of intense negotiations between the Sussexes, the Queen's representatives and designates from the households of Prince Charles and the Duke of Cambridge. These negotiations were ordered by the Queen following the extraordinary summit at Sandringham last Monday where she summoned her son and heir and two grandsons. It was her directive to have a solution within days.
The Queen's announcement today emphasizes that "Harry, Meghan and Archie will always be much-loved members of my family." She noted "how quickly Meghan has become part of the family." It concludes, "It is my whole family's hope that today's agreement allows them to start building a happy and peaceful life." Very sweet words from a grandmother and unusually personal and informal words from the Queen of England.
But what a solution! Even the staunchest royalists, who were furious at the couple for showing disrespect to the Queen by forcing her hand the way they did by going public with their plans against her wishes, none of them wanted to lose the Crown's most glamorous and modern stars in quite this way. As the first mixed-race member of the Royal Family, what Meghan represented most was hope for a more progressive future. The family finally began to reflect a bit more the diverse reality of the country and indeed the whole of the Commonwealth.
As the coverage unfurled through the week, what has been most resonant is, in fact, the review of coverage of Meghan alongside sister-in-law Catherine. The accusations of racism and bias appear to have been true: whatever Kate was praised for, and it could be something as simple as cradling her baby in utero with her hands, Meghan was roundly trounced for doing the same thing. It is clear that the frenzy must have been unbearable for a prince still so shattered by his mother's violent death when he was just 12 and who had even before he met Meghan chafed under the strictures of his royal role — the press intrusion and lack of a clearly defined purpose. And it must have been stifling for his liberated American bride, who had both a career and a voice before their marriage and who was effectively silenced by both the institution and the media.
The idea the couple put forward in their own statement of Jan. 8 was to continue to support Her Majesty but to spend half their time in North America and to earn money independently. Seen as "half in and half out," that proposed set of arrangements apparently did not fly with the Queen.
Many of the finer details on how they will move forward are not yet clear. They will be allowed to earn money in the private sector, so long as they "uphold the values of the Queen." It is unclear whether the brand they have sought patents for — Sussex Royal — will be available for their usage if they are not His and Her Royal Highnesses. As in: they are Sussexes, the Duchy awarded them by the Queen upon their marriage, but they are no longer referred to as royal and will now be styled simply Harry , Duke of Sussex and Meghan, Duchess of Sussex. Or heck, maybe those petty distinctions will not even be a problem? Reports say they will remain President and Vice-President of the Queen's Commonwealth Trust but that Harry will relinquish his many military roles, including as Captain General of the Royal Marines. They will continue to support their private patronages. As for major royal public events, such as the Trooping of Colour, which brings out a broad cross-section of the larger family, they will continue be invited by the Queen and will also be invited, of course, to private family events. The agreement will come into effect later on this spring, and its terms will be subject to review a year after that.
The Sussexes' much-speculated move to Canada may no longer even be necessary. If they are no longer senior working royals and do not represent the Queen, there is no reason they need to reside in the Commonwealth. This would free Meghan to take her family to her birthplace of Los Angeles, where her mom, Doria Ragland, still lives.
But all this is just more speculation. Let's take some time to absorb the huge news. The Queen has spoken, and she made it clear that Harry and Meghan and Archie are family first, whatever the initials that precede their names. Hopefully, as the Queen signed off with, they are able to find peace. The only thing that is certain is that they will be no less famous when they wake up tomorrow. That horse has long left the barn.
RELATED:
Canadians Split On Paying For Harry and Meghan's Security, Though 70% Still Follow Royal Family Exit Saga