It's Never Too Late … Take Up Bird Watching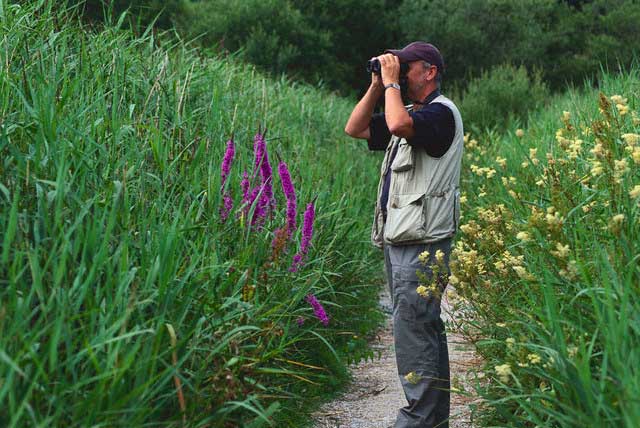 Bird watching may be your cup of tea. Enthusiasts pursue this hobby with vigor because the beauty of the birds themselves. The opportunity to spot a rare one keeps birders poised with their binoculars.
The internet offers considerable support for "watching the birdie." What Bird, at www.whatbird.com, treats visitors to a bird search engine and step-by-step help to identify the type of bird you just spotted.
Backyard Birds, at www.spruce.net/birds, addresses building a bird house, selecting a feeder, viewing or photographing birds, and joining other bird watchers. Another site, www.mikeatkinson.net/tutorials.htm, provides tutorials for hobbyists specifically interested in pursuing bird photography. The first tutorial is free; others are available for a modest fee.
All About Birds at www.allaboutbirds.org offers descriptions, profiles, and pictures of nearly 600 species of birds including tips on how to identify the bird you are viewing, what each sounds like, and videos of the birds in flight.
Here are some ways to support your new found hobby:
* Veteran bird watchers, even those owning the best of binoculars, can sometimes identify birds 200 to 300 feet away just by their silhouettes. Binoculars are unnecessary to see the birds, but they help. Caution: birds often take off before you can use your equipment.
* What do you see when looking at birds? The more conscious you are of detail, the greater your enjoyment. You can observe the bird's color, but what about the color of its legs? Or the length of the legs or the detail of the bird's wings and tail? Watch for colorful patches and markings on the bird's breast or wings.
* Acquire a field guide for your part of the country. The Peterson Field Guide to Eastern Birds, and The Peterson Field Guide to Western Birds contain pictures as well as techniques and tips for identifying a wide variety of birds. These guides and others have been popular among new birders for years.
* Observe how birds walk, flit from branch to branch, hold their tails, or peck at the ground in search of food. Birds are likely the descendants of dinosaurs. Their movements often mirror the ways in which we know dinosaurs ambled about.
* Focus on how birds sound. Their chirps can be sweet music or irritating repetitions. As with their physical features, there is a wide variety of bird vocalizations.
* Learn bird calls. Recordings are available on the web and found through popular search engines. Online book vendors and local bookstores have audio's and CD's of local bird calls.
* Search the web using "bird club" and the name of your town to find clubs in your vicinity. Joining with others who share your enthusiasm for the birds tends to enhance and invigorate your passion.
* Some birders keep a journal, writing about the birds they've viewed and noting any particulars about the encounter. Some describe the vocalizations they've heard. Some make sketches of the birds or take photographs and then affix them to the journal pages.
* Some birders seek to attract birds to their yard. You can do this by installing a bird feeder (one from which squirrels cannot steal the food), planting certain flowers, and keeping your yard free of machine noise which scares away birds. You might receive regular visitors, some of whom could become your "friends."
Bird watching can be totally random. As long as it's fun and enjoyable for you, keep it going. You can make a game of learning to identify birds, involve others, or maintain the hobby as a solitary pursuit. Just you and the birds, that's all you need.
Jeff Davidson, "The Work-Life Balance Expert®," is a professional speaker and thought leader on work-life balance issues. He is the author of "Breathing Space" and "Simpler Living." For more information, go to www.breathingspace.com.