Vacations Create a Lifetime of Memories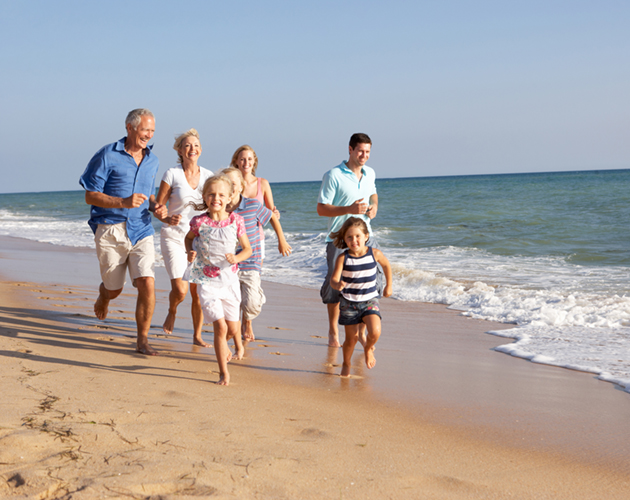 CARP DISCOUNT PARTNER SPONSORED CONTENT
Multiple generations on one vacation can multiply the fun! Consider booking a vacation with your children and grandchildren to create a lifetime of memories you won't soon forget. Read on to learn about the do's and don'ts of traveling with multiple generations.
Preparing for the perfect vacation
1. Determine the sleeping arrangements. Luckily, vacation rentals offer multiple bedroom options that will make it comfortable for the entire family. However, it's best to assign the bedrooms and sleeper sofas ahead of time to avoid any potential squabbles upon arrival – you'll want to focus on other things when you get there, like getting down to the pool or beach!
2. Another topic that should be discussed is finances. Figure out how you will be splitting up meals, activities, travel related expenses like transportation, etc., and make sure all families are in agreement. This will help to alleviate any questions once the trip start. Don't forget to check out discount resort rentals that you can access through your CARP membership.
3. Be sure to get one or two must-do ideas from everyone. This will help to determine the priority activities and attractions for the trip and keep your travelers happy knowing they've helped to contribute. Keep in mind – some of your younger travelers like grandkids may suggest activities that could be too rigorous. This is fine! You may welcome the break. Plus, select resort rentals offer a wide variety of activities.
4. This one is probably a no-brainer: make dinner reservations ahead of time. Depending on the popularity of the location and season of your vacation, dinner reservations for even a party of four could be tough. Given you have a larger size party, call weeks or months before to make your reservations and you'll be able to get the restaurants and times that work best for you and your family.
While you are there…
1. You may have a full kitchen or kitchenette at your disposal to make all you or your family's favorite home-made meals. You can even turn making meals into a friendly competition by pairing up family members and have each team cook one family meal during the vacation. The whole group can vote on the best at the end of the trip!
2. Capture the memories. Since your large family probably doesn't always get together like this, consider hiring a photographer to take photos of you and your family enjoying your vacation time. These will make for wonderful keepsakes and you can even use the photos for a holiday card at the end of year
3. You don't all have to be together all the time. Yes, it's a family vacation, but everyone needs some down time every now and then. Let the group break up into smaller groups to explore or grab a bite.
4. Finally, expect the unexpected. Like any vacation, you'll have to roll with the punches. With so many more people involved, there may be several wrenches in your plan and you are likely to go off schedule. Just take a deep breath, relax, and remember you are on vacation. Enjoy it!
CARP Members can book a 7-Night Vacation Rental at 25% Off* at TripBeat.com/carp. By now, you should be inspired to book a multi-family trip, start looking for spacious 2 plus bedroom suites featuring spacious home-like accommodations. Or use your discount to book several smaller units, such as Studio or 1-Bedroom Suite. With 2,400 resort properties located in 90 countries throughout the world, we certain you'll be able to choose a place to keep the whole gang happy.  Start your vacation search at tripbeat.com/carp or call (1) 844-367-643.
Not a CARP Member? Click here to sign up.