The Top 5 KurSpa Treatments for Seniors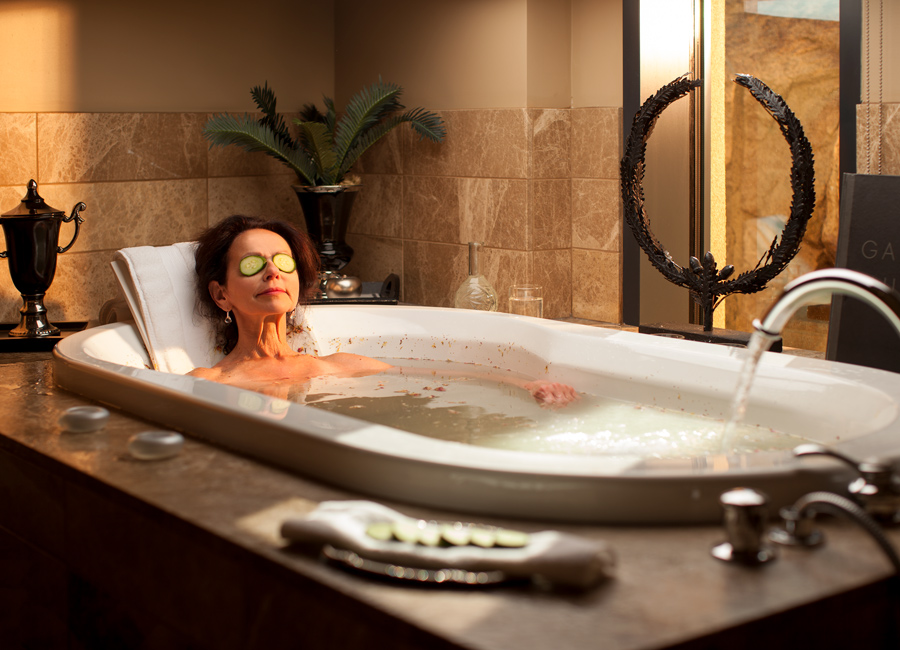 CARP DISCOUNT PARTNER SPONSORED CONTENT
Do you long for the days when your daily routine didn't wear you down? It may be time to explore the benefits of a wellness package.
While visiting a spa has long been considered a luxury, the approach of KurSpa at Sparkling Hill Resort is that of a traditional European health spa – featuring treatments and amenities each with unique health properties. Spa treatments feel good, treat underlying ailments and offer health benefits that last long after your stay. Read on to learn about the most popular treatments recommended for and by seniors who stay at the Resort.
Himalayan Detox
During this detoxifying massage, 84 minerals from Himalayan stones are absorbed through the skin to assist in circulating toxins from your body. While the warm, smooth stones glide across your back, neck and shoulders, inflammation is reduced as a result of balancing positive and negative ions. The massage is followed by a whole-body Himalayan salt scrub to exfoliate your skin, promoting naturally smooth and silky skin to reduce the signs of aging. Deep relaxation, an increased sense of well being, and better sleep are often experienced after this treatment.
Lymphatic Drainage
A properly functioning lymphatic system is essential for overall health as the fluid helps to remove waste and toxins from the body. Unlike a typical massage, the specially trained practitioner uses a series of gliding, compressing, stretching and cupping motions across your entire body to stimulate the lymphatic system without compressing the vessels. Following this treatment, guests have noticed a reduction in swelling and bloating, less stiffness and pain, the ability to exercise without pain, and overall boosted energy.
Mud & Muscle
'Fango' is a highly mineralized mud made from volcanic rock that has been used since the Roman Empire to relieve joint discomfort, muscular tension and arthritic pain. This soothing and relaxing treatment consists of a mud wrap followed by a back massage to stimulate circulation and reduce inflammation. After the Mud & Muscle treatment, guests often feel a deep sense of calm as well as relief from joint discomfort due to conditions such as fibromyalgia and osteoarthritis.
Reflexology
Reflexology is based on the theory that certain points within our feet are connected to certain organs and body systems. Starting at the toes and working down the foot, a reflexologist uses many different techniques to work on all points of the feet. If they find any pain, congestion, or tightness during the session they will apply pressure to bring the body back into balance. Guests may feel a sense of 'lightness' or 'energy flowing' through specific areas of their body during the treatment, as well as boosted energy, reduction of stress, reduction of anxiety and headaches, enhanced sleep, and a general sense of well being.
Canadian Glacial Clay Wrap
As your body's largest organ, your skin is subjected to chemicals, pollutants and environmental bacteria through daily life. Glacial clay's high absorption makes it ideal for drawing out impurities and toxins from the skin. Beginning with a relaxing oil rub and dry brush exfoliation, the lavender oil-infused clay is applied to your whole body and wrapped to keep in place. The clay is antibacterial and has significant anti-aging skincare properties from over 60 natural minerals, micronutrients, and vitamins. After resting with a heated blanket and a quick rinse, moisturizing body butter is applied to further nourish your skin.
Experience it yourself
With wellness package options ranging from 2- to 7-nights, find the perfect spa getaway to fit your schedule and budget. With the support of our resort staff, restful amenities and rejuvenating spa treatments, you will leave feeling re-energized for your next season of life.
To learn more about Sparkling Hill Resort's unique offerings, sign up for their email newsletter or contact their Reservations Team at 1-877-275-1556 or [email protected].
---
CARP Members receive a $100 resort credit*, save 25% off the 'Best Available Rate' year round, with a minimum 2-night stay and MORE!
*Exclusions apply.