Must-See Sites in Ireland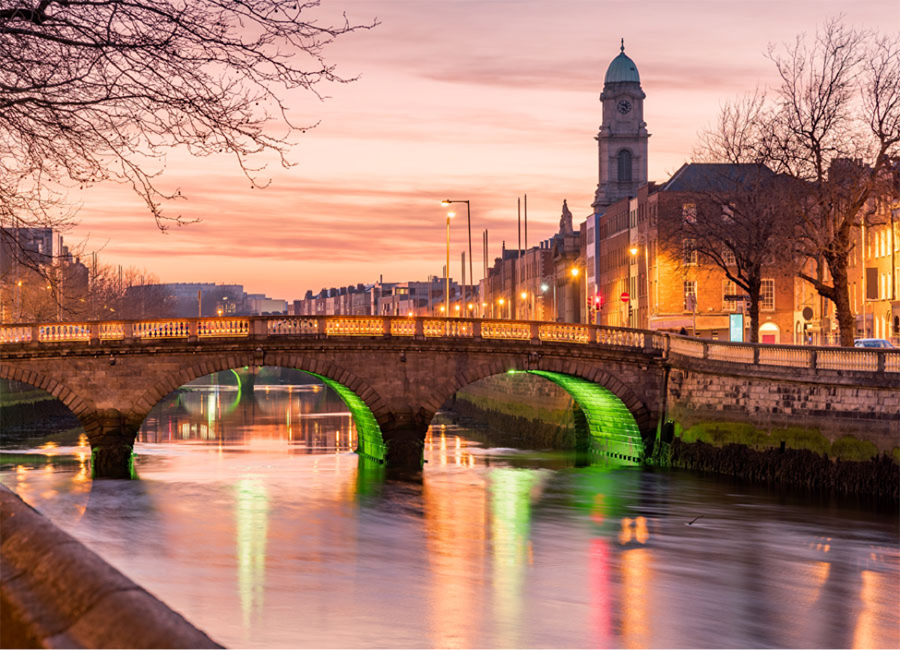 CARP DISCOUNT PARTNER SPONSORED CONTENT
The Emerald Isle is rich with culture, history, and natural beauty. These must-see sites make for the perfect Irish vacation.
St. Patrick's Cathedral
St. Patrick's Cathedral is one of Dublin's most magnificent structures. Founded in 1191, the ornate Gothic church is among the city's few remaining medieval buildings. It is considered one of Ireland's holiest sites, built at the exact spot where Saint Patrick was said to have performed countless baptisms in the 5th century.
Waterford Crystal Factory
The Waterford Crystal Factory has been producing the world's finest crystalware since 1783. Teams of master craftspeople use traditional techniques to transform red hot molten crystal into elegant and elaborate glassware, home décor, and trophies.
The Waterford Crystal Factory offers tours that show every step of this complicated process. Watch each piece's journey, from the 2,500 °F crystal furnace to the beautifully lit shelves of the Waterford Retail Store.
Blarney Castle
Blarney Castle was built in the 15th century, and although now largely in ruins, remains an excellent example of a medieval stronghold. But that's not why it's on our must-see list. Since the 1800s, visitors have hung upside over Blarney's castle battlements to kiss a rough-hewn stone first placed there in 1446. The legendary Blarney Stone is said to reward anyone brave enough to give it a kiss with the quintessentially Irish gifts of eloquence and flattery.
Ring of Kerry
Traversing the Ring of Kerry is an essential part of an Irish vacation. The 111-mile scenic route loops around Country Kerry's Iveragh Peninsula in Ireland's rugged southwest, past windswept beaches, lakes, castles, and tiny villages. The ring is the perfect mixture of natural and human history, combining lush, sprawling vistas with ancient sites and delightful places to stop.
Cliffs of Moher
The towering coastal Cliffs of Moher is among the most visited sites in Ireland. The cliffs stretch for 5 miles, and stand up to 700 feet above the churning sea along the Wild Atlantic Way.
The views from the Cliffs of Moher seem endless on clear days. Visitors can look out at the Aran Islands, Galway Bay, Dingle Peninsula, and County Kerry's Blasket Islands. A treat for movie buffs, sharp-eyed viewers can recognize the cliffs from their supporting role in Harry Potter and the Half Blood Prince, The Princess Bride, and more.
Giant's Causeway
Flanked by the North Atlantic Ocean and a dramatic landscape of grassy seas cliffs, the Giant's Causeway is a protected area of nearly 40,000 interlocking basalt columns. This national treasure is Northern Ireland's only UNESCO World Heritage Site.
Some say the Causeway was formed by volcanoes, but local legend disagrees. According to centuries of folklore, the industrious Irish giant Finn McCool built these otherworldly formations as steppingstones to keep his feet dry on the short walk to Scotland.
Titanic Belfast
Titanic Belfast is the ultimate Titanic visitor experience, and one of the Northern Irish capital's most popular tourist attractions. It tells the tragic story of the doomed ship over nine fascinating galleries. Starting from Titanic's initial conception as the world's largest, safest ship, learn her story including the final excruciating hours when she struck an iceberg and vanished in the frigid Atlantic in April of 1912.
Visit Ireland's Must-See Sites with YMT Vacations
Take your dream trip to Ireland with YMT Vacations. Our Best of Ireland Tour visits these and more of Ireland's other incredible sites. Visit ymtvacations.com or call (888) 817-5482 to book. CARP members save $100 on any tour.