2013 Stanley Cup: Game 1 Blues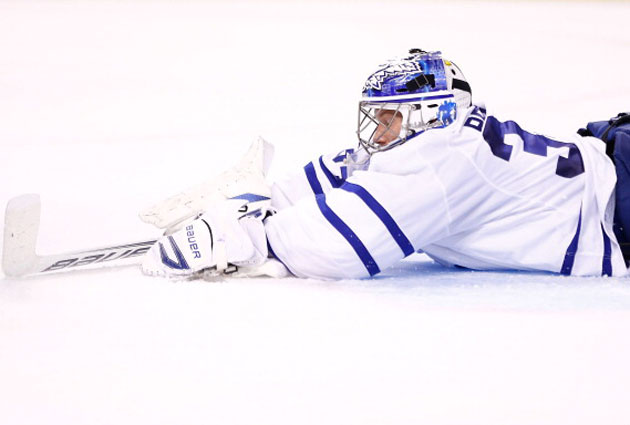 The NHL playoffs are off and rolling, though no one saw fit to tell the two Canadian teams who lost last night. The Toronto Maple Leafs rolled over and played dead in their 4-1 loss to the Boston Bruins last night and the Vancouver Canucks were outworked by the San Jose Sharks, in their loss 3-1 defeat. While it's only the first game, last night's showings aren't good signs for either team.
Bruins whip Leafs
The Maple Leafs showed why they haven't played a playoff game in nine years. The hometown Bruins outplayed the Leafs in every facet of the game in their 4-1 Game 1 victory. Goaltender James Reimer whiffed on three goals, the defence looked sloppy and the forwards played frightened most of the night, directing only 20 shots on Bruins' goalie Tukka Rask. "I just thought we self-destructed," said a testy Leaf coach Randy Carlyle after the game, promising line-up changes for Game 2. The Leafs' big scorers also failed to show up, Phil Kessel looked scared and Nazem Kadri and others looked wholly unprepared for the playoff intensity. If they don't deliver a much better effort in Game 2, this series will end quickly.
Sharks bite Canucks
Another playoff game, another loss for the Canucks, who now have a five-game, post-season losing streak at home. The Sharks were full measure for their 3-1 win and have not only stolen the momentum but have gained the all-important road game victory early in the series. The Canucks played well at times but looked mostly flat and disinterested. Perhaps they're hoping that goaltender Corey Schneider can return from an undisclosed injury to provide a spark for the team going into Game 2. "I think everything has to be five times better: puck movement, execution, battle level and bearing down when we get the chances," is how Canucks' captain Henrik Sedin summed the team's plan going forward.