5 BIG QUESTIONS FROM THE WEEK IN SPORTS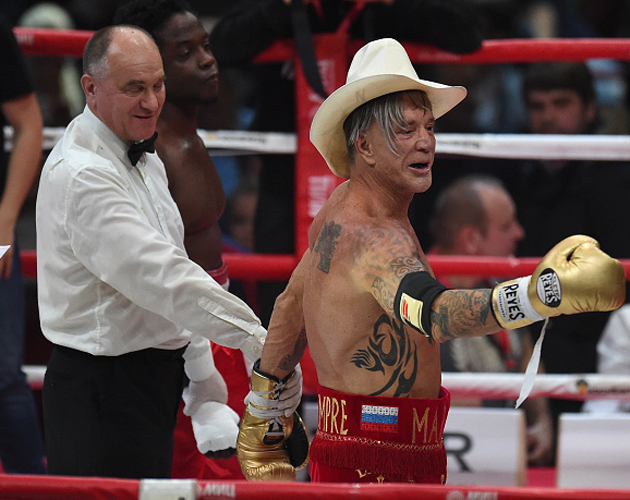 The Stamps bust the Grey Cup, Mickey Rourke fights a hobo and the Jays wheel and deal: here are the 5 Big Questions from the Week in Sports.
1) Why will this year's Grey Cup be remembered for the "Greatest Play that Never Was"?
Hamilton fans thought they'd won the Grey Cup when punt returner extraordinaire Brandon Banks returned a kick all the way with under a minute left. But wait…there's a flag on the play. Teammate Taylor Reed was penalized for an iffy illegal block during the return, negating the touchdown and basically handling the 102nd Grey Cup to the Calgary Stampeders. Was it a penalty? You be the judge.
After the game, a distraught Reed gave a lesson on how players should face the press after their performance cost the team victory. Manning up to a roomful of reporters, Reed answered question after agonizing question,  never once making excuses for himself or blaming officials:
"I take the responsibility."
"I let my team down."
"I let the city down."
"That's 100 percent my fault."
"I've got to be better than that."
The Toronto Maple Leafs should take notes.
2) Speaking of taking full responsibility, which Calgary Stampeder busted the Grey Cup during the post-game celebrations?
Calgary linebacker Juwan Simpson humorously explains what happened.
"I think I'm the one that [broke the Grey Cup]. I grabbed it and was excited, and all of a sudden, it got a little loose. Some glue and some duct tape and it'll be good. But I got me a Grey Cup cheque. In a worst-case scenario, I can pay for it."
The #GreyCup trophy is in the possession of the Stamps for less than 2 minutes and its already broken. pic.twitter.com/OT5Vt75avq

— Tim Capper (@reppact) December 1, 2014
CANADIANA ALERT Grey Cup broken in celebration. Player: "I politely gave it to someone else." http://t.co/vOt5WDqnlj pic.twitter.com/3AkXBMmKiR — John Grigg (@John_Grigg) December 1, 2014
3) Why is everyone talking about the Toronto Blue Jays in December?
It's been a wild off-season for Blue Jays' general manager Alex Anthopolous, who has all but silenced critics and saved his job for another year. Not only did the embattled GM sign catcher Russell Martin, but he just shocked the baseball world by landing Oakland A's third baseman Josh Donaldson in trade. In exchange for the MVP calibre third baseman, the Jays traded Brett Lawrie, a highly regarded but often injured third baseman who has never fulfilled his potential, unknown 18-year-old shortstop Franklin Barreto and minor league pitchers Sean Nolin and b, neither of whom were deemed to be front of the rotation guys by the Jays.
4) Why is 62-year-old actor Mickey Rourke boxing hobos in Russia?
We have to give it to Mickey, he looks good for a dude in his 60s. But the fact that his opponent, Elliot Seymour, was described as "homeless and desperate" and that Mickey's punches were "so slow an infant could avoid them," doesn't make him a boxer in any sense of the word. All this fight proves is that Russia is a very bizarre place. Take a look at the madness:
5) Does Washington Capital superstar Alex Ovechkin deserve to be suspended for this hit on Toronto Maple Leaf pest Leo Komarov?
Nah, it was just a love tap from a fellow countryman. Komarov – a blindside-hitting specialist himself (see here, here and here) – has to expect retribution from time to time.