Useful Guide for Blue Jays' Bandwagon Fans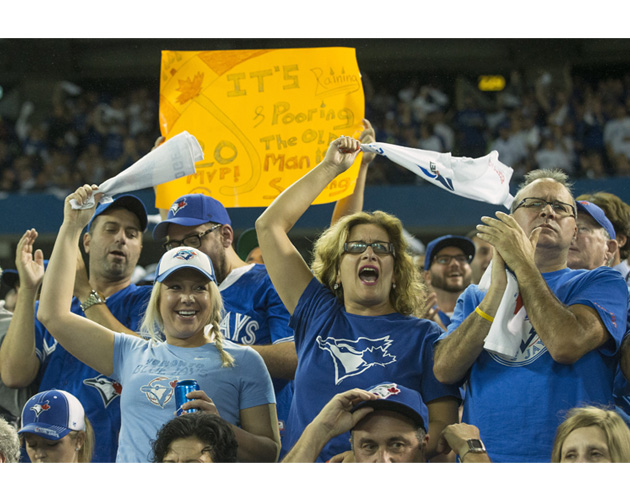 If you're one of the many Canadians who's caught Toronto Blue Jays fever just in time for their postseason run, you may want to disguise the fact that you're one of those bandwagon fans. The next time you're watching a game with a bunch of irritating baseball know-it-alls, here's a handy guide to fooling them into thinking you know what you're talking about.
When the camera is focussing on the following Blue Jays, here's what you should and should not say.
David Price
Don't say: "The Price is right!"
Instead: "What's wrong with Price in the postseason?"
Jose Bautista
Don't say: "He's scary when he's angry."
Instead: "He's scary with runners in scoring position."
Troy Tulowitzki
Don't say: "He's hot!"
Instead: "If Tulo's bat gets hot, look out."
Josh Donaldson
Don't say: "Wait, is Kelly Gruber still playing third?"
Instead: "MVP! MVP!"
Edwin Encarnacion
Don't say: "Did he hurt his arm on that homerun?"
Instead: "Are you tired of Edwin's 'Walking the Parrot' home-run trot yet?"
Ben Revere
Don't say: "Uhhh … never heard of this guy."
Instead: "This guy is one of the most underrated players in baseball."
Kevin Pillar
Don't say: "Why does he wear his socks so high?"
Instead: "Love the old-school baseball look."
Russell Martin
Don't say: "He's the back-catcher, eh?"
Instead: "He's the best Canadian-born catcher, eh?"
Ryan Goins
Don't say: "He's a terrible hitter."
Instead: "He contributes with his glove."
Manager John Gibbons
Don't say: "What the hell is he saying?"
Instead: "What the hell is he doing?"