"We're Sick Puppies" – Why There Are So Many 60-year-old Coaches in Pro Sports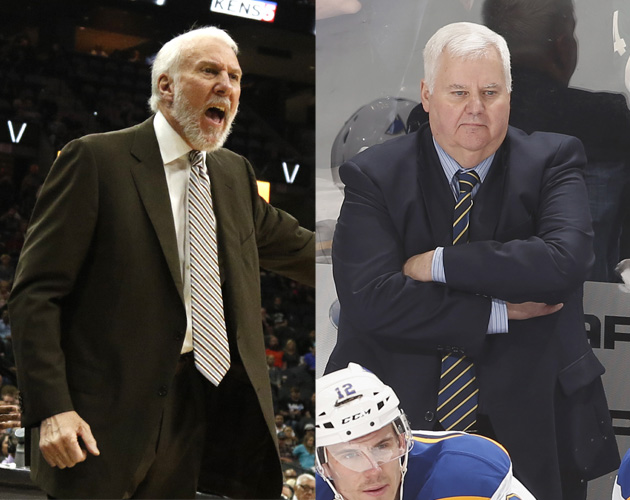 Gregg Popovich, 67, of the NBA's San Antonio Spurs and Ken Hitchcock, 64, of the St. Louis Blues, are two of sports oldest yet most successful coaches
Next time you're watching the NHL or NBA playoff action, keep an eye on the coaches. You can't miss them: they're the older guys wearing off-the-rack suits, pacing frantically back-and-forth during a game. Their faces clouded by constant worry, they watch play intently, bark at their players and shout incessantly at the referees.
And that's only during the game. Before and after the match, they must meet with their assistants, pore over hours of video and devise and revise game plans.
The torturous life of a coach
Then there's the endless travel, the stress caused by losses, the fans calling talk shows to criticize their every move and worst of all, the post-game press conferences where reporters grill them on what went wrong, going over it again in agonizing detail.
Somewhere in all the tumult, these coaches must carve out a personal life, a few hours of the day where they can escape the pressures of the job and be with their family or by themselves.
Why would anyone want to coach?
With all the physical and mental demands, and the fact that your job security depends on a group of athletes who are mostly in it for themselves, why would anyone sign up for the job in the first place?
Coaches are sick puppies?
And strangely, many of these lunatics keep signing up for this job. And even more surprisingly, many do it well into their 60s, grandfather figures to the 20-something players.
Why? Gregg Popovich, at 67, the oldest and most respected coach around, offers this hilarious theory: "Coaches are sick puppies."
The recently deceased Pat Quinn could certainly relate to the tortures of the job. When he was coaching the Toronto Maple Leafs during their 2002 playoff run, he was hospitalized because of heart failure caused by poor lifestyle and stress.
So the next time you watch a game, spare a thought for those hapless coaches, especially for the 60-plus guys who just can't shake their love of the game.
NEXT: Professional coaches who are 60 and over
Professional coaches who are 60 and over (as of May 1, 2016):
National Hockey League
Bruce Boudreau (61), Anaheim Ducks
Ken Hitchcock (64), St. Louis Blues
National Basketball Association
Alvin Gentry (61), New Orleans Pelicans
Gregg Popovich (67), San Antonio Spurs
Major League Baseball
Bruce Bochy (61), San Fransisco Giants
Joe Maddon (62), Chicago Cubs
Dusty Baker (66), Washington Senators
National Football League
John Fox (61), Chicago Bears
Jim Caldwell (61), Detroit Lions
Bruce Arians (63), Arizona Cardinals
Bill Belichick (64), New England Patriots
Pete Carroll (64), Seattle Seahawks