Canada Goes For Gold at 2018 Paralympic Winter Games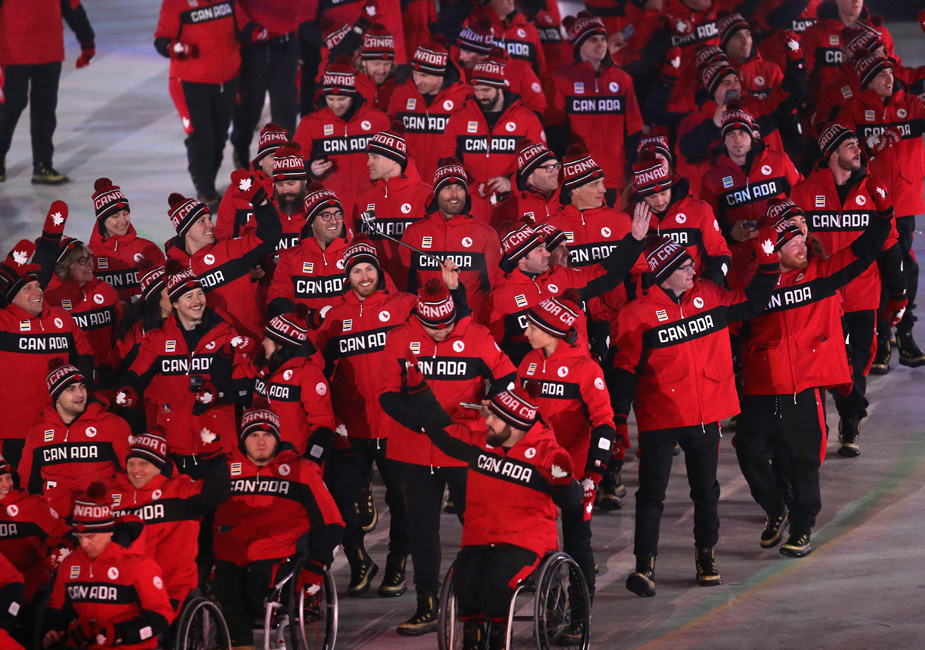 PYEONGCHANG-GUN, SOUTH KOREA - MARCH 9: Canadian athletes enter stadium for the PyeongChang 2018 Paralympic Games (Photo by Maddie Meyer/Getty Images)
The 2018 Paralympic Winter Games got off to a spectacular start earlier today after a dazzling pyrotechnic display and cauldron lighting at South Korea's Pyeongchang Olympic Stadium.
Brian McKeever carried the Canadian flag into the stadium for the opening ceremonies, leading a team of 55 athletes who will be competing in five events, trying to emulate the record-setting performance of Canada at the Winter Olympics.
"It is a privilege to lead these great Canadians into the stadium," said McKeever, perhaps our greatest winter paralympian of all time, having won 13 medals in para Nordic skiing over 5 games.
Todd Nicholson, Canada's chef de mission – who skated for his country in para ice hockey in five  games – explained the importance of the event. "For me, the Paralympics is a conduit to being able to contribute to society. I've seen the value of sport and what I've been able to accomplish doing it."
"It's super exciting. I can't formulate my thoughts properly because I'm still riding the wave of excitement, but yeah, all good feelings," echoed Erin Latimer, an alpine skier who'll compete in five events.
The games also got the blessing of Pope Francis, a big supporter, who sent a message to all athletes:  "Sport is a school of inclusion, of inspiration for our personal lives and of commitment to transform our societies. Sport can build bridges between countries in conflict, giving a valid contribution and perspectives for peace among people."
The heavy snowfall that blanketed much of the area surrounding the Paralympic games on Thursday shouldn't be a problem for competitors as 600 South Korean soldiers were called in to help remove it.
Paralympics At a Glance
The 2018 Paralympic Winter Games will run between March 9 to March 18.
The games will be aired on CBC, Radio-Canada and Sportsnet One. They will also be streamed on Facebook Live, Twitter Live, Paralympic.ca, cbcsports.ca/paralympics, and Radio-Canada.ca/jeuxparalympiques.
The origin of the Paralympic Games dates back to 1948 when Sir Ludwig Guttman staged the International Wheelchair Games to coincide with the 1948 London Olympic Games.
The first Paralympic winter games were held in Sweden in 1976. Canada took home four medals and finished ninth overall.
Athletes from 49 countries athletes (plus the neutral group from Russia) will compete in Pyeongchang.
Canada is represented by 55 athletes in six sports: alpine skiing, Nordic skiing, biathlon, snowboard, ice hockey and wheelchair curling.
Canada will look to improve on the 16 medals it won in Sochi in 2014, where they finished third overall.
Canada's highest medal count at the Paralympic winter games was 19, which it won in Vancouver games in 2010.