A Sad Spring Tradition: Maple Leafs Once Again Lose a Game 7 to Bruins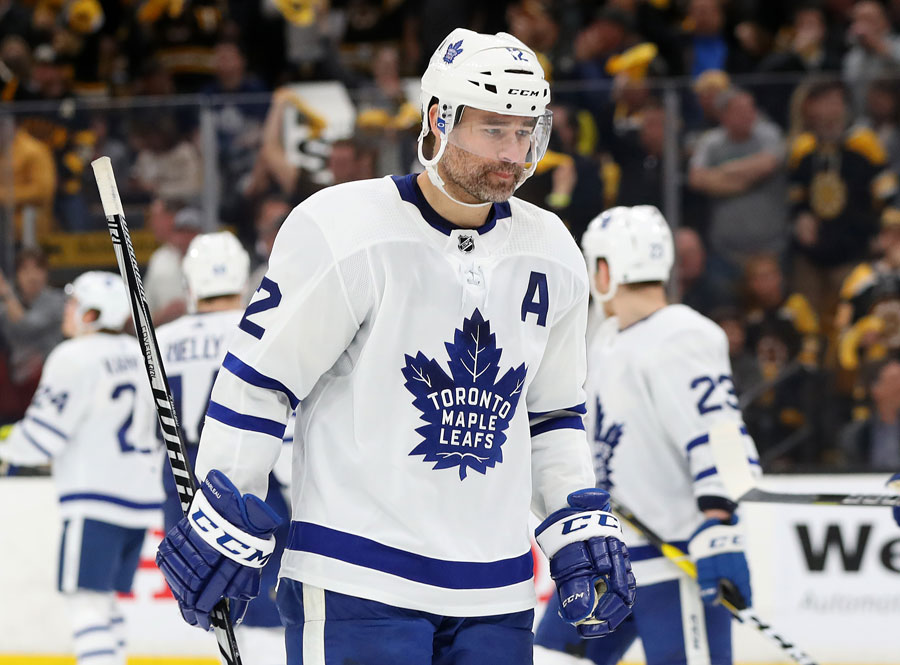 A dejected Patrick Marleau skates off the ice in Boston after the Toronto Maple Leafs once again fell to the Bruins in a Game 7 playoff series. (Photo: Maddie Meyer/Getty Images)
There are no more Canadian teams left in the playoffs as the Toronto Maple Leafs got trounced 5-1 by the Boston Bruins in Game 7 of their Stanley Cup Playoff series.
The Leafs simply couldn't muster any offence in their loss to a confident Bruins team. And while they kept the game close for two periods, the Leafs looked almost disinterested in the third, seldom threatening to score after Boston took a 3-1 third period lead.
Not only did this crushing loss mean the sudden end of what Leaf Nation expected to be a long playoff run (joining the Calgary Flames and Winnipeg Jets as Canadian teams which bowed out in the first round) but it took place in agonizingly familiar fashion.
In what's becoming a depressing biennial spring tradition in Toronto, the Leafs lost a Game 7 to the hated Boston Bruins. This marks the third time in the last six years that the Leafs have suffered spirit-crushing defeat to hands of the Beantowners.
In 2013, the Leafs coughed up a 4-1 third period lead to lose 5-4 in overtime. Last year, the Leafs once again had the lead going into the third period of Game 7, before blowing it again, losing 7-4. And this year, the Leafs had a 3-2 series lead after 5 games. But they proceeded to lose both Games 6 and 7. Behold this familiar scene at Maple Leaf Square.
What makes last night's loss so annoying for Leaf fans is that this team was supposed to be built for Game 7 against Boston. That's why management signed free agent centre John Tavares and added gritty defenceman Jake Muzzin, two players they thought would tip the scales in their favour.
But, once again, it wasn't enough. Goalie Freddie Andersen, who had a bad playoffs last year, was only marginally better. Jake Gardiner will be singled out for his atrocious game but the defence on the whole were too soft and too prone to giveaways. The forwards, though talented, didn't appear gritty or hungry enough to retrieve loose pucks or win position in front of the net. And coach Mike Babcock appeared unwilling or unable to make adjustments to counter the Bruins' strategies.
So as the Leafs trade in their hockey sticks for golf clubs, let's hear from the key players on what went wrong:
"It's just frustration everybody feels in this locker room. It's sad to see it end the way it did. So this is obviously a feeling we've experienced two years in a row. It's not a good feeling for any of us. It's something we want to not really experience again." Forward Auston Matthews 
"I don't know, it's tough. This isn't the way we wanted it to end. When your goals are higher and this happens it's not a good feeling so we'll have to deal with it and just come back stronger." Defenceman Morgan Rielly 
"It sucks. We believed in this team, had a lot of confidence in this team. When your season ends early, it sucks. We have to be hungry for this next year and make sure we come back pissed off." Forward Mitch Marner
"At some point you're going to have to lick your wounds, look yourself in the mirror and find ways to improve and how can we get better and find a way to break through." Forward John Tavares