So, you've been invited to a backyard barbecue bash, and here's the menu:
Cocktails: Grilled Sangria
The starters: Ember-Roasted Beet Salad; Hay-Grilled Mussels with Charcoal Butter
The mains: Lemon-Rosemary Cauliflower Steaks with Manchego; From-Scratch Baked Beans
The finish: Watermelon Steaks
This is barbecue food? Steaks, I get that, but Watermelon Steaks? And how does one "grill" Sangria?
If you ask grill guru, television host and bestselling cookbook author Steven Raichlen, it's as easily done as it is said. In his book, Project Fire: Cutting-Edge Techniques and Sizzling Recipes, from the Caveman Porterhouse to Salt Slab Brownie S'Mores, Raichlen spends the first 40-plus pages on "The Seven Steps to Grilling Nirvana."
All the basics are covered, from charcoal versus wood versus gas to the shape, size and type of grill you use, along with Raichlen's tips and tricks for maximizing flavour and technique, selected from his over 30 books and as many years of playing with fire. It's almost as if he's come full circle. Raichlen's first book How to Grill.
Funny then, that Mark Bittman's cookbook is entitled How to Grill Everything: Simple Recipes for Great Flame-Cooked Food, an extension of his How to Cook Everything series. He's a contributing food writer to the New York Times and a TV star in his own right – Bittman's series Years of Living Dangerously garnered an Emmy award. Yet, you could almost swap these two foodies' CVs, with one caveat: Raichlen has been the king of the grill since he started out; Bittman has more recently added it to his oeuvre.
Both, however, recognize our changing attitudes toward what we eat. While both feature new and innovative ways of sourcing, shopping for and cooking meat and poultry – yes, you can teach an old hot dog new tricks! – there's also a generous helping of foods and techniques suited to plant-based-leaning diets, including suggestions as to which of these foods grill best. Thai Grilled Kale (Raichlen) will sidle up quite nicely to Whole Fish with Basil-Orange Oil (Bittman) as it would to Sweet Potato-Eggplant Stacks with Lime Ricotta (Bittman) or Dry-Brined Peppered Filets Mignons (Raichlen).
Which brings us back to steak. The classic. The ne plus ultra gold-standard barbecue fare. We may not all agree on the direction of our diets but, for carnivores, there is one thing on which they all agree: they want the secret to grilling the perfect steak.
Luckily for us, both Raichlen and Bittman are happy to share.
So, c'mon, baby, light up the fires. It's summer. Oh, and by the way, you still get to sip the Sangria – hint, it's all in the caramelized fruit.
Dry-Brined Peppered Filets Mignons With Anchovy Cream or Cutting Board Sauce from Project Fire by Steven Raichlen
Yield: Serves 4
Method: Direct grilling
Prep Time: 1 hour for dry-brining; plus 10 minutes for the sauce
Grilling Time: 8 to 10 minutes
Grill/Gear: Can be grilled over charcoal, wood, or gas. You also need 2 hardwood chunks or 1 cup unsoaked wood chips (optional); a small (6- to 8-inch) skillet; a wire rack set over a sheet pan; a cutting board with a well.
Shop: See notes on buying a steak on page 120 of Project Fire.
Insider Tip: This recipe uses a technique called dry-brining to give depth of flavour to a steak that's normally mild. You season the steak generously with salt an hour ahead of time. The salt draws out and mixes with some of the meat juices, creating a brine (saline solution), which with time, is partially reabsorbed into meat. The result: added flavour and succulence.
I've always preferred richer, fattier cuts, like rib-eyes or strip steaks. But filet mignon has its partisans – people who prize its tenderness (you can virtually cut it with the side of a fork) and mild flavor – the mildest of all cuts of beef. Dry-brining gives you the best of both worlds: tenderness and flavour. With these filets, I give you two options for sauce: Anchovy Cream or Cutting Board Sauce. You assemble the latter right on the cutting board with the meat juices and aromatic herbs when you carve the steak.
4 filet mignon steaks (each 6 to 8 oz and at least 2 inches thick)
Coarse salt (sea or kosher)
Vegetable oil for oiling the grill grate
1/2 cup cracked black peppercorns, spread out in a shallow bowl
Anchovy Cream or Cutting Board Sauce (recipes follow)
Arrange the filets mignons in a baking dish. Generously salt each on both sides. (Tip: Sprinkle the salt from a height of 6 inches for even distribution.) Dry-brine the steaks in the refrigerator for 1 hour, uncovered, turning them once.
Set up your grill for direct grilling and heat to medium-high. Brush or scrape the grill grate clean and oil it well.
Dip each filet mignon in cracked black pepper to crust the top and bottom. Arrange the steaks on the grill grate. Grill for 1 1/2 minutes, then give each steak a quarter turn to lay on a crosshatch of grill marks. When the bottom is sizzling and browned (you may see beads of blood start to form on the top), turn the steaks and grill the other side the same way. Grill the steaks on the sides, too, to expose all surfaces to the heat.
You'll need about 3 minutes per side for rare (120 F to 125 F); 4 minutes per side for medium-rare (130 F to 135 F); 5 minutes per side for medium (140 F to 145 F). Use an instant-read thermometer inserted through the side of the steak to check for doneness.
Transfer the filets mignons to a wire rack set over a sheet pan to rest for a minute or so before serving. (The wire rack keeps the bottoms from getting soggy.
Pool the Anchovy Cream on the bottom of a platter or individual plates. Set the filets mignons on top and serve. Or serve the steaks with Cutting Board Sauce as outlined below.
Anchovy Cream
Yield: 3/4 cup
Anchovies and steak have a long established affinity. Don't believe me? You find anchovies in two classic steak sauces: Worcestershire and A.1. Their salty umami flavor goes great with the sanguine meatiness of the beef.
1 1/2 cups heavy (whipping) cream
4 oil-packed anchovy fillets, drained and blotted dry
1 clove garlic, peeled
1 tbsp unsalted butter
Freshly ground black pepper
Place the cream, anchovies and garlic in a heavy saucepan and briskly simmer over medium heat until thick and reduced by half, 8 to 12 minutes. Stir often. If the mixture starts to scorch or boil over, lower the heat.
Purée the mixture in a blender or food processor or use an immersion blender. Return the mixture to the pan and whisk in the butter and lots of black pepper. Keep the finished sauce warm over low heat, but do not let it boil.
Cutting Board Sauce
Tip o' the hat to chef Adam Perry Lang, who had the ingenious idea of combining the sauce ingredients with the hot meat juices right on the cutting board.
1 clove garlic, peeled
1/2 cup stemmed flat-leaf parsley or other fresh herbs
2 scallions, trimmed
1 red jalapeño or serrano pepper
Coarse salt (sea or kosher) and freshly ground black pepper
1/3 cup best-quality extra virgin olive oil, in a small bowl
Working on a large cutting board with a well (a juice-catching groove usually around the periphery), finely chop the garlic and parsley. Thinly slice the scallions (both white and green parts) and the pepper crosswise. Season generously with salt and pepper and pour half the olive oil on top. Mix with the blade of the knife.
Remove the hot filets mignons from the grill and lay them directly on top of the ingredients on the cutting board. Cut each steak with downward strokes of the knife into 1/4-inch-thick slices. (There is no need to let the meat rest.) Pour the remaining olive oil over the sliced steaks and toss on the board with a spoon and the blade of the knife: the idea is to coat the steak slices with herbs and oil and mix them with the meat juices. Add salt and pepper to taste. The whole process should take less than a minute. Transfer to a platter or plates and serve at once.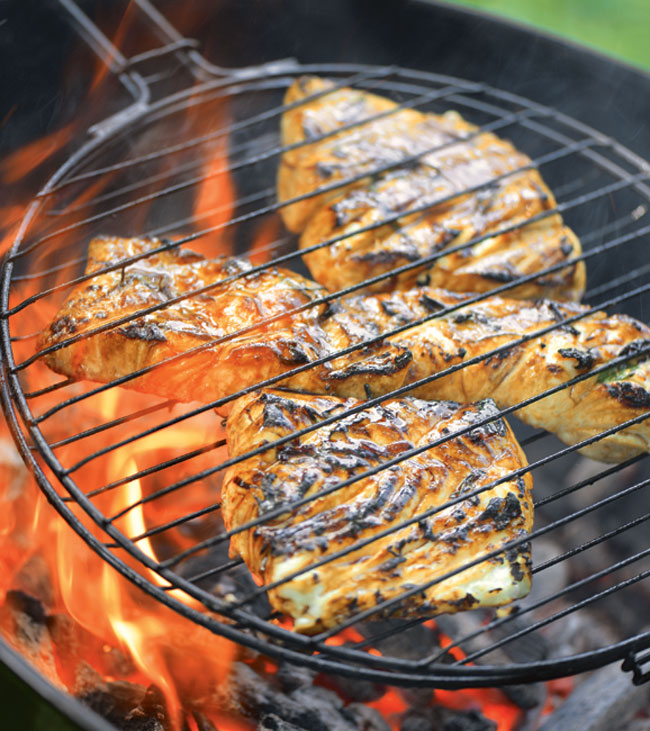 Grill Basket Halibut With Maple Teriyaki from Project Fire by Steven Raichlen
Yield: Serves 4
Method: Direct grilling
Prep Time: 10 minutes, plus 1 to 2 hours for marinating
Grilling Time: 6 to 10 minutes
Grill/Gear: Can be grilled over charcoal, wood, or gas. You also need a hinged grill basket and oil spray.
Shop: Halibut is a semi-firm white fish with a mild sweet flavor. And it's one of the rare wild fish you find on both the East and West Coasts. Can't find halibut in your area? Teriyaki goes equally well with salmon, bluefish and bass. You'll need to know about a couple of special ingredients for this dish. Asian sesame oil – pressed from roasted sesame seeds – has an alluring nutty flavor. One good brand is Kadoya from Japan. Mirin is Japanese sweet rice wine – you can substitute sake or white wine plus a little extra maple syrup.
Insider Tip: So how do you grill a delicate stick-prone fish, like halibut, without leaving half of it stuck to the grill grate? One solution – used by grill masters in Europe and Central Asia – is to cook it in a grill basket. The beauty of this method? You turn the basket, not the fish.
Here's a New England riff on a Japanese favourite: teriyaki sweetened with maple syrup. You might think that the fish will stick to the grill grate. It won't. You might think that the sugar in the maple syrup will burn. It will – but just enough to impart a sweet-smoky caramel crust to the fish. Teriyaki comes from the Japanese words teri, meaning "luster" or "shine," and yaki, meaning "grilled." Rarely do four simple ingredients deliver such a big dividend of flavor.
Marinade
1/2 cup soy sauce or tamari (a high-quality soy sauce brewed exclusively from soy beans)
1/2 cup sweet rice wine (mirin), sake, or white wine
1/2 cup pure maple syrup
1/2 cup Asian (dark) sesame oil
1 scallion, trimmed, white part smashed (reserve the green part, thinly sliced on the diagonal, for serving)
Fish
1 1/2 to 2 lb fresh halibut, cut into 4 even pieces
Cooking oil spray for the grill basket
Vegetable oil for oiling the grill grate
Make the marinade/sauce: Combine the soy sauce, mirin, maple syrup, sesame oil, and scallion white in a saucepan and whisk to mix.
Arrange the halibut in a baking dish just large enough to hold it. Pour the marinade over the halibut, turning it a few times to coat well. Marinate the fish, covered, in the refrigerator for 1 to 2 hours, turning two or three times.
Drain the halibut well, pouring the marinade back into the saucepan. Place the fish pieces in a grill basket that you've oiled well with oil spray.
Boil the marinade over high heat until syrupy and reduced by about one third, whisking often. You should have about 1¼ cups. Set this glaze aside for serving.
Set up your grill for direct grilling and heat to high. Brush or scrape the grill grate clean and oil it well. Lay the grill basket with the fish in it on the grate and grill the halibut until sizzling and browned on the outside and cooked through, 3 to 5 minutes per side. After 3 minutes, start basting the fish with some of the teriyaki glaze. Baste several times.
Carefully open the grill basket and transfer the fish to a platter or plates. Reboil the remaining glaze, whisk well, then strain it over the fish. Sprinkle with the scallion greens and serve. FYI, our food stylist, Nora Singley, likes to serve the halibut with grilled scallions.
Thai Grilled Kale from Project Fire by Steven Raichlen
Yield: Serves 3 to 4
Method: Direct grilling
Prep time: 10 minutes
Grilling Time: 6 to 10 minutes
Grill/Gear: Can be grilled over charcoal, wood, or gas. You also need a vegetable grid or grill basket (optional) if grilling small kale leaves.
Shop: Kale comes in many varieties, including the common curly and red Russian varieties. All are good grilled, but my favorite is dinosaur kale (aka cavolo nero, lacinato kale, and black kale), recognizable by its long, slender, dark blue-green crinkly leaves and sweet earthy flavor. This is the easiest kind of kale to clean and grill. Note: Kale becomes sweeter after the first frost, so this is one vegetable that's great for grilling in autumn or winter.
Insider tip: Kale stems are noticeably more fibrous and chewy than the leaves—especially in curly varieties. Remove them following the directions in Step 1. When grilling small kale leaves (like red kale), place them in a grill basket. Arrange larger leaves directly on the grate.
How did we live without kale? Once the province of Italian and Portuguese cooks (who boiled it in soups and stews), kale has become the "it" veggie of the millennials. We consume it by the ton in chips, salads, rice bowls, and even smoothies. So it was only a matter of time until kale hit the grill. At first glance, this broad leafy vegetable would seem like an odd candidate. You'd think the leaves would wilt or burn. They don't. Instead, the high dry heat of the grill delivers a smoky char and potato chip crispness. Think barbecue health food loaded with calcium, potassium, B vitamins, and fiber. And don't think of firing up your grill without trying it.
Ingredients
2 bunches dinosaur kale (12 to 16 ounces in all) 2 tbsp Asian (dark) sesame oil or vegetable oil 2 tbsp soy sauce or Asian fish sauce 1 clove garlic or a small shallot, peeled and minced 3 tbsp sesame seeds or chopped peanuts Hot red pepper flakes Vegetable oil for oiling the grate
Wash the kale and spin it dry in a salad spinner or shake it dry. Lay a leaf on a cutting board and, making an elongated V-shaped cut, remove the thick part of the stem. (You can leave the tender part of the stem near the top intact.) Repeat with the remaining leaves – you may not need to stem the tender inner leaves. Blot off any excess water with paper towels.
Combine the sesame oil, soy sauce, and garlic in a small bowl and mix with a fork. Lightly brush each kale leaf on both sides with this mixture using a pastry brush. Sprinkle the kale on both sides with sesame seeds and hot red pepper flakes.
Set up your grill for direct grilling and heat to medium-high. Brush or scrape the grill grate clean and oil it well.
Arrange the kale leaves in a single layer on the grate, working in several batches as needed. If the kale leaves are small, you can grill them on a vegetable grid or in a grill basket. Grill the kale until browned and crisp, 3 to 5 minutes per side, turning with tongs. Transfer to a platter and serve. I like to eat grilled kale with my fingers. It's messy – it's supposed to be, so provide napkins. The kale should be sufficiently salty from the soy sauce, but don't hesitate to add salt if you want to.
Recipes excerpted from Project Fire: Cutting-Edge Techniques and Sizzling Recipes from the Caveman Porterhouse to Salt Slab Brownie S'Mores by Steven Raichlen (Workman Publishing). Copyright © 2018. Photographs by Matthew Benson. Used with permission from the publisher.
The Perfect Steak from How to Grill Everything by Mark Bittman
Makes: 4 to 6 servings
Time: 25 to 30 minutes
I like to grill large steaks, then serve them sliced. The presentation is dramatic, and it's fun for everyone to feed from the same communal platter. If your idea of the perfect steak is a juicy slab all to yourself, no problem; just cut the steaks into portions before grilling.
1½–2 lb boneless beef strip, sirloin, rib-eye, or other steaks (about 1 inch thick)
Salt and pepper
Start the coals or heat a gas grill for hot direct cooking. Make sure the grates are clean.
Pat the steaks dry with paper towels. Sprinkle with salt and pepper on both sides.
Put the steaks on the grill directly over the fire. Close the lid and cook, turning once, until 5° to 10°F shy of your desired doneness, or 2 to 4 minutes per side for medium-rare.
Transfer to a cutting board and let rest 5 to 10 minutes, continuing to check if you like. Cut into ½-to 1-inch slices, transfer to a platter, pour over any accumulated juices, and serve.
The Perfect Porterhouse or T-bone Steak
These are best cut 1½ inches thick and weighing about 2 pounds. For medium-rare, cook for 4 to 5 minutes per side, taking care not to burn the outside; the leaner tenderloin (the smaller of the two pieces on either side of the bone) is best rare, so position it at the outer edge of the fire. After 5 minutes per side, if it is not done and is developing too much char, move the steak to a cooler part of the grill and cook for another 2 to 3 minutes before checking again.
The Perfect Bone-In Rib-Eye
This treat has become one of my favourite cuts to grill: look for 1 or 2 big steaks, 2 to 3 inches thick, which will clock in at 2½ or more pounds each. Heat the grill for hot indirect cooking. Start the steak directly over the fire, with the bone positioned over the hottest point. Close the lid and cook, turning once, for 5 minutes per side. Move to the indirect side, with the bone positioned closest to the fire, and check the internal temperature. Close the lid and cook until 5 F to 10 F shy of the desired doneness, 20 to 40 minutes, checking every 10 minutes or so initially, then more frequently as you get closer to your target temperature; reposition the steak as needed for even cooking. Transfer to a cutting board, let rest, cut away the bone, slice across the eye, and serve with the accumulated juices.
The Perfect Steak with Black-and-Blue Butter
A spin on the steakhouse favourite that works for any of the recipes here. Earlier in the day, cream together 6 tbsp softened butter, 4 ounces blue cheese and 1 tablespoon cracked black peppercorns in a small bowl. Roll into a log, wrap in plastic wrap, and refrigerate until firm, at least 1 hour. Cut into 1-inch slices and leave them at room temperature while you heat the grill. Immediately after slicing and plating the steak, scatter the pats on top to melt.
Buying and Grilling Steaks
The cut, how much you like it done, and the best way to cook it are all related. The supermarket meat counter ­– I mean a good one with an in-store butcher – offers many different steaks. Understanding where they come from on the cow goes a long way to choosing the right one for different occasions. Those cut from muscles on the back and backbone (like the rib-eye, strip, tenderloin, and porterhouse) get less of a workout and are the most tender and mild-tasting. Those from active abdomen and hind sections (like flank, skirt, and sirloin) have more chew and can be more flavourful.
Most steak lovers want marbling – that interior lacework of fat that melts during cooking to deliver the rich, silky, beefy experience you expect from steak. Strip and rib-eye – from the same section of the cow as prime rib, only cut between the ribs and sold with or without the bones – are both tender and well marbled. Tenderloin has next to no marbling, but its texture is super-soft (some say too much so) and puts up little resistance when you take a bite. Not surprisingly, these are the most expensive steaks.
Other cuts offer more value and excellent eating, so I urge you to venture out of your comfort zone. Try less familiar cuts like hanger steak (the classic cut for making steak frites), flat iron steak (with its unique geometric shape), tri-tip (cut from one of the sirloin roasts popular for regional California barbecue; see page 245), and cap steak (a somewhat hard-to-find by-product of cutting boneless rib-eyes). You can even have success with oddball arm and blade steaks as long as you cut around the inconvenient strips of gristle. But some cuts—like chuck and round steaks—are deceiving and won't be tender after quick grilling. Instead they require lots of cooking time or pounding (or both); or they can work cut in small pieces and skewered.
For some grillers, a perfect steak is "black and blue": charred on the outside and raw enough on the inside to slightly blue-tinged and still cold from the refrigerator. For others, it's medium-well done – not a trace of pink inside but ideally still fairly moist. I won't acknowledge well-done steaks as desirable; if you think that's what you like, try pulling them from the fire just a couple minutes earlier and see if they aren't better. And everyone else falls somewhere within that spectrum from red to pinkish gray.
If you're grilling black-and-blue steaks, they should be at least an inch thick and go from fridge to fire interrupted only by a sprinkle of salt and pepper. (Better yet, put them in the freezer for 30 minutes or so right before grilling.) That initial chill provides a bit of protection against overcooking. Other than that, the temperature of steak when it hits the grill doesn't make a ton of difference: inch-thick pieces of meat cook quickly no matter what, and thicker pieces require both direct and indirect fire.
About that fire: get it as hot as your equipment can manage – 500 F or above if possible. For 1-inch-thick black-and-blue, rare or medium-rare steaks, make a direct fire. For thicker cuts or cooking beyond that doneness, you need both hot and cool zones.
A true black-and-blue steak is a challenge met only with a screaming hot fire. When cooking with charcoal, if you can, shorten the distance between the grates and the coals. With gas, let the grill fully heat. When the grill hits peak temperature, take the steaks out of the fridge, blot them with paper towels, season on both sides with salt and pepper, and get them over the hottest spot of the fire. With gas, put the lid down since the heat will dissipate and the inside won't cook too fast; for charcoal, keep the lid off for the opposite reason. To keep the inside from cooking, sear the steaks for no more than 2 minutes per side then get them off the grill and check; they should be eaten before carryover heat cooks the meat further.
For rare and medium-rare steaks, start a direct fire – anything over 450 F will do the trick. The idea is to develop a crusty exterior on the steaks, without burning, in the time it takes the interior to cook the way you want it.
Steaks taken beyond medium-rare require searing over direct fire, then finishing over indirect heat. This gives you more control of both the internal temperature and the exterior charring so that the meat is still moist even when there's little or no pink at the center. You can and should be prepared to move the steaks around and check frequently. For 1-inch-thick cuts, start with 3 minutes searing per side before moving the steaks to the indirect portion of the grill; thicker pieces will require more time.
The Perfect Steak is excerpted from How to Grill Everything © 2018 by Mark Bittman. Reproduced by permission of Houghton Mifflin Harcourt. All rights reserved.