Culinary Tofino. Yes, it's a Canadian foodie movement that's gone beyond just having a moment. Here, get the dish on Vancouver Island.
It would not be hyperbole to say that the first two times I visited Tofino, a hamlet on the western edge of Vancouver Island, I thought I was going to die.
The first visit I came by car, driving myself along the two-lane Pacific Rim highway, all hairpin turns and breathtaking drops to the sea, shoulders so skinny they could maybe hold a bra strap. It was fine heading into town; leaving, I white-knuckled those mountain roads though a blizzard of wet, heavy snow. My second trip, I flew out in a prop plane from Vancouver — after the pilot tried and failed (and tried and failed, and tried and failed again) to land in a fog so low it clung to the branches of the fir trees, we were diverted to Qualicum Beach, about two and a half hours away, and bused in.
While airport upgrades made my latest visit a breeze, the rugged remoteness is key to Tofino's appeal, many of the town's 1,932 locals will tell you. Now the end of the Trans-Canada Highway, there was no road connecting Tofino and its neighbouring sister town, Ucluelet, to the rest of the island until 1959; depending who you ask, the town's nickname, Tuff City, harks back to the roughness of the days when Tofino was primarily a fishing and logging centre or to its wet, wild winters. And while it might not seem surprising that Tofino's steady swells have earned it a reputation as one of the best year-round surfing destinations in the world, it seems much more improbable that tucked between Tofino's old-growth rainforest, surrounding mountains and frenzied coastline, you'll also find Canada's best culinary destination.
From the kilometre-long main drag to gravel parking lots to the elegant Relais and Chateaux dining room that started it all, Tuff City punches far above its weight food-wise: you can start your day at Rhino Coffee with house-roasted coffee and fresh doughnuts glazed with beer from Tofino Brewing Company up the street; for lunch, hit up an unpaved strip mall parking lot for tacos filled with seared albacore tuna, wakame, pickled ginger and wasabi mayo from the Tacofino truck, followed by handmade chocolates made with wild blackberries foraged from nearby Clayoquot Sound at Chocolate Tofino.
For dinner, there's The Pointe at the legendary Wickaninnish Inn, where you can have a distinctly laid-back Tofitian-style fine dining experience perched high over the Pacific; or watch fishing and whale-watching boats bob in their berths from your table at 1909 Kitchen in Tofino Resort and Marina, while feasting on miso-marinated black cod cooked on fragrant cedar planks and crunchy bites of yet more albacore on paper-thin squares of shaved daikon radish, dolloped with nori-spiked mayonnaise, two of Top Chef Canada's newest winner Paul Moran's staple dishes. For dessert, there's a gorgeously plated deconstructed sea buckthorn curd tart. While the seafood is obviously local, so are ingredients like the nori and tart yellow sea buckthorn berries.
And those are just some options for Day 1.
"Tofino was a very different place when we opened in 1996," Charles McDiarmid, managing director at the Wickaninnish Inn — the Wick, as it's often called — laughed as we ate Humboldt squid and side stripe shrimp sunomono one evening, the first of executive chef Carmen Ingham's five-course tasting menu at The Pointe.
As McDiarmid told me about growing up in Tofino — his father first moved here in 1955 to become the town doctor — we watched two young boys playing in bathing suits in the surf below, their mother looking on in a calf-length Canada Goose puffer coat, two very different approaches to unseasonably warm March weather.
When McDiarmid first envisioned the Wick, he said, Tofino "was a ghost town in the winter. There was a food truck that did deliveries once a week and the co-op store in town was open five days." Just one restaurant served meals year-round. But Jamie's Whaling Station had just started running spring whale-watching tours — adding three months onto the previous eight-week tourist season — and McDiarmid had a plan to grow winter tourism by marketing Tofino's dramatic off-season storms as a spectator activity. Food and wine good enough to serve as a star attraction, even in the absence of Tofino's natural beauty, played heavily in his strategy.
"I wanted a dining experience that would be a success even if you had to go to a basement suite in [the suburbs of Vancouver] to have it," he said. "This view" — we both glanced at the floor-to-ceiling windows surrounding us — "is just the icing on the cake."
Spend a couple hours with McDiarmid, and you'll notice he's fond of the old adage, "A rising tide floats all boats." And so it was with the Wick and Tofino: within just a few years of the inn's opening, Sobo, a former food truck — and, since 2007, a brick-and-mortar location downtown — that once parked at Tacofino's current spot, would go on to place on enRoute's list of best new restaurants in the country, and the culinary gold rush began.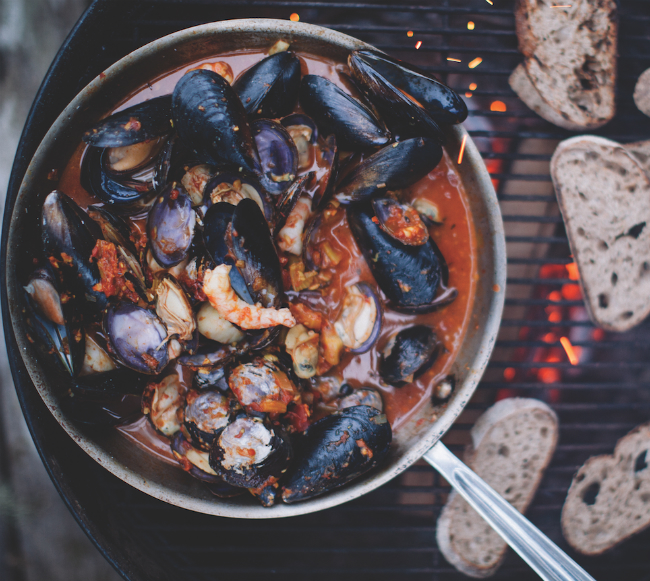 "The Wick attracted a lot of great cooks to the area," said Jay Gildenhuys, who came out from Victoria to open Shelter, another Tofino mainstay, in 2003. "A lot of those people stuck around to either work at the Wick or elsewhere. Most of the people who have opened restaurants or coffee shops around here at some point worked at another one."
But where other resort areas might over time devolve into tourist traps, Tofino has resisted the slide, moving to ban chain restaurants in 2010 in favour of low-key, high-quality spots like Wolf in the Fog, by chef Nick Nutting, another Wick alum, and Shed, a super-casual new patio restaurant from the Shelter team. While the franchise restriction never officially went into effect – after researching the feasibility of such a move, city staffers determined it couldn't be legally enforced — Tofino's mayor, Josie Osborne, says, "It hit the news like nobody's business. Even today, I'll go to conferences and introduce myself, and people will say 'Oh, you're the town that banned chains.' Even though it never came to pass, it really resonated with people. It's a badge of honour for us and if people think we have such a ban, we're happy to let them believe it."
Even some locals have fallen for the myth: "Crystal Cove Beach Resort had a licence to serve Starbucks coffee," recounted Osborne, "and they were allowed to use the Starbucks logo. So they made a tasteful wooden sign and put it under their sign on the beach. Within a day of that sign going up, somebody called Crystal Cove and impersonated a bylaw officer and told them to take it down. They did take it down, and it's never gone back up."
That's not to say going the alternative route is easy: while resort destinations commonly struggle with maintaining service and quality in the face of seasonal fluctuations in visitor and staffing levels, the fact that Tofino is so removed from civilization brings unique additional challenges. Though certain ingredients, such as seafood and mushrooms, are available locally in abundance, meat, dairy and some fruits and vegetables have to be brought in from elsewhere on the island — and the small scale of most local businesses means few have the purchasing power to hold sway on their own.
But the food community has found some distinctly Tofitian workarounds: though technically competitors, a group of local chefs banded together to form the Tofino Ucluelet Culinary Guild to pool orders and services, sharing among its members the high cost of trucking in, say, cheese or beef from elsewhere on the island or of bringing out a fridge technician. The guild hired a co-ordinator who researches and sources products that need to be brought in (the concept has proven so successful that the guild opened membership to local families who can order fresh food at wholesale). And to retain staff — a notorious obstacle given the transient populations of so many holiday destinations — Gildenhuys started a weekly surf club for his employees through which they can take tutorials with Shannon Brown, national head coach for Surf Canada.
"We're on the edge of the world here," Gildenhuys says. "It takes a specific kind of individual to choose to live here." The secret to the sustainability of the restaurant scene, he adds, is putting keeping cred with the locals as a top priority. "People who live here have a real appreciation for the ocean and the environment, and that informs their expectation of food. The places that are embraced are the ones that truly reflect the culture of the people."
On my first trip to Tofino, I caught a boat out to Lemmen's Inlet, a short ride from the main harbour, and slurped oysters that were still cold from the sea we'd pulled them from minutes before. The truth is, once you reach the end of the road, you don't need to go any further to enjoy a sense of place in every bite and sip. From the sustainably harvested kombu kelp that infuses Tofino Brewing Company's stout with an unusual briny, savoury character to any restaurant dish, dining in Tofino brings not just the freshness of the local bounty but the flavour of collaboration between fishermen and foragers and participants right across the community. Getting to Tofino might not be the easiest, but the resulting eating sure is.
A version of this article appeared in the July/August 2019 issue with the headline, "Surf & Turf," p. 72-75.