Menu: Matzo Ball Soup, Roasted Salmon and Chocolate Beet Cake
Chicken Soup (a.k.a. Jewish Penicillin). Photography, Ryan Szulc, excerpted from Kosher Style
Two Canadian cookbooks, kosher and Cree, take on tradition, heritage and, heck, a bit of fun as part of our national fabric.
Over a recent bowl of excellent matzo ball soup, I got to thinking," writes the Canadian author Amy Rosen, in her new cookbook, Kosher Style: Over 100 Jewish Recipes for the Modern Cook, "this generation is in real danger of losing the Friday-night-dinner memories and a giant piece of our collective heritage." Reading Rosen's words got me to thinking, too, about all of our collective heritage. We're ever speeding ahead and sometimes forgetting traditions, especially the special moments through food that many of us still try to hold dear.
"The dishes for celebrations and the ones for every day," Rosen continues — though in Jewish homes, she says, food is always a celebration. "Obviously, I'm not the only one who feels this way, as most people love the food of their people," she goes on. "But a lot of those people also happen to love the food of my people."
Of course, we couldn't resist asking Rosen for her recipe for chicken soup, which she refers to as Jewish Penicillin, the ultimate comfort food at this time of year (her roasted salmon with horseradish sauce and pickled onions would make a hearty meal for a group, too).
Chicken Soup (a.k.a. Jewish Penicillin)
A bowl of matzo ball soup is like Jewish echinacea. In fact, do a double-blind taste test, and I think you'll find this golden broth goes a long way to healing what ails you, heart and soul. (But especially soul.)
1 roasting chicken, giblet bag removed, trimmed of excess fat and rinsed
2 parsnips, peeled and ends chopped off
2 stalks celery with leaves
2 large onions, halved
6 medium carrots, peeled and ends chopped off
Salt and pepper
Parsley
Dill
Put the chicken in a very large pot and pour in about 12 to 14 cups water, making sure clucky is cove With the stockpot uncovered, bring to a boil, using a slotted spoon to skim and discard the foam that accumulates. Reduce heat to a simmer and add the whole parsnips, celery, onions and carrots and salt and pepper. Cook, partially covered, for at least 2 hours (3 hours is better, though). Skim occasionally as foam appears. With about 10 minutes to go, toss in the parsley and dill.
For a pristine broth, remove the chicken, veggies and herbs from the pot and set aside. Strain soup through a sieve or colander lined with cheesecloth (or a double layer of paper towel), returning the clear broth to a clean po Shred or slice the chicken; discard onions, celery, parsley and dill; and roughly chop the carrots and parsnips and add them back into the soup before serving.
To serve, spoon a ladle or two of broth, then add a few pieces of carrot, parsnip, a bisl of chicken (use the rest for chicken salad sandwiches tomorrow) and a sprig of fresh dill into each bow This is even better bejeweled with a couple of matzo balls, meat kreplach or egg noodles. Shabbat shalom.
Excerpted from Kosher Style: Over 100 Jewish Recipes for the Modern Cook by Amy Rosen. Copyright © 2019 Amy Rosen. Published by Appetite by Random House®, a division of Penguin Random House Canada Limited. Reproduced by arrangement with the Publisher. All rights reserved. Photographer: Ryan Szulc
Roasted Salmon with Horseradish Sauce & Pickled Onions
Serves 8 to 10
A head-turning dish full of vibrant flavors, from pickled onions to herbs to horseradish, and colors to match (hello, pink and fuchsia), this side of salmon could easily usurp gefilte fish at your next Seder.
For Pickled Onions
1⁄2 cup red wine vinegar
1 tsp kosher salt
1⁄4 cup sugar
1⁄2 cup water
1⁄2 red onion, thinly sliced
For Horseradish Sauce
1⁄2 cup mayonnaise
3 tbsp jarred beet horseradish
Juice of 1⁄2 lemon
For Salmon
3-1⁄2 lb whole side skin-on salmon
1 tbsp olive oil
1 tbsp herbes de Provence
1⁄2 tsp sea salt
Pepper to taste
To make the pickled onions, place vinegar, salt, sugar and water in a small saucepan and bring to a boil. Place prepared onions in a bowl and pour the hot vinegar mixture overtop. Let cool on the counter for 1 hour, then put in the fridge to chill.
For the horseradish sauce, stir together the mayonnaise, beet horseradish and lemon juice. Cover and refrigerate.
Line a large rimmed baking sheet with foil or parchment paper. Place salmon, skin side down, on the baking sheet. Rub with olive oil and sprinkle with herbes de Provence, salt and pepper. Roast salmon in 450 F oven until just opaque in the centre, about 20 minutes. Serve with pickled onions and horseradish sauce on the side.
Excerpted from Kosher Style: Over 100 Jewish Recipes for the Modern Cook by Amy Rosen. Copyright © 2019 Amy Rosen. Published by Appetite by Random House®, a division of Penguin Random House Canada Limited. Reproduced by arrangement with the Publisher. All rights reserved.
Rosen's not alone in her mission to preserve a people's heritage. In Tawâw: Progressive and Indigenous Cuisine, chef Shane Chartrand, who is of the Enoch Cree Nation in Alberta — with influences from a Métis, Mi'kmaq and British upbringing — re-examines his usual European cooking techniques, paired with his journey through his food heritage and how best to bring it together and demystify the cuisine. How is contemporary Indigenous cooking different from mainstream Canadian cooking, he asks?
"The more I explore my Indigenous roots and develop my own version of progressive Indigenous cooking," he writes, "the more people from all walks of life are excited about what a First Nations perspective brings to the plate."
True North ingredients such as Saskatoon berries, squash, pumpkin, gourds, beets and beans all star along with seafood and shellfish, and game. With more than 75 recipes, the book is divided by the seasons.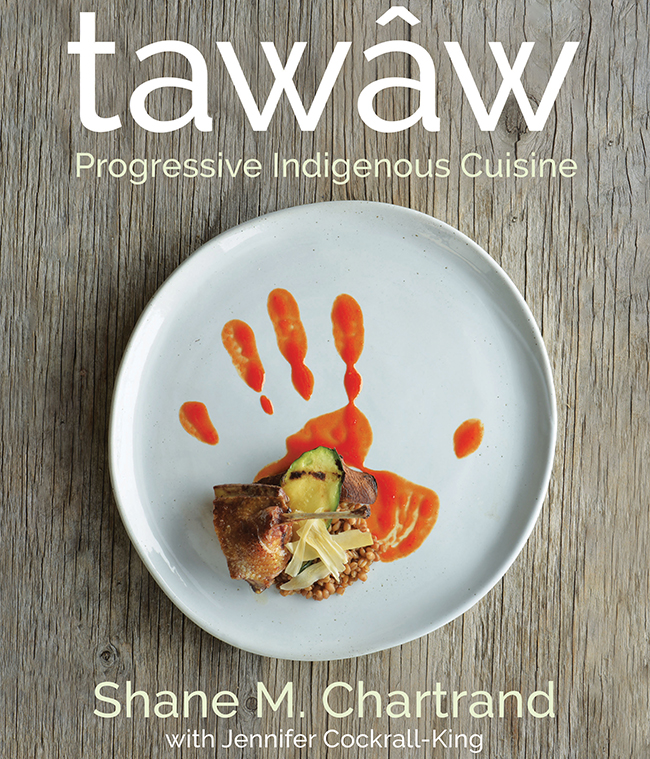 "In June and July, when there are too many zucchinis coming out of the garden, we shred them for chocolate zucchini cake. In the winter, I make a different version with shredded beets. The earthiness of the beets goes great with dark chocolate. This cake is delicious topped with saskatoon berries pulled from the freezer and coated with sugar. As the berries thaw in the sugar, you get a nice syrupy fruit topping. (This recipe is adapted from [English food writer] Nigel Slater's chocolate beet cake.)"
Chocolate Beet Cake with Saskatoon Berries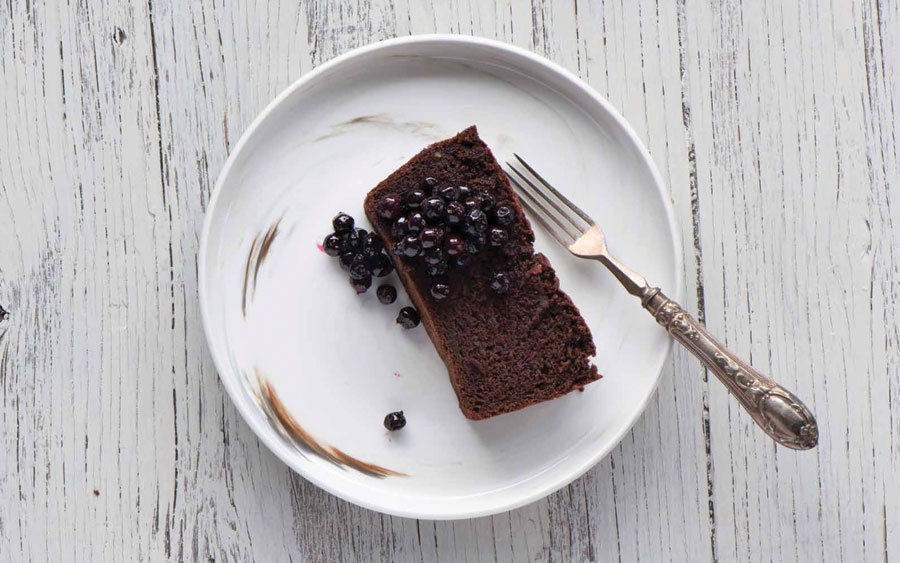 Ingredients
2-3 red beets (about 8 oz/225 g total), unpeeled, tops trimmed
½ tsp salt (2.4 ml)
1 cup all-purpose flour (250 ml)
3 tbsp unsweetened cocoa powder
(45 ml)
1-1/4 tsp baking powder (6 ml)
¼ tsp sea salt (1 ml)
7 oz dark (70%) chocolate (200 g)
¼ cup hot water (60 ml)
¾ cup plus 2 tbsp (175 + 30 ml) unsalted butter (7 oz/200 g), at room temperature
5 large eggs, at room temperature, separated
1-1/4 cups granulated sugar,
divided (310 ml)
2 cups saskatoon berries (500 ml)
♦ Arrange an oven rack in the centre position. Preheat the oven to 350 F (180 C).* Grease a 9-1/4- by 5-1/4-inch (23.5 by 13 cm) loaf pan. Set aside.
♦ Place beets in a saucepan with the salt and cover with cold water. Bring to a boil, reduce heat and simmer for 30 minutes or until you can easily slide a sharp knife into the centre of the beets. Drain and rinse under cold running water until cool enough to handle. Using your hands, rub off the beet skins (wear rubber or latex gloves to avoid staining your hands). Using the large holes of a box grater, grate beets (you should end up with about 1-1/2 cups (375 ml). Set aside.
♦ Sift together flour, cocoa, baking powder and salt. Set aside.
♦ Break or roughly chop the chocolate into about a dozen pieces. Transfer to a microwave-safe bowl (large enough to later accommodate the egg yolks and beets) and heat in a microwave at 50 per cent power for 4 minutes. Keep an eye on it and take it out just as the chocolate melts. Alternatively, fill a pot with a few inches of water and set a stainless steel bowl on top to create a water bath (the bowl shouldn't touch the water). Bring the water to a boil and then add the chopped chocolate to the bowl. Heat, stirring until the chocolate has completely melted.
♦ Add the hot water to the melted chocolate and stir to combine. Cut the butter into pieces and stir into the chocolate mixture until completely incorporated. Let cool 5 minutes.
♦ Whisk the egg yolks in a bowl until frothy. Stir them into the cooled chocolate mixture. Fold in the shredded beets until well combined. Set aside.
♦ Either by hand or using a stand mixer fitted with the whisk attachment, beat the egg whites to stiff peaks. Reduce the speed to low and then slowly pour in 1 cup (250 ml) of the sugar. Mix until well combined.
Using a spatula, fold the chocolate-beet mixture into the egg whites just until combined. Fold in the flour mixture just until combined.
♦ Scrape the batter into the prepared loaf pan. Bake in the preheated oven for 1 hour or until a toothpick inserted into the middle of the loaf slides out cleanly.
♦ Meanwhile, remove the saskatoon berries from the freezer and put them in a shallow dish. Sprinkle with the remaining ¼ cup (60 ml) sugar and set aside.
♦ When the cake is ready, remove the pan from the oven. Let the cake cool completely in the pan. Once cool, carefully invert the cake onto a serving plate. Cut into thick slices and serve with a generous heap of the syrupy saskatoon berries. Makes 1 loaf
* If using a conventional oven, either bake the cake a little longer or increase the temperature by 25 F (4 C).
A version of this article appeared in the November/December 2019 issue with the headline, "Feast," p. 45.