It's time to up your grill game. But it's not all about the meat, as adopting more of a plant-based diet is fanning the (charcoal-fuelled) flames of foodie creativity.
There's nothing more Canadian than firing up the barbecue. These days, however, we've put a little twist on it, mixing meaty classics with a plant-based approach. The idea isn't new to vegetarians and vegans, but now it's catching on in the mainstream of omnivores. Mind you, this is not what some might consider a not-so-tasty tofu and soy-black bean mash-up of the past. Several years ago, Ethan Brown, the founder of Beyond Meat, came to Toronto to speak at the annual ideacity conference (a ZoomerMedia property) and introduced his burger. But where was the beef? It is purely plant-based, he explained, yet packed with the same amount of muscle-building protein we need, and apparently the flavour we seek.
For Brown, it's not a complete overhaul of how we eat or throwing meat to the curb. It really comes down to understanding how key meat consumption is to meat eaters. "You can't ask a consumer to change this. It's too fundamental," he said. "It's like asking people to stop having sex and have artificial insemination. We will continue to eat meat. It's a question of where the meat's going to come from."
The shift, for Brown, involves building "meat" from plant protein. And voilà, The Beyond Burger was born. Brown skipped the soy and used pea protein instead, re-engineering a barbecue favourite with all the flavour and protein and none of the cholesterol and carcinogens. Metro, Sobeys, Save-On-Foods, Loblaws and other grocery chains now stock the Beyond Meat burgers. A&W in Canada is also offering a grilled Beyond Meat burger, and it's become a popular choice. Loblaws' PC brand has a plant-based beefless burger of its own, as well.
As Brown said, not everyone will stop eating meat. But how the animals are raised and treated is becoming a part of the equation for consumers. DuBreton, a Canadian company specializing in pork that's available at grocery stores across Canada, is working with Global Animal Partnership's Animal Welfare Certified program, essentially an organic, ethically produced pork that comes from family farms in Ontario, Quebec and the Maritimes. You may also be interested to know that all pork and chicken raised in Ontario, no matter from what farm or producer, must be hormone-free. On the beef front, many butchers are offering "grass-fed" beef, where cattle eat 100 per cent grass, and now we're also seeing "pasture-raised," with livestock roaming the fields freely and eating wild plants (a note: in winter, pasture-raised cattle may still have a grain supplement – check with your butcher). Proponents claim that pasture-raised foods can result in lower calories and fat, and higher vitamin, mineral and omega-3 and omega-6 fats, especially eggs.
With the menu opening us up to what we put on the grill, the more we're open to trying new ways to get it done. To wit, Jake Levin has devoted a whole book to the art of smoking. In Smokehouse Handbook: Comprehensive Techniques & Specialty Recipes for Smoking Meat, Fish & Vegetables, he uses his background as a butcher and a charcuterie expert to zero in on this singular technique. His tips run the gamut, from wood chips to types of smokers, even detailing how small space- and condo-dwellers can turn a stove-top into a smoker in a pinch.
And why not cauliflower as the main event? Weber's Ultimate Grilling: A Step-by-Step Guide to Barbecue Genius, by Jamie Purviance, features more than 100 recipes, insider tips and techniques – and recommended tools. Purviance, who spent two years training at the Culinary Institute of America, has dedicated a whole section to vegetables and sides, with ideas for meatless main courses – including said cauliflower.
Another maker of grills is giving us a multi-gen spin on barbecue. Char-Broil Grilling for the Family includes 300 recipes for every age as well as tips on how to get the kids or grandkids involved in the fun. Steven Raichlen, the New York Times bestselling author and perhaps one of the world's best-loved grill gurus has, like Levin, taken a singular approach for his latest book but, rather than technique, it's a beloved yet sometimes difficult-to-get-right cut of meat. In The Brisket Chronicles, Raichlen shows us "how to barbecue, braise, smoke and cure the world's most epic cut of meat." Epic, indeed, is his stepson Jake's recipe for a brisket burger, which we also couldn't resist sharing with you. Fire it up. —With files from Andrew Wright
Jake's Double Brisket Cheeseburgers
"The double brisket bratwurst created by sausage master Jake Klein is one of the world wonders of wurst – succulent, spicy, and smoky, with just the right snap to the casing. Nepotism alert: Jake Klein is my stepson, but if you don't believe me, here's how New York Times restaurant critic Pete Wells described it: "a phenomenal piece of barbecue, packing more smoke into a sausage than I'd thought possible." That's the good news. The bad news is that the formula is a trade secret, and Jake isn't talking – even to me. He will provide the next best thing – the recipe for his double brisket burgers – made with a similar filling. In addition to being exceedingly tasty, it's one of the rare briskets you can direct grill."
YIELD Makes 4 burgers
METHOD Direct grilling
PREP TIME 10 minutes
COOKING TIME 6 to 8 minutes
YOU'LL ALSO NEED A grill spatula (but no pressing) and a digital instant-read thermometer
WHAT ELSE You'll likely need to special-order ground brisket from your local butcher shop. Ask them to grind it from a section containing some of the fattier point. Alternatively, grind your own (you must use a meat grinder, not a food processor). You're looking for a fat content of around 20 per cent. And ideally, you'll grill these over wood or a wood-enhanced fire.
For the burgers
1-1/2 lb ground brisket (cut from the fatty point section – you want about 20 per cent fat), well chilled
1/2 lb your favourite barbecued brisket, chilled and chopped
Vegetable oil, for oiling the grill grate Coarse sea salt and freshly ground
black pepper
4 thin slices sharp provolone cheese
(optional)
For serving
4 sesame hamburger buns or pretzel
rolls, cut in half
2 tbsp melted butter
Optional embellishments
Lettuce leaves – for example, Boston
or butter lettuce; tomato slices; dill
or sweet pickle chips; your favourite
condiments (ketchup, mustard,
relish), for serving
Place the ground brisket and chopped cooked brisket in a large bowl and mix with a wooden spoon. Moisten your hands with cold water and form the mixture into four equal patties, each 3/4-inch thick. Dimple the centre slightly with your thumb (burgers rise more in the centre as they cook, so this will help them retain a uniform thickness). Line a plate with plastic wrap, set the burgers on it and chill in the refrigerator for 1 hour.
Set up your grill for direct grilling and heat to high. Brush or scrape the grill grate clean and oil it well.
Generously season the burgers on both sides with salt and pepper. Arrange on the grate and grill until the bottoms are sizzling and browned, 3 to 4 minutes. Give each a quarter turn after 1-1/2 minutes so they grill evenly. Flip the burgers and lay the provolone slices (if using) on top. Close the grill lid and continue grilling until the cheese is melted and the burgers are cooked to taste, 3 to 4 minutes more. The USDA recommends an internal temperature of 160 F (medium to medium-well). Cook as your conscience and common sense dictate. Insert the probe of an instant-read thermometer through the side of the burger to check it.
Meanwhile, brush the cut sides of the buns with butter. Toast the buns, cut sides down, on the grill for about 30 seconds.
To assemble the burgers, line the bottom of each toasted bun with a lettuce leaf, if using (this keeps the burger juices from making the bun soggy). Add the burger and any of the remaining embellishments, including your favourite condiments. Add the top bun and dig in.
Tandoori Cauliflower with Herb chutney
Despite what some carnivores may think, vegetarian main courses can be showstoppers. This deceptively simple dazzler is a whole head of generously spiced cauliflower roasted over indirect heat. The crust gives the mild vegetable crazy-good colour and flavour.
SERVES 4 to 6
PREP TIME 20 minutes
GRILL TIME about 1 hour
SPECIAL EQUIPMENT 10-inch cast-iron skillet; large handful apple or cherry wood chips, soaked in water 30 minutes
Tandoori Crust
1/3 cup chopped yellow onion (½ small
onion)
3 cloves garlic
2 tbsp fresh lemon juice
¾ cup plain whole-milk or low-fat Greek
yogurt
2 tsp ground coriander
2 tsp ground cumin
2 tsp ground ginger
2 tsp ground turmeric
1 tsp kosher salt
½ tsp ground black pepper
1 head cauliflower, about 1-¾ pounds
Canola oil

Grilled Tandoori Cauliflower with Herb Chutney (Photo: Ray Kachatoria)
Herb Chutney
1 cup packed fresh cilantro leaves and
tender stems
1 cup packed fresh mint leaves
½ small yellow onion, cut into chunks
1 tbsp fresh lemon juice
1 small green chile pepper, such as serrano,
seeded
1 tbsp peeled, finely grated fresh ginger
(½- by 2-inch piece)
2 cloves garlic, smashed
1 tsp kosher salt
1 cup plain whole-milk or low-fat Greek
yogurt
Prepare the grill for indirect cooking over medium heat (350 F to 400 F). In a food processor, combine onion and garlic and pulse until finely chopped. Add lemon juice, yogurt and spices and purée until fairly smooth, stopping to scrape down the bowl as needed.
Turn cauliflower stem side up. Insert a small, sharp knife about ½ inch away from the stem and cut around stem on a diagonal to remove it in one piece. Trim away any remaining leaves and discard with stem.
Lightly oil a 10-inch cast-iron skillet large enough to hold the cauliflower. Place the cauliflower, stemmed side down, in the skillet. Slather the yogurt mixture all over the cauliflower (some will run into the pan bottom, which is fine).
Drain wood chips, scatter over the coals or add to the smoker box of a gas grill, and close the lid. When smoke appears, grill cauliflower in skillet over indirect medium heat, with the lid closed, until a knife slides easily into the centre and crust is nicely golden brown, 50 to 70 minutes.
If the cauliflower is browning too deeply, tent it with aluminum foil. Using a wide metal spatula, transfer the cauliflower to a platter, leaving behind any scorched sauce in the pan (it will taste bitter).
While the cauliflower is cooking, make the chutney. In a food processor, combine all ingredients except the yogurt and pulse until very finely chopped, stopping to scrape down the bowl sides as needed. Add yogurt and purée until fairly smooth. To serve, cut the cauliflower into wedges. Serve warm with
the chutney.
Think Pink!
Rosé all day — and for your summer fêtes
Beefeater Pink just launched in Canada, with the classic base of Beefeater London Dry Gin and the added hit of strawberries.
Strawberry Lemonade
1.5 oz Beefeater Pink

3 oz lemonade
Splash of soda
Combine ingredients in a glass. Garnish with lemon and fresh strawberries.
Prefer something lower in alcohol than a spirit? Try Strongbow Rose Apple Cider, which mixes real apples with a hint of rosé wine.
Cheers!
Mix it up with cocktails using made-in-Canada spirits
J.P. Wiser's Algonquin
(Wiser's whisky is distilled by Hiram Walker & Sons in Windsor, Ont.)
2 oz J.P. Wiser's Deluxe
0.75 oz dry vermouth
0.75 oz pineapple juice
What You Need
Combine all ingredients, shake with ice and strain into chilled glass.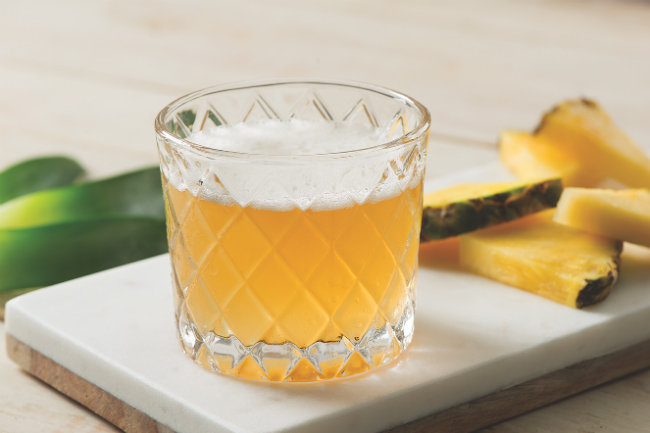 Ungava Bee's Knees
(Ungava gin is distilled in Quebec,
using botanicals from the Ungava
Bay region.)
2 oz Ungava premium gin
0.75 oz fresh lemon juice
1 oz honey syrup (2:1 honey to water)
Lemon zest
Pour all liquid ingredients into a shaker with ice. Shake and fine strain into a chilled cocktail coupe or martini glass. Garnish with a lemon zest twist. 
A version of this article appeared in the July/August 2019 issue with the headline, "Right on 'Cue," p. 68-71.
RELATED: