Recipe: Chocolate Beet Cake With Saskatoon Berries From Indigenous Chef Shane Chartrand
This recipe is adapted from English food writer Nigel Slater's chocolate beet cake. Photo: Armando Rafael/Getty Images
In Tawâw: Progressive and Indigenous Cuisine, chef Shane Chartrand, who is of the Enoch Cree Nation in Alberta — with influences from a Métis, Mi'kmaq and British upbringing — re-examines his usual European cooking techniques, paired with his journey through his food heritage and how best to bring it together and demystify the cuisine. How is contemporary Indigenous cooking different from mainstream Canadian cooking, he asks?
"The more I explore my Indigenous roots and develop my own version of progressive Indigenous cooking," he writes, "the more people from all walks of life are excited about what a First Nations perspective brings to the plate."
True North ingredients such as Saskatoon berries, squash, pumpkin, gourds, beets and beans all star along with seafood and shellfish, and game. With more than 75 recipes, the book is divided by the seasons.
Here, we serve up a tasty dessert from the book.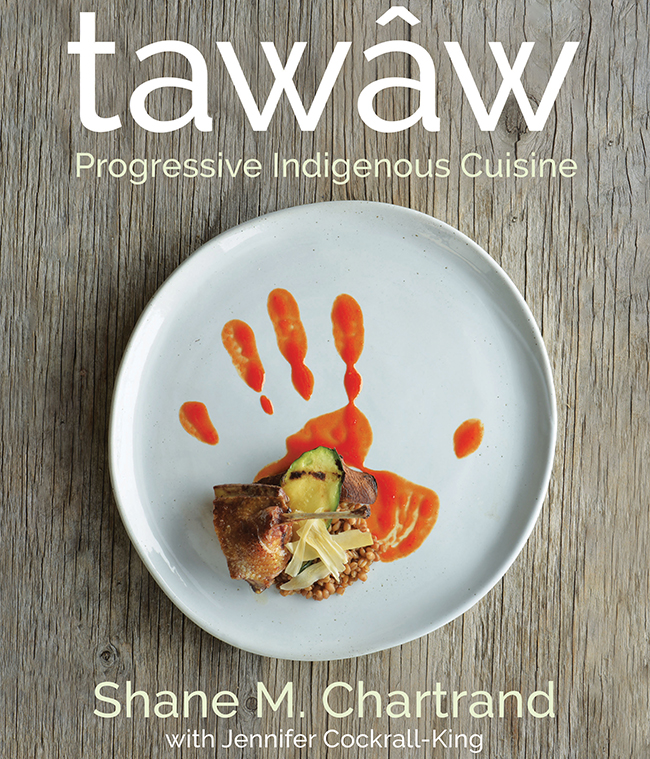 "In June and July, when there are too many zucchinis coming out of the garden, we shred them for chocolate zucchini cake. In the winter, I make a different version with shredded beets. The earthiness of the beets goes great with dark chocolate. This cake is delicious topped with Saskatoon berries pulled from the freezer and coated with sugar. As the berries thaw in the sugar, you get a nice syrupy fruit topping. (This recipe is adapted from [English food writer] Nigel Slater's chocolate beet cake.)"
Chocolate Beet Cake With Saskatoon Berries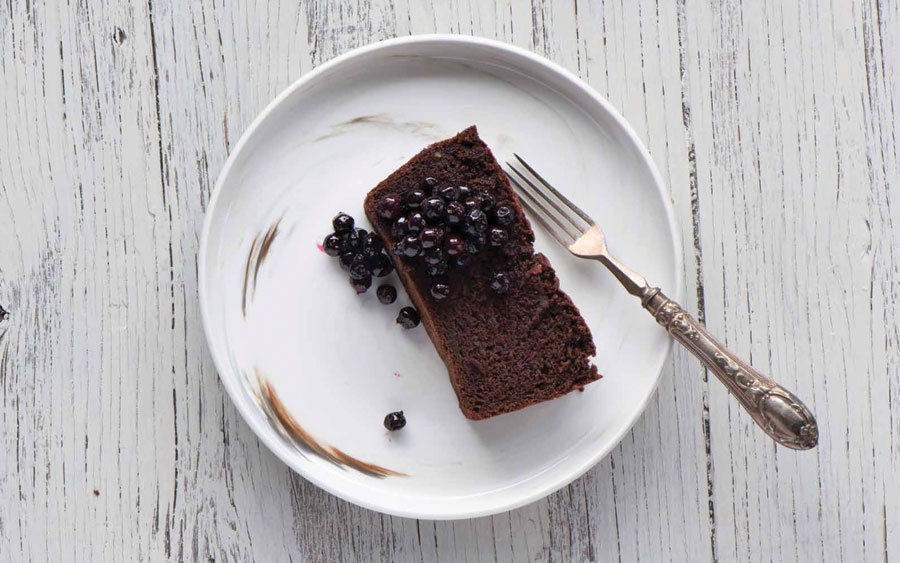 Ingredients
2-3 red beets (about 8 oz/225 g total), unpeeled, tops trimmed
½ tsp salt (2.4 ml)
1 cup all-purpose flour (250 ml)
3 tbsp unsweetened cocoa powder
(45 ml)
1-1/4 tsp baking powder (6 ml)
¼ tsp sea salt (1 ml)
7 oz dark (70%) chocolate (200 g)
¼ cup hot water (60 ml)
¾ cup plus 2 tbsp (175 + 30 ml) unsalted butter (7 oz/200 g), at room temperature
5 large eggs, at room temperature, separated
1-1/4 cups granulated sugar,
divided (310 ml)
2 cups saskatoon berries (500 ml)
♦ Arrange an oven rack in the centre position. Preheat the oven to 350 F (180 C).* Grease a 9-1/4- by 5-1/4-inch (23.5 by 13 cm) loaf pan. Set aside.
♦ Place beets in a saucepan with the salt and cover with cold water. Bring to a boil, reduce heat and simmer for 30 minutes or until you can easily slide a sharp knife into the centre of the beets. Drain and rinse under cold running water until cool enough to handle. Using your hands, rub off the beet skins (wear rubber or latex gloves to avoid staining your hands). Using the large holes of a box grater, grate beets (you should end up with about 1-1/2 cups (375 ml). Set aside.
♦ Sift together flour, cocoa, baking powder and salt. Set aside.
♦ Break or roughly chop the chocolate into about a dozen pieces. Transfer to a microwave-safe bowl (large enough to later accommodate the egg yolks and beets) and heat in a microwave at 50 per cent power for 4 minutes. Keep an eye on it and take it out just as the chocolate melts. Alternatively, fill a pot with a few inches of water and set a stainless steel bowl on top to create a water bath (the bowl shouldn't touch the water). Bring the water to a boil and then add the chopped chocolate to the bowl. Heat, stirring until the chocolate has completely melted.
♦ Add the hot water to the melted chocolate and stir to combine. Cut the butter into pieces and stir into the chocolate mixture until completely incorporated. Let cool 5 minutes.
♦ Whisk the egg yolks in a bowl until frothy. Stir them into the cooled chocolate mixture. Fold in the shredded beets until well combined. Set aside.
♦ Either by hand or using a stand mixer fitted with the whisk attachment, beat the egg whites to stiff peaks. Reduce the speed to low and then slowly pour in 1 cup (250 ml) of the sugar. Mix until well combined.
Using a spatula, fold the chocolate-beet mixture into the egg whites just until combined. Fold in the flour mixture just until combined.
♦ Scrape the batter into the prepared loaf pan. Bake in the preheated oven for 1 hour or until a toothpick inserted into the middle of the loaf slides out cleanly.
♦ Meanwhile, remove the saskatoon berries from the freezer and put them in a shallow dish. Sprinkle with the remaining ¼ cup (60 ml) sugar and set aside.
♦ When the cake is ready, remove the pan from the oven. Let the cake cool completely in the pan. Once cool, carefully invert the cake onto a serving plate. Cut into thick slices and serve with a generous heap of the syrupy saskatoon berries. Makes 1 loaf
* If using a conventional oven, either bake the cake a little longer or increase the temperature by 25 F (4 C).